Libertadores Cup final: Ronaldinho and Bernard help Atletico Mineiro comeback against Olimpia before winning on penalties
The Brazilian side scored a late equaliser in normal time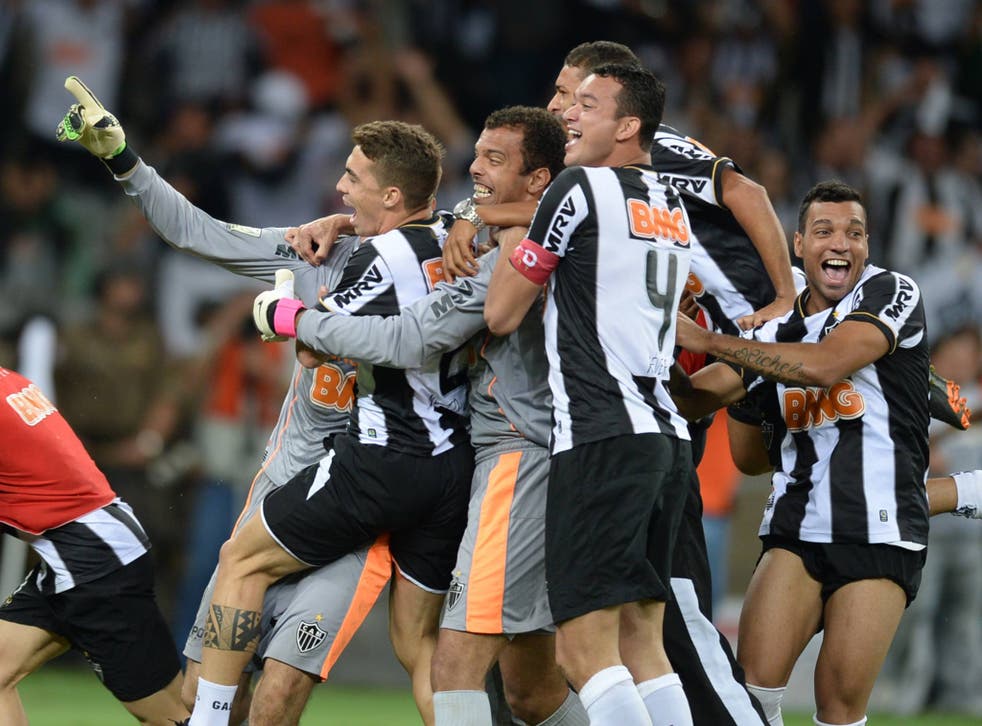 They needed penalties to do it, after coming back from 2-0 down, but last night Atletico Mineiro became South American champions for the first time, winning the Copa Libertadores at home in Belo Horizonte.
It was desperately close. Having lost the first leg 2-0 to Olimpia in Paraguay, Atletico had to overhaul that heavy deficit and with three minutes left they were only 1-0 up on the night. But Leonardo Silva's header three minutes from the final whistle sent the game to extra-time, and from there to penalties, which Atletico won 4-3.
For this Atletico team it means something approaching football immortality – and for a legend of the Brazilian game, and for his possible successor too.
Ronaldinho has been the veteran inspiration of this Atletico side since he joined them from Flamengo last June. They came second in the Brazilian league last season and Ronaldinho, whom many thought finished, won the 'Bola de Ouro' for player of the year.
Now, having taken Atletico to this title, Ronaldinho's return to South America looks almost as successful as his time in Europe. He is only the seventh player to win the Copa Libertadores and the Champions League, and only the fourth – after Dida, Cafu and Roque Junior – to win those two and the World Cup. His greatness is unambiguous.
Bernard is 12 years younger than Ronaldinho but has something of his cheeky imagination and style, his playground approach, and so has naturally been anointed as a successor or protégé to the one-time Barcelona No 10. It was Bernard's perfect dipping cross to Leonardo Silva which made last night's crucial equaliser. And the youngster is probably more likely to go to the World Cup next year, having been part of Brazil's successful Confederations Cup squad earlier this summer. European clubs are starting to take a close look, and it would not be a surprise if he were to cross the Atlantic at some point soon.
And then there is Jô – the striker who has become almost a by-word for Manchester City's transfer excesses, after scoring just one Premier League goal following his £17million transfer. But now, back in Brazil, he is scoring goals and winning trophies like never before. He scored Atletico's first goal in this morning's final, and finished as tournament top scorer. He went to the Confederations Cup – as a replacement for the injured Leandro Damiao – and scored twice there. No one who laughed at his performances in England can smirk at his return this summer.
One legend of Brazilian football, one boy-genius and a man rebuilding his career – they have achieved something no Atletico Mineiro players have done before and, if they stick together, they will be heading to Morocco for the Club World Cup in December.
Join our new commenting forum
Join thought-provoking conversations, follow other Independent readers and see their replies