London is in the middle of a stadium boom that can make it the world capital of football
The Weekend Dossier:  In 2003, when the old Wembley was knocked down, the Greater London area had 12 grounds staging Premier League, Football League and England matches, with a combined capacity of 369,249. That figure is now 418,876 in 15 grounds
Glenn Moore
Saturday 19 December 2015 00:56 Comments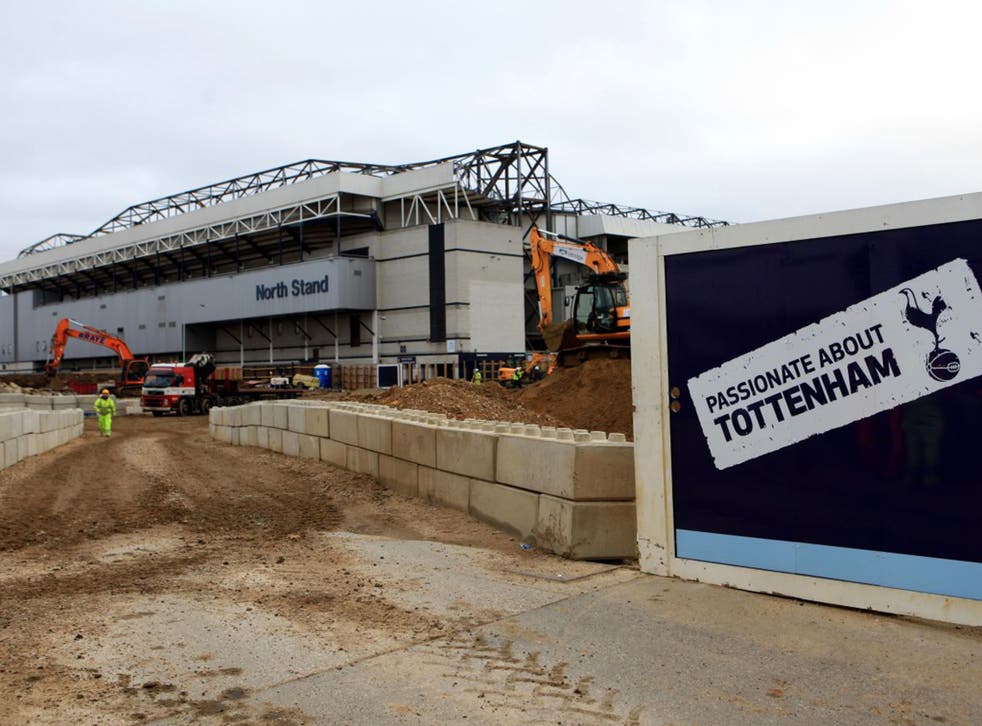 All over London the builders are busy. From digging down for basement conversions to surging upwards with City skyscrapers, the capital is expanding anew as, with the recession receding, the inhabitants seek more space.
The national game is in tune with this quest for growth. This week Tottenham Hotspur gained planning approval for their 61,000-seat rebuild of White Hart Lane, the third such announcement this month. Previously Chelsea won planning permission for a similar regeneration of Stamford Bridge and, on a smaller scale, AFC Wimbledon were granted consent for a new ground designed to reach a 20,000 capacity.
This trio of developments are just the latest of a plethora of projects. In the East, the revamped Olympic Stadium is being readied for the arrival of West Ham United. In the West, Queen's Park Rangers and Brentford are heading for new stadiums, albeit Rangers' plans are still very much on the drawing board. In the South, Crystal Palace, bolstered by new American investment, aim to convert Selhurst Park into a 40,000-seater. In the North, Barnet have moved into a new ground and, just outside the capital but benefiting from its allure and economic power, Watford have completed a refurbishment at Vicarage Road.
There may be more to come, with Fulham and Charlton in possession of planning consent to expand their stadiums. However, the plans were conceived in better times and both clubs appear to be waiting for their on-pitch fortunes to revive before implementing them.
The transformation of the capital's football landscape is impressive. In 2003, when the old Wembley was knocked down, the Greater London area (not including Watford) had 12 grounds staging Premier League, Football League and England matches, with a combined capacity of 369,249. That figure is now 418,876 in 15 grounds (Barnet, AFC Wimbledon and Dagenham & Redbridge having been promoted from non-league). By 2020, capacity is scheduled to be at least 493,659 and should all the proposed improvements be built, including those desired by Palace, QPR and Charlton, it will top 560,000, an increase in excess of 50 per cent on 2003.
Almost all of this will be seating, and ticket prices are much higher, yet clubs are confident they will fill these seats. Football is booming and London's economy is growing again. In addition English football, especially the Premier League, is now a tourist destination in its own right, with London clubs, because of their location, the chief beneficiaries. Last year, according to VisitBritain, the national tourism agency, more than 800,000 overseas visitors took in a Premier League match. Six of the eight most visited grounds were in London.
And no wonder, because the capital has become one of the great football cities. By 2020, when Chelsea and Tottenham have finished their rebuilds, London will be the only city in the world with five football grounds holding 50,000-plus. Not only will they be large, they will also be modern, with comfortable, safe facilities.
There are many football cities with historic teams and fine stadiums: Glasgow and Manchester in Britain, Istanbul, Madrid, Belgrade, Budapest, Athens and Moscow, further afield Buenos Aires, Rio de Janeiro, Sao Paulo, Mexico City and Johannesburg stand out. Asian cities will join the list as their teams improve to match the stadiums. But none of these, nor such conurbations as Birmingham or the Ruhr in Germany, can match London.
Until relatively recently Buenos Aires was arguably the world's leading football city. It certainly has the highest density. A stadium tour of the Argentine capital is the central thread of Sightlines, Simon Inglis's book on football grounds. He visits 25 arenas in a week, and regrets lacking the time to visit at least a dozen more. At present there are nine grounds of 20,000-plus, five of which hold twice that, in Buenos Aires city (population 3m). These figures rise to 25 and nine respectively when considering the greater BA urban area (population 13m; London is 8.5m, Greater London 13.9m).
However, as Inglis's book notes, few would be granted a safety certificate in the UK, with many terraces being open bleachers of the type you can see through. Sightlines was published 15 years ago, but such is the financial state of Argentine football many grounds remain sub-standard.
While London has become the best city in the world for stadiums, it has not been punching its weight on the pitch. Buenos Aires clubs have won 24 Copa Libertadores titles, seven more than all Brazilian teams combined. London has won the European equivalent, the European Cup/Champions League, once, thanks to Chelsea in 2012. Domestically, only Chelsea and Arsenal have won the title in the last half-century, and then only 10 times between them, less than Manchester or Merseyside.
Part of the problem may be that the sheer number of clubs in London has diluted their strength, not least through the regularity of derby matches – a common complaint by Arsène Wenger. There has also been the sense, until recently, that the capital is less football-fixated than the big cities of the North. But this was more of an issue in the days when clubs developed local players.
Now they shop internationally and London clubs are reaping the benefit of the city's global appeal. Wealthy foreign players – and owners – like the anonymity as well as restaurants, culture and easy airport access.
This should mean the capital, already flexing its financial muscle in terms of building and recruitment, starts to do so in trophies as well. Until it does that, however grand the football cathedrals it boasts, any claim to be the game's global capital will be incomplete.
Register for free to continue reading
Registration is a free and easy way to support our truly independent journalism
By registering, you will also enjoy limited access to Premium articles, exclusive newsletters, commenting, and virtual events with our leading journalists
Already have an account? sign in
Join our new commenting forum
Join thought-provoking conversations, follow other Independent readers and see their replies