Lutz Pfannenstiel: The goalkeeper who gave up Bayern Munich for the Crazy Gang, Bradford and a whirlwind trawl across continents
The German journeyman tells Tom Peck about his extraordinary and entertaining life in football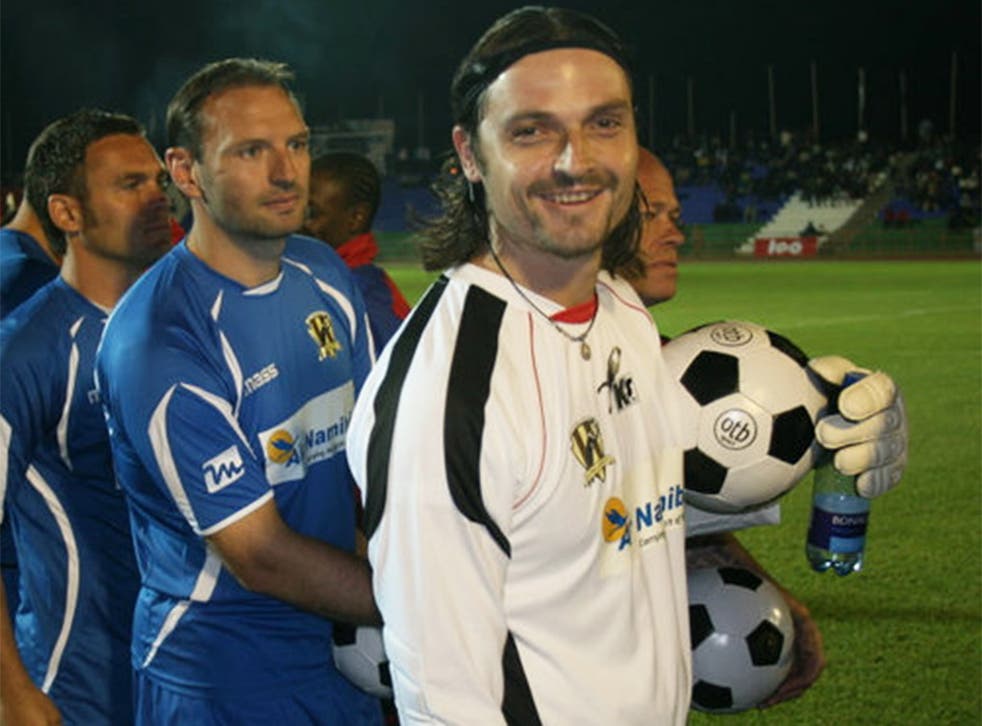 The American novelist Paul Auster once observed how "good stories only happen to people who can tell them".
Within a minute of meeting Lutz Pfannenstiel, the now retired German goalkeeper and veteran of no fewer than 25 clubs, it is obvious how arguably the most extraordinary and certainly the most entertaining tale of a life in football should be his.
Yes, he is the only player to have played professional football on all six continents (he has yet to crack Antarctica, but is working on it – more details on that later), but many a determined pro could have done that. Yes, he ended up (wrongfully) imprisoned for match-fixing in Singapore, and a doctor declared him three times dead in a non-league goalmouth in Bradford, but both those things could be attributed to sheer bad luck.
Instead, it's the little details in his book, The Unstoppable Keeper, a German bestseller which has this year been updated and translated into English, that confirm Pfannenstiel as the clear agent of his own magnificent chaos. Like the two slow loris monkeys, called Glasnost and Perestroika, that eat his Singapore apartment alive, much to the dismay of his housemate, Wimbledon "crazy gang" veteran Gary Blissett. Or the contract renegotiations in Albania, conducted "with a gun on the table".
Now 41, and working as director of international relations and scouting at TSG 1899 Hoffenheim as well as a pundit on German television and on BBC World, his first words to The Independent, over coffee in Soho, are: "The book's probably only got about 20 or 30 per cent of the story in it. I've got a lot more. I think what you call in England, 'kiss and tell'."
He first came to England 20 years ago, having turned down a contract with Bayern Munich, knowing: "There was nothing I could do to get past Oliver Kahn."
It is hardly a surprise that the club to take a chance on him were Wimbledon. One not-quite-kiss-and-tell that does make the book was being sent to talk to girls in English bars by Blissett and Mick Harford: "Go over and say, 'Hello, I'm Lutz from Germany you little c***s.' They told me it meant darling."
Lutz claims to have been shocked by life in the Crazy Gang. "It wasn't like any Premier League team," he says. "Out there in Roehampton, on a field where the dogs are shitting. It was a very special atmosphere.
"These guys, Mick Harford, Vinnie Jones, Gary Blissett, they were hard guys. A long-haired German guy coming in doesn't have it easy. You're getting elbowed in the face three times in a training session, then Mick Harford comes over and says, 'Get up, you soft c***.'
"I had been trained to roll the ball, to throw the ball. But [then Wimbledon manager] Joe Kinnear wanted to play a certain style. Push them up and play it long. Always straight. Always straight. I had to learn that system."
He never played a match in the Wimbledon first team in the end, and failed to break into Nottingham Forest's side too, but he would return to England later on his career, with Bradford Park Avenue.
"The Unibond League is the toughest league in the world, and it doesn't matter what position you play. Altrincham, Runcorn, it doesn't matter. You get battered."
It was there, on Boxing Day 2003, that his lungs collapsed and, he has since been told, the club physio delivered mouth-to-mouth resuscitation before shouting back to the bench, "He's dead! He's f***ing dead!"
He woke up in hospital some time later with no recollection of how he got there, and immediately complained of having been substituted.
Now married to a woman from Uzbekistan, and having raised his family in Vancouver and Brazil among other places, he is a walking advert for a willingness to travel.
"I'm fortunate, in that if I had taken the contract with Bayern, I know what my life would have been like. It was almost prearranged. I would have signed for Bayern Munich, been No 2 behind Oliver Kahn. Five years, six years I would have made decent money. I'd have gone to another club, I'd have gone to the second division in Germany. I would have finished my career in the third division, I'd have had a German wife, a German house, and working as a goalkeeping coach, or a head coach somewhere.
"Would I exchange that for the experiences I had, travelling the world? No I wouldn't."
Now he deals with Hoffenheim players who "turn down loan offers to Torino because they want to play for Juventus". "OK," I tell them, "but you're not getting into the Hoffenheim team. So turn down the move, sit on the bench and go home and cry."
For someone who spent 101 days in a brutal Singapore jail after being falsely convicted of match-fixing, his solitary football regret is a curious one.
"I would have loved to play in Iran," he says, reminiscing about his solitary match there, a Champions League qualifier. "In Iran, the religion is in charge, but the football there is f***ing unbelievable. They live for football, they die for football. Compared with Iran, Millwall is like a children's birthday party: 110,000 moustached guys – and it is only men in the stadium – sitting there looking like if you beat their team you won't make it out of the stadium. This passion, the love of the people for their team is unbelievable."
That passion, he has observed, is on the wane. "People are going to the game, they're not having a sausage, they're having shrimp soup and T-bone steak.
"Twenty years ago, in England, the fans were standing there with mushy peas. You go to X or Y ["don't put the names", he asks], people are standing behind the goal with no teeth, eating their mushy peas and calling you a 'f***ing German c***.'" You go to watch Arsenal, you're looking up in the VIP box, people are having five-star food.
"Football now is much posher than it was. How many real diehard football supporters can afford a season ticket in the Premier League? The poorer guys, with a bad job, before they would get the money together to buy a ticket. How can they do that now? It's very difficult."
Now, he devotes much of his time to his charity, the Global Game. Next March he will round up his football mates, Terry Phelan and Dwight Yorke among them, for a charity match on Namibia's Etosha Plain at sundown. "And then after that, Antarctica." If that game happens, it will be a remarkable culmination to a remarkable football life. But one doubts Pfannenstiel will stop there.
Have boots, Will travel: Pfannenstiel's clubs
1991-93 Bad Kötzting
1993-94 Penang FA
1994-95 Wimbledon
1995-96 Nottingham Forest
1996-97 Orlando Pirates (loan)
1997 Sembawang Rangers
1997 Tampereen Pallo-Veikot
1998 FC Haka
1998-99 SV Wacker Burghausen
1999-2000 Geylang United
2001 Dunedin Technical
2001-02 Bradford Park Avenue (loan)
2001-02 Huddersfield
2002 ASV Cham (loan)
2002-03 Bradford Park Avenue
2002 Dunedin Technical
2003 Bærum SK (loan)
2003 Dunedin Technical
2004 Calgary Mustangs
2004-06 Otago United
2006-07 KS Vllaznia Shkodër
2007 Bentonit Ijevan
2007 Bærum SK
2007 Vancouver Whitecaps
2008 America FC
2008 Hermann Aichinger
2008-09 Flekkerøy Idrettslag
2009 Manglerud Star
2009-10 Ramblers
Register for free to continue reading
Registration is a free and easy way to support our truly independent journalism
By registering, you will also enjoy limited access to Premium articles, exclusive newsletters, commenting, and virtual events with our leading journalists
Already have an account? sign in
Join our new commenting forum
Join thought-provoking conversations, follow other Independent readers and see their replies