The Independent's journalism is supported by our readers. When you purchase through links on our site, we may earn commission.
Manchester United have three of the top 10 selling shirts in the UK, beating Chelsea, Arsenal, Liverpool and Manchester City who have one each
REVEALED: A surprise name is the top seller in the Premier League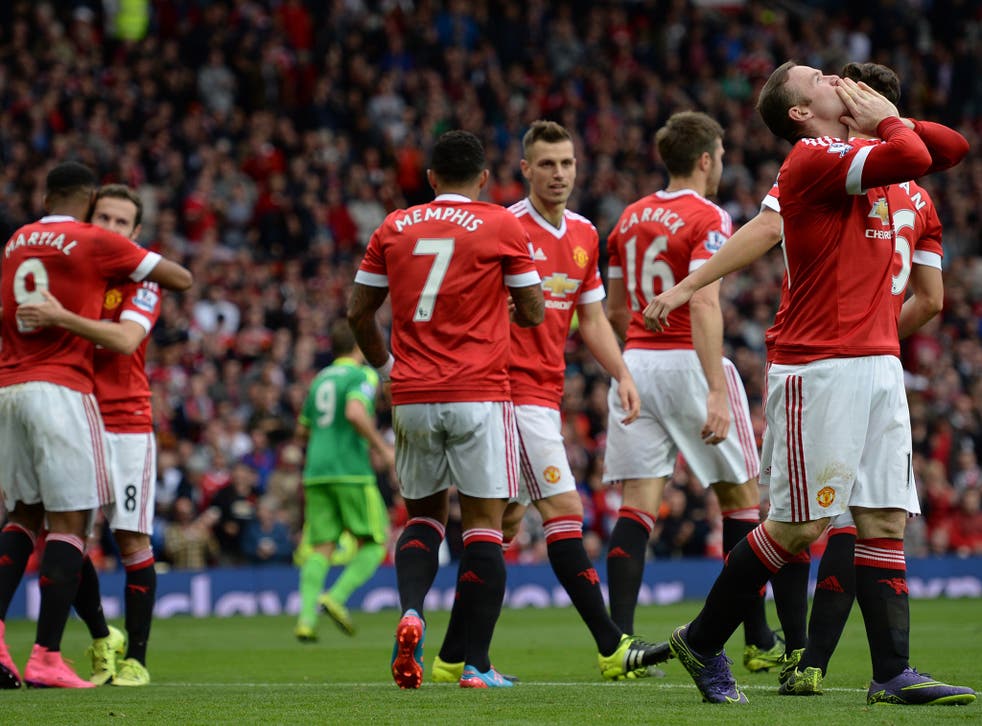 Manchester United have dominated shirt sales in 2014-15 thanks to the arrival of two new stars, research has revealed.
England captain Wayne Rooney has been a mainstay in top selling shirts in recent years and even though he has seen an increase in popularity from last year, he is beaten by two of his newest team-mates, according to research from online sportswear retailer Kitbag.
In fact, in releasing their top 10 sellers in world football, they have revealed some fascinating trends that reflects the mood of football in general.
Scroll through our gallery to see the top 10 and find out which Manchester United player sells the most shirts in the Premier League:
REVEALED: The top 10 selling shirts in 2015

Show all 10
Following the departures of former shirt-selling favourites Steven Gerrard, Mario Balotelli and Raheem Sterling, Brazilian playmaker Philippe Coutinho has become, by far, the most popular seller on Merseyside, despite big-money arrivals Christian Benteke and Roberto Firmino; the No 10 seeing an increase in sales of 440 per cent in comparison to the same period last year, to move up 28 places and break into the top 10.
Alexis Sanchez has slipped three places down the list but is actually selling more shirts than before after a brilliant maiden season in north London, where he helped Arsene Wenger's Arsenal win the FA Cup. Sergio Aguero is another big mover, the Argetnina bursting into the top 10 after changing his number fron 16 to the massively popular 10.
After a humiliating World Cup exit on home soil, Brazil's golden boy Neymar is no longer in the top three, but he is the only non-Premier League player to be among the elite. As mentioned above Wayne Rooney is up three places, his record-breaking England performances and a return to the Champions League clearly making their mark on sales.
Eden Hazard was crowned the best player in the Premier League last season, but the Chelsea winger sells two fewer shirts than two other Manchester United players.
Supporters of United were clearly over the moon with Louis van Gaal's summer business - Bastian Schweinsteiger and Memphis Depay both breaking into the top four after sales for their shirts went through the roof on the website. Despite his long name, World Cup winner Bastian Schweinsteiger moved up 27 places in the rankings and saw a phenomenal 795 per cent increase in sales of his shirt.
But even that performance was outstripped by Dutchman Memphis Depay, who wasn't even in the top 10 last year and is now the third biggest seller behind the two best players in the world.
And which of Lionel Messi and Cristiano Ronaldo takes the top spot? Despite winning the Ballon d'Or and seeing sales increase by 108 per cent, moving him up from four to two, Real Madrid star Ronaldo still can't compare with his great Barcelona rival.
There are also some really intriguing figures outside of the top spots. Chelsea fans were delighted with the capture of Pedro - perhaps not with his form since - with sales for his shirt one of three players from the Blues to breakout from a year ago. The Spaniard, Kurt Zouma and goalkeeper Thibaut Courtois have all seen their shirts see a 1,000 per cent increase from a year previous.
Another Manchester United new boy, Morgan Schneiderlin, has also seen a big increase to rank inside the top 50, as has Tottenham striker Harry Kane, while Zlatan Ibrahimovic is enjoying a renaissance in popularity.
Diego Costa and Jack Wilshere are still good sellers, while Raheem Sterling is selling at a similar rate to last year, despite securing a £49m move to Manchester City from Liverpool. All the new arrivals at Old Trafford have seen a big dip in popularity for Juan Mata, whose sales are down around 50 per cent - his performances so far this season will probably change that by Christmas.
But it's two now departed Manchester United stars whose sales have truly plummeted. Radamel Falcao's Chelsea shirt is selling at 94 per cent less than it did in red, while Angel Di Maria has suffered another embarrassing hit to his confidence. The former British transfer record has gone from the third-best seller last year to the 100th this year - his PSG shirt sales fropping by a dramatic 1,000 per cent.
With the shirt sales looking at the period 1 July 2014 to 31 September 2015, these rankings will no doubt look different again by the time the busy Christmas period has come and gone.
Train goes past football game
We have a suspicion Anthony Martial will be somewhere near the top very soon.
Register for free to continue reading
Registration is a free and easy way to support our truly independent journalism
By registering, you will also enjoy limited access to Premium articles, exclusive newsletters, commenting, and virtual events with our leading journalists
Already have an account? sign in
Register for free to continue reading
Registration is a free and easy way to support our truly independent journalism
By registering, you will also enjoy limited access to Premium articles, exclusive newsletters, commenting, and virtual events with our leading journalists
Already have an account? sign in
Join our new commenting forum
Join thought-provoking conversations, follow other Independent readers and see their replies