Mark Clattenburg will be considered for all Southampton games, despite Adam Lallana row, insist Premier League
The FA confirmed that Clattenburg had no case to answer despite Saints making an official complaint and publicly announcing they no longer wish for Clattenburg to officiate any of their matches
Martyn Ziegler
Tuesday 07 January 2014 09:19 Comments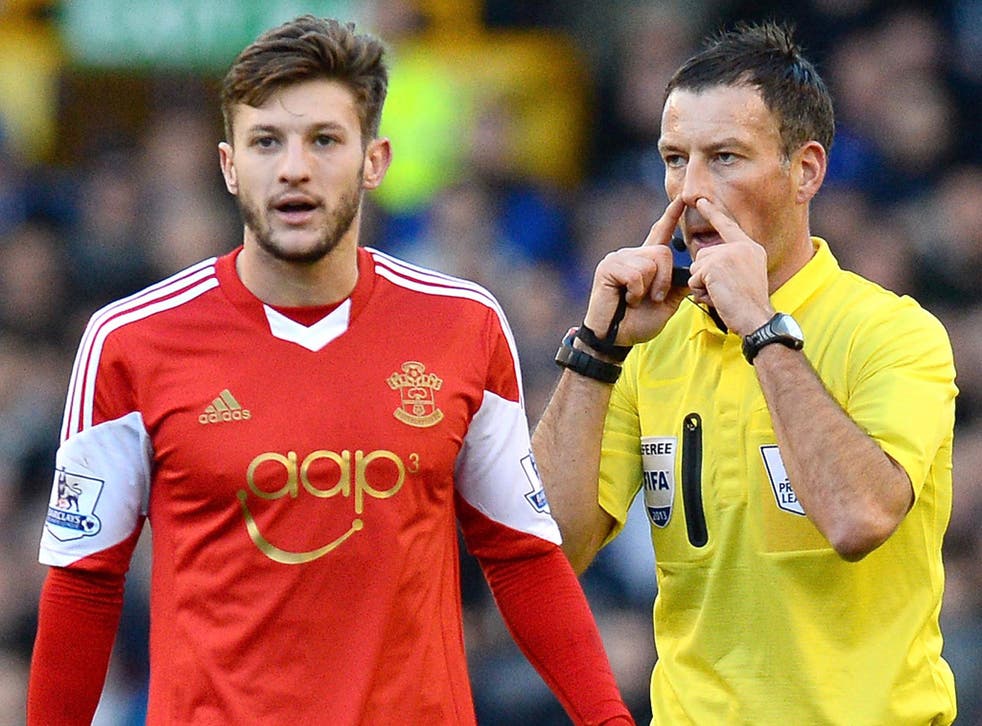 The Premier League insists Mark Clattenburg will be considered as a match official for Southampton matches despite the club suggesting it would be very difficult for him to do so.
The Saints have failed with a complaint about the referee's alleged remarks to their England midfielder Adam Lallana, with the Football Association joining the referees' governing body PGMOL in taking no action.
Southampton, however, are understood to be sticking to their guns in insisting it would be difficult for Clattenburg to officiate in any of their games.
That would cut across the Premier League's rules - and league chiefs have reiterated last week's statement from the PGMOL that Clattenburg "will be considered for selection for all and any matches going forward in the usual way".
Clattenburg was previously cleared of a complaint by Chelsea that he racially abused their player John Obi Mikel and has since taken charge of games involving the London club.
Southampton had claimed in a letter to referees' governing body PGMOL that Clattenburg, during the defeat by Everton on December 29, had told Lallana: "You are very different now, since you've played for England - you never used to be like this."
Clattenburg has not disputed that and it is understood that referees' chiefs will expect him to take extra care in what he says to players, having developed a reputation for having a conversational style compared to most other match officials.
The FA has said the latest complaint against Clattenburg is also closed after clearing him of misconduct.
The governing body has considered the complaint and will take no action.
An FA statement said: "The FA can confirm it received a complaint from Southampton concerning referee Mark Clattenburg and his alleged comments made to their player Adam Lallana.
"The FA has given its full consideration to this matter and it is our view that the comments, as disclosed in Southampton's letter of complaint, do not constitute misconduct under the FA's rules.
"Consequently, The FA will not be taking any further action in relation to this matter and now considers this case to be closed."
PA
Register for free to continue reading
Registration is a free and easy way to support our truly independent journalism
By registering, you will also enjoy limited access to Premium articles, exclusive newsletters, commenting, and virtual events with our leading journalists
Already have an account? sign in
Join our new commenting forum
Join thought-provoking conversations, follow other Independent readers and see their replies