Mark Halsey accused of 'betraying' fellow referees after criticising top-flight referees of lacking fitness
Graham Poll has said other officials have been 'appalled' by Halsey's actions
Martyn Ziegler
Tuesday 08 October 2013 13:24 Comments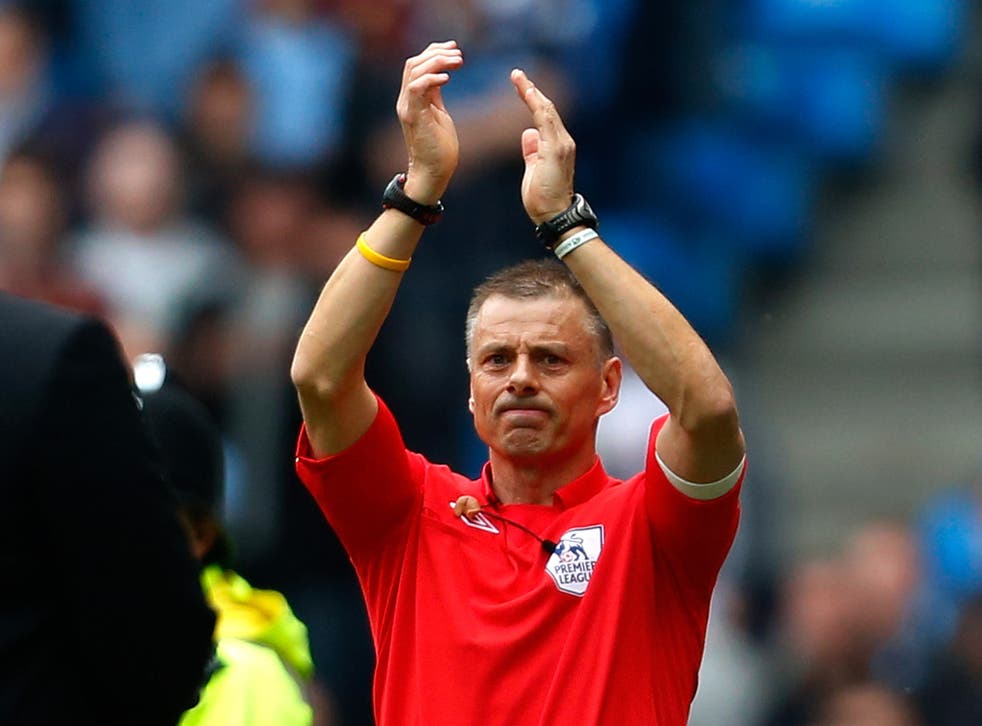 Former referee Mark Halsey has been berated by Graham Poll for "betraying" his fellow officials - and accused of wearing a Bolton kit with his own squad number to training sessions.
Halsey, who has made a number of controversial allegations in his recent book, claimed some statistics show many top-flight referees are not up to the job.
Poll, a fellow ex-Premier League referee, hit back, however, and said Halsey should be ignored. Halsey used to train with Bolton until the Professional Game Match Officials (PGMO) banned officials training with teams, and Poll revealed he even used to wear a Bolton strip - contrary to instructions.
Poll told talkSPORT: "The sensible thing would be to ignore him. It is what people did at the referees' camp for a long time when he used to turn up with his Bolton kit to train rather than the kit that we all had on.
"He had a squad number at Bolton and we were told what to wear to train as a group and he ignored that and was on his own. Maybe he is getting back at people."
Poll said referees as a whole were "appalled" by Halsey's actions.
He added: "He is 100 per cent betraying what paid him a living, which he would never have earned as the warehouse manager he was or the taxi driver he was.
"The refereeing fraternity is absolutely appalled at what he is doing. He hasn't thought it through.
"I think it is absolutely appalling. Mark has got to take a long, hard look at himself. He won't. I know the guy. I have known him for years. He is that type of character, I'm afraid.
"I would never buy the book and I hope lots of people don't as well."
Halsey responded by saying the pair do not get on and accused Poll of letting the profession down.
"Not for me to comment about Graham," Halsey said.
"He was a fantastic referee and we'll leave it at that. I've not let the profession down. If anybody is letting the profession down, some of his comments over the years have been atrocious.
"I found that 'unfitting' from him what he's come out with. But that's Graham. We don't get on and I don't like the way he's done things over the years."
The Premier League would not comment on Halsey's claims.
The 52-year-old, who hung up his whistle at the end of last season, was earlier on Tuesday quoted as blaming an "atmosphere of fear and paranoia" created by the referees' body for the below-par standard of officiating.
He reckons only eight of the current crop are good enough and believes referees' chief Mike Riley and his assistant Keren Barratt are part of the problem.
"Don't get me wrong, there are some really top referees out there," he told The Sun.
"I reckon currently there is a 'great eight', in no particular order: Mark Clattenburg, Howard Webb, Mike Dean, Andre Marriner, Lee Probert, Martin Atkinson, Phil Dowd and Chris Foy.
"But as for the other 10 on the elite list, well... some are just not up to it while others need more experience, better nurturing and coaching."
That puts referees including Mike Jones, Kevin Friend and Lee Mason on Halsey's list of those who are not good enough.
Halsey believes much of the blame lies with the PGMO as well as its general manager Riley and select group manager Barratt.
"(PGMO) is running the whole show on an apparent power trip while creating an atmosphere of fear and paranoia," Halsey said.
"That is not helping the weaker officials improve and the system often confuses and frequently frustrates the best referees who get mixed messages about what is expected of them."
Halsey believes the wrong officials are often picked for big games and blames that on Riley and Barratt.
He added: "Riley had a reputation for being an over-fussy and pedantic ref.
"And his manner as general manager of elite referees - whereby he liaises with the Premier League and League Managers' Association - appears not to have changed."
Halsey described Barratt, and the dual role he plays as both their boss and the man who draws up the match lists and offers advice as a "mentor", as a "big problem".
He said: "How can he do that (be their mentor) when he wears another hat as head of the evaluation committee, which adjudicates and has the power to mark down referees, axe officials from matches or ultimately kick them off the list?
"There is a clear potential conflict of interest in the two roles."
PA
Register for free to continue reading
Registration is a free and easy way to support our truly independent journalism
By registering, you will also enjoy limited access to Premium articles, exclusive newsletters, commenting, and virtual events with our leading journalists
Already have an account? sign in
Join our new commenting forum
Join thought-provoking conversations, follow other Independent readers and see their replies