Mass brawl leads to referee brandishing 36 red cards in one match
Simon Rice
Tuesday 23 October 2012 14:27 Comments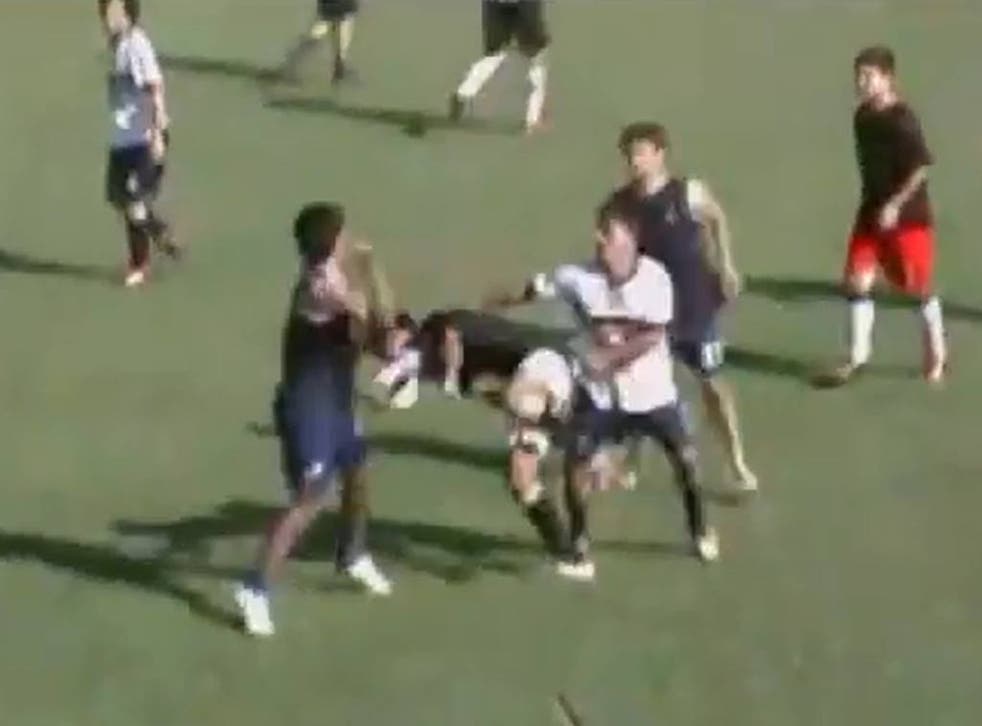 A referee in South America has achieved the remarkable feat of sending off more people than there are players on a pitch when he brandished 36 red cards in a junior league match.
The match in Paraguay between Teniente Farina and Libertad took a turn for the worse when referee Nestor Guillen dismissed two players in the dying minutes of the match. The pair ignored the referee and continued their feud on the pitch.
Within moments, players from both sides became involved in a mass brawl in which flying kicks and punches were thrown.
The referee and his fellow officials, rather than trying to break up the melee, instead fled the scene.
Hernan Martinez, president of Teniente Farina said: "Many of the players that were on the field and on the substitutes' bench, everyone went on to the field to try to control their team-mates and even the players from the other team."
"The referees didn't even stay on the field. As soon as the fighting broke out they went to the dressing room.
"They ran through the tunnel to their dressing room. They weren't able to see anything that happened.
"But in the report, to more or less wash their hands of the responsibility, they expelled all 36 players."
Sixto Nunez, president of the visiting team, was also critical of the match officials.
"The referee needed to take better care of the boys. He should have made sure that the two dismissed players were completely off the field.
"Instead, the officials left the field and when the players were all leaving together that's when the fighting started again."
Incredibly, this is not the first time that 36 red cards have been shown, although perhaps unsurprisingly, it did occur in South America.
Last year a referee sent off all the players, some substitutes and a few coaches amid crazy scenes in the fifth tier of Argentinean football between rival teams Claypole and Victoriano Arenas.
Register for free to continue reading
Registration is a free and easy way to support our truly independent journalism
By registering, you will also enjoy limited access to Premium articles, exclusive newsletters, commenting, and virtual events with our leading journalists
Already have an account? sign in
Join our new commenting forum
Join thought-provoking conversations, follow other Independent readers and see their replies