Matt Butler: Where will Sky Sports stop in its bid to eclipse BT Sport?
View From the Sofa: Jim White takes to the airwaves in pointless effort to help broadcaster visit all 92 league clubs in a day while brash new competitor plays it safe back in studio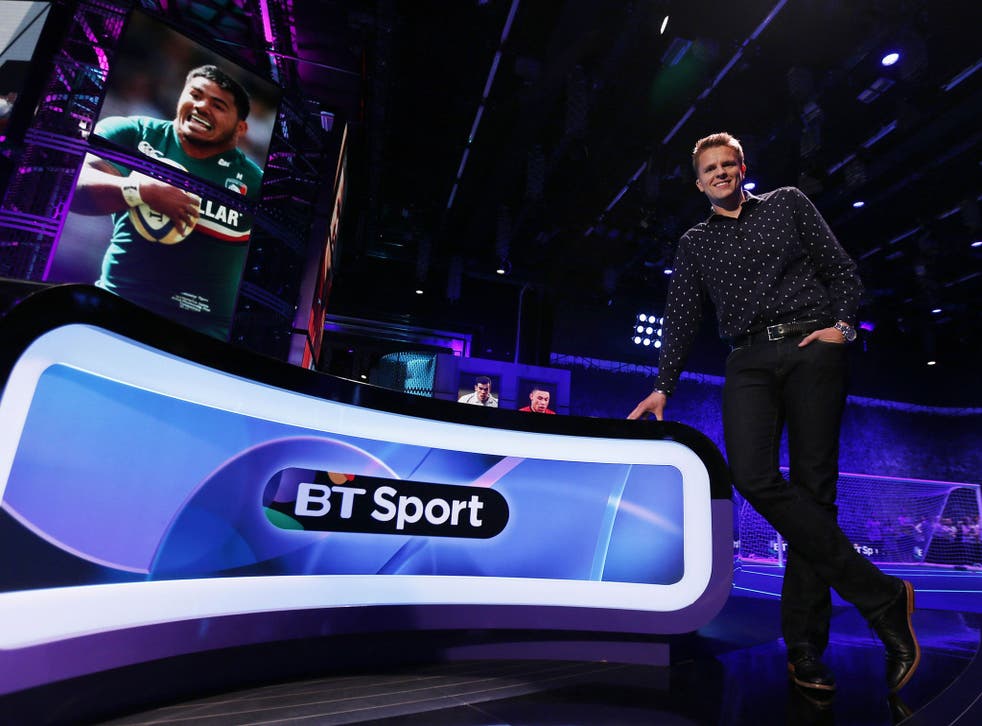 The moment football finally ate itself was 2.43pm on 1 August 2013. It was when the Derby County groundsman was filmed live painting a line on the Pride Park pitch while the Sky Sports News ticker flashed up that One Direction's Louis Tomlinson has signed for Doncaster.
And it was still three-and-a-bit hours before the BT Sport behemoth had been let loose on the nation.
County's ground was the 63rd that Sky Sports News visited in its largely pointless 92Live exercise, where Jim White, the shouty doyen of deadline day, was chucked into a chopper and flown around the country in the "historic broadcasting project" of covering every ground in the top four tiers of English football in a single day.
It was no doubt designed to steal BT's thunder and was the sort of idea that would have sounded great at an early-morning brainstorming meeting – one where unfortunately nobody piped up to say, "hold on, boneheads, nothing goes on at football grounds outside of matchdays, least of all in the middle of summer".
And it would have given BT tremendous comfort that no matter what happens over the course of the season – and remember that they have signed Tim Lovejoy, so the likelihood of a face-palm moment in the studio is pretty high – they will never top the level of money-wasting, banal time-filling or extended items of non-news reporting that Sky Sports News achieved.
A pie-eating contest in Rotherham? Check. Dave Whelan blathering on about life in the Championship in a deserted DW Stadium? Check. Countdown (or countup, to be accurate) in the corner of the screen and small noisy groups of people who should know better and have homes to go to? Check and check.
The weird thing was that even though the moment Tomlinson signed for Donny was the point where slow shaking of viewers' heads turned into shouting and fist-shaking at the slow transformation of the national sport into gossip column fodder, it was one of the few bits of news to report.
The other morsel we were thrown was White's interview with Liverpool's managing director, Ian Ayre. He was remarkably candid about Luis Suarez and remained insistent he would stay – adding that the Uruguayan owes the club for the support they gave him following his many misdemeanours.
The rest of the day felt like Sky Sports News were building for something, in the same manner that various minions of clubs and members of the public used to be button-holed on an FA Cup Final day. Except – and it bears repeating – there was sweet FA going on. Yes, Steve Lomas, Millwall's manager, was interviewed while playing table football in a windowless room in the bowels of The Den, and the access they were granted to the lower league clubs was mildly diverting for a time, but by club No 70 (Stevenage) the novelty of watching a reporter walk backwards down a corridor from the dressing room to the physio's office while saying exactly where they were going had well worn off.
By the time six o'clock rolled around for BT's launch, we'd even had the Mansfield (No 84) chairman's dog on telly – Jake Humphrey, the BT Sport presenter, was very welcome respite. Until he walked down yet another corridor, this time at their swanky new home in Stratford, east London.
He rattled off the football competitions that BT Sport will be showing as he walked past the relevant trophies (and, bizarrely, David James leaning against a wall looking like a festival roadie in chequered shorts), before handing over to Craig Doyle, who uttered the tragic news that Lovejoy has been given his own panel show.
The trumpeting of acquisitions went on for a good 15 minutes in front of a live studio audience and a backdrop of club badges – including the wrong one for Crystal Palace – and veered dangerously towards the vacuous guff we had endured on Sky Sports News.
But among the "we're making history" claptrap there was some actual live sport to look forward to on their opening night: namely, Manchester City in the pre-season Audi Cup; some rugby sevens action; and coverage from the WTA Southern California Open.
But before we got to that, there were a few more faces to introduce and upcoming shows to promote. Like Clare Balding's announcement that they would be live-linking to Rio Ferdinand's house next week, before his testimonial game. The proclamation was a little confusing, if not only for the reason that Balding was holding a Channel 4 Racing microphone as she was live at Goodwood.
One positive theme that ran through BT Sport's initial announcements was their commitment to women's sport. Balding said she would fly the flag for females, as did Lindsey Hipgrave, the channel's tennis presenter.
And as they said repeatedly, they hope to be in the business of delivering a high-quality product. They have already given Sky Sports a wake-up, judging by their ostentatious stunt which achieved so little. We just have to pray that BT never get their hands on a chopper.
Register for free to continue reading
Registration is a free and easy way to support our truly independent journalism
By registering, you will also enjoy limited access to Premium articles, exclusive newsletters, commenting, and virtual events with our leading journalists
Already have an account? sign in
Register for free to continue reading
Registration is a free and easy way to support our truly independent journalism
By registering, you will also enjoy limited access to Premium articles, exclusive newsletters, commenting, and virtual events with our leading journalists
Already have an account? sign in
Join our new commenting forum
Join thought-provoking conversations, follow other Independent readers and see their replies