Matthäus: Great player, but terrible playboy who can't find joy as a coach
He won the World Cup but remains unloved in Germany due to erratic love life and poor managerial record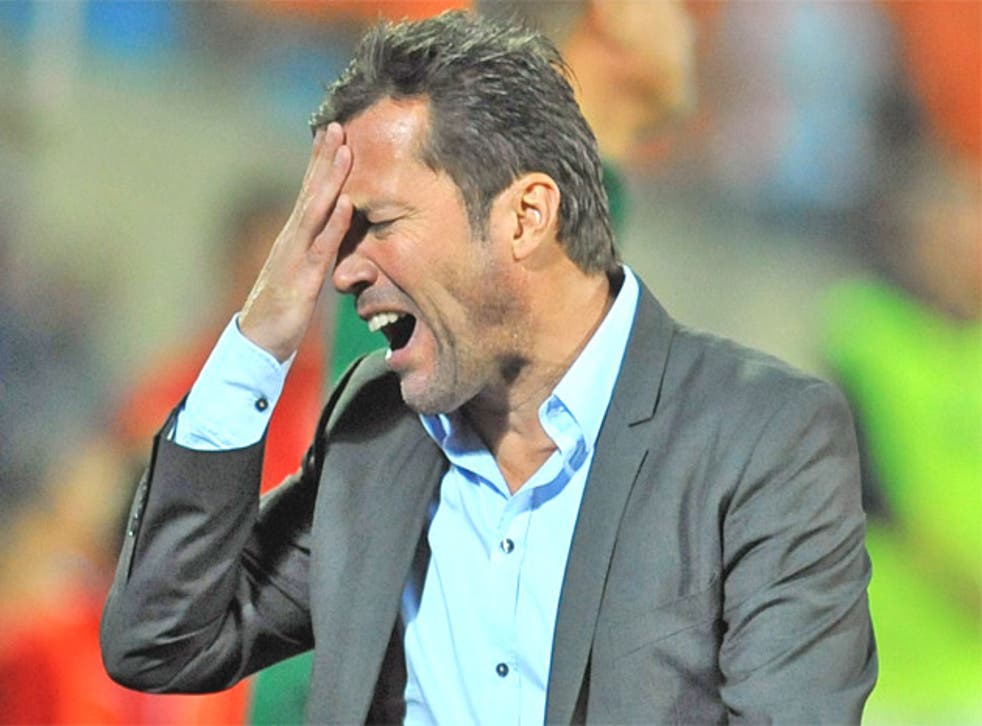 It's been a career of two halves. First came Lothar Matthäus the multi-garlanded player, the steely epitome of Germany's domination of the game in the early 1990s and the man Diego Maradona described as his toughest ever opponent. Now there is Matthäus the coach with a succession of failed or interrupted roles at a peculiar succession of mid to low-ranked clubs around the globe all the while being studiously ignored by those of his homeland.
Ever since he stepped from the playing field for the final time in 2000 – an unsuccessful sojourn in Major League Soccer providing a taster for what lay ahead – Matthäus, who is now coach of Bulgaria, who host England tomorrow, has wanted to manage in the Bundesliga. But the Bundesliga, the occasional flirtation apart, does not want Matthäus and, as he is now aged 50 and older than 13 of Germany's 18 top-flight managers, it looks as if time has passed him by. A legend on the pitch, he has fallen short off it.
Bundesliga clubs have become wary of Matthäus. As recently as this spring he was linked with a role at 1860 Munich, but they have been ensconced in the second tier of German football for the last seven years. Over the years there has also been interest from Frankfurt and Nüremburg among others, but no more than that and, in the case of Nüremburg, the supporters were said to be reluctant to welcome a man so closely associated with their great Bavarian rivals in Munich.
There was another reason that Nüremburg's support was less than keen on Matthäus being proposed as their next manager, and this perhaps explains much of the curious indifference in the German football world to one of their greatest players – arguably only Franz Beckenbauer stands above Matthäus. Bayern Munich power brokers Uli Höness and Karl Heinz Rummenigge stand out as admirers of a fellow old boy, not that he will ever be entrusted with the reins at FC Hollywood. Because Matthäus has himself become something of a Hollywood figure. Tales of his personal life have become a staple for Germany's tabloid press, and with the happy assistance of the man himself.
He has been married four times, the last in January 2009 in Las Vegas to a 21-year-old Ukrainian model whom he had met at Oktoberfest in Munich the previous year. When they split up he again told all to Bild, Germany's best-selling newspaper. "There are always stories of wives and girls. He tells them everything about the failings of his love life," says Philipp Selldorf, football correspondent of Munich's Suddeutsche Zeitung. "He has become seen as a ridiculous person because of his private life. He was a great player, not a bad guy at all but he has been a bit naïve."
If a need to factor in a baggage allowance in any move for Matthäus has added to the Bundesliga's wariness, there is also his coaching CV to consider. It does include moments of success but is striking for the brevity of his tenure in all six jobs. Since retiring he has led a nomadic existence, pitching his tent in Austria, twice, Serbia, Hungary, Brazil, Israel and now Bulgaria. But it has not taken long for the canvas to come down again. A year has been pretty much the limit for Matthäus, even if there is no consistency to the reasons for his departure – there have been sackings, switches to a more fancied position, financial constraints and the great catch-all, personal reasons, or in Matthäus's case for his departure from Atletico Paranaenes "personal reasons of great urgency".
That five-week stay in Curitiba, a city in southern Brazil, was the nadir of Matthäus's erratic coaching career. It had actually begun with suggestions that here was a great player who might also become a coach of note, perhaps one even to match Beckenbauer, who lifted the World Cup as captain and then, with Matthäus as his formidable on-field leader, as coach. In December 2002 he arrived in Belgrade to take up his second coaching position after a season with Rapid Vienna. They were top of the table when he took over and he kept them there for the remainder of a season that saw them finish 19 points ahead of bitter rivals Red Star. What was undeniably Matthäus's achievement was to take them into the following season's Champions League group stage via a qualifying victory over Bobby Robson's Newcastle United. Partizan went through on penalties (a familiar result for both managers) to face Real Madrid, Porto and Marseilles and Matthäus began attracting wider attention for the first time for his abilities as a coach.
Then came another of those peculiar decisions that litter his second career. In December 2003 he quit to take over as coach of Hungary. One unsuccessful World Cup qualifying campaign later there was a mutual parting of the ways, even if he was offered honorary Hungarian citizenship. His next role was with Paranaenes; after seven games he informed the club he had to return home for personal reasons and never came back. He faxed his resignation and the club responded by releasing details of the near $6,000 telephone bill he had left unpaid.
"It is not always sunny on the football playground, sometimes there are clouds too," remarked Matthäus after Bulgaria lost a friendly to Belarus in Minsk last month. He took on his latest role last September and oversaw a victory over Wales in Cardiff in his first game, but results have since slipped. In June they lost an exhibition match to Corsica. After the Belarus defeat, Matthäus said that he hardly slept.
It is an accusation levelled at many great sportsmen that they make poor coaches because they have difficulty in accepting the limitations of those with lesser abilities. Matthäus was a ground-breaking midfielder, the most powerful presence in football's power age of the early Nineties. Italia '90 was his crowning glory as West Germany won the World Cup and he became European and World Footballer of the year. In all he played 150 times for Germany, a record 25 of them in World Cup finals. He also played in four European Championships and was part of the side that won the 1980 edition. The one trophy missing is the European Cup; in 1999 he was substituted four minutes from the end of the final with Bayern leading Manchester United. The following year he played his final club game on home soil, a 4-1 win over Real Madrid, and has been in footballing exile since.
His inability to secure a job back home has been a constant source of irritation for Matthäus but there is no sign of a way back, even if he was to conjure a first ever win for Bulgaria over England. "At the moment you can't see him getting a job here," suggests Selldorf. "Time has passed him by and now there is a new generation of younger managers."
On his website there is a personal section which includes photographs of Matthäus posing around what look like a smart hotel. In them he resembles a wistful minor European royal, a football prince without a throne to inherit, and one who has failed to realise the monarchists have had their day.
Career of two halves: The player and the coach
Playing career
1979-84 B M'gladbach (162 apps, 36 gls)
1984-88 Bayern Munich (113/57)
1988-92 Internazionale (115/40)
1992-2000 Bayern Munich (189/28)
2000 Metrostars (16/0)
1980-2000 West Germany/Germany (150/23)
Honours
1991 Uefa Cup (Internazionale)
1996 Uefa Cup (Bayern)
8 League titles (7 at Bayern, 1 with Inter)
1986, 98 German Cups (Bayern)
1989 Italian Cup (Internazionale)
1980 European Championship
1990 World Cup
Coaching career
2001-02 Rapid Vienna (Austria) – sacked
2002-03 Partizan Belgrade (Serbia) – resigned
2003-05 Hungary national side – contract expired
2006 Ath Paranaense (Brazil) – quit
2006-07 Red Bull Salzburg (Austria) – sacked
2008-09 Maccabi Netanya (Israel) – mutual
2010-present Bulgaria national side
Honours
2002-03 Serbian League (P Belgrade)
2006-07 Austrian League (Red Bull Salzburg)
Join our new commenting forum
Join thought-provoking conversations, follow other Independent readers and see their replies