Michael Emenalo: 'An exceptional player and great person. He is the full package'
His appointment at Chelsea surprised many, but not those around the world who have worked with him before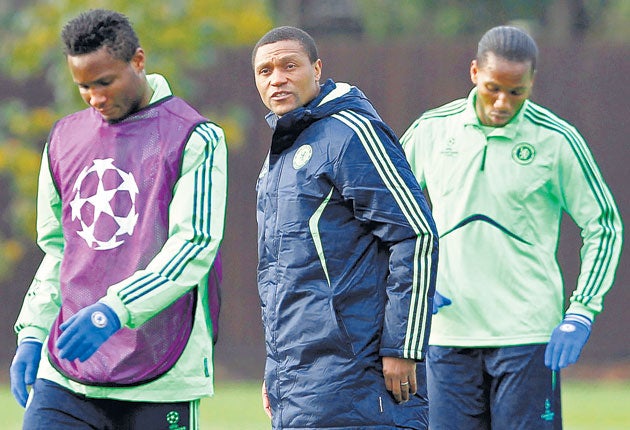 When Michael Emenalo left Nigeria as a teenager to pursue his dream of an education in the United States he could not have imagined that more than 20 years later he would find himself as the assistant manager of one of English football's biggest clubs – and a friend to its billionaire Russian owner.
The rise of Emenalo – appointed Chelsea's assistant manager by Roman Abramovich on Thursday – has been rapid since he joined the club as head opposition scout three years ago. As the dust settles on a chaotic few weeks at the club, and with Carlo Ancelotti's future far from certain, it is Emenalo who has emerged as a powerful figure at Chelsea.
Over the last few days, The Independent has spoken to people who knew Emenalo as his career developed from player to coach to build a picture of Chelsea's new No 2.
Emenalo was one of the first African players to star in US college soccer and he was so successful as a student that before embarking on his professional football career he considered becoming a lawyer. He played for Nigeria against Diego Maradona in the 1994 World Cup finals. And as an agent he was central to ensuring that it was Chelsea whom his compatriot John Obi Mikel joined after his disputed transfer with Manchester United.
Emenalo has also endured great personal tragedy in the death of his first wife. Like so many who earn a living outside the game's elite he has had to deal with the uncertainty of a journeyman footballer's life, playing in six different countries. And for all the intrigue around his appointment, and the dismissal of his predecessor Ray Wilkins, all those who know him describe an intelligent, popular figure.
He left Nigeria in 1985, having played as a teenager in his country's failed qualification campaign for the World Cup finals the following year. In the words of Neil Roberts, his coach at Boston University, Emenalo "snuck out the team hotel after the game with his passport" following a decisive defeat to Tunisia and went to the US.
There were two Nigerian footballers at Boston University at the time and Emenalo came highly recommended. Roberts, who was then in his first year coaching Boston's men's soccer team, said: "When Michael came here he was an exceptional player. He has a great personality – he is a very intelligent person.
"He was one of the top students in the university and when he finished playing soccer we sat down and looked at his options. There wasn't a professional league in the States and he had an offer from Belgium [Brussels club Molenbeek] which he took. But he could have gone to law school, too. Academically he was gifted."
At Boston, Emenalo, who played as a midfielder in those days, was an "All-American" – voted one of the best players in the top universities. Roberts has stayed in touch with his protégé over the years but he is not the only one. "If you look at Michael's coaches over the years they have always gone back for him," Roberts said. "He really is the full package."
The managers who have gone back for him do not just include Avram Grant, for whom Emenalo played at Maccabi Tel Aviv and who took him to Chelsea in October 2007. In the 1997-1998 season, Emenalo played for Lleida, a small Catalan club then in the second tier of Spanish football. Their manager was Juande Ramos who, Roberts said, later tried to recruit Emenalo as a coach when he took over at Tottenham Hotspur in 2007.
From Molenbeek, Emenalo moved on to Eintracht Trier in Germany. It was at the end of that season in 1994 that the finest moment of his playing career arrived. He played for Nigeria in the World Cup finals, coming on in the first game against Bulgaria and starting the next three including the defeat to Maradona's Argentina. Nigeria were eliminated in the second round by Italy, whose assistant coach was a young Ancelotti.
Emenalo's next move was less auspicious. He went to Notts County for a season in what is now the Championship, where the former Wales international Andy Legg was a team-mate.
"We knew he had played at the World Cup and when he joined us it was obvious he was such an athlete – he was unbelievable," said Legg, now manager at Llanelli. "One game he was played at left-back and he would end up on the right wing. He was a quiet lad and kept himself to himself.
"We didn't have a great season [County finished bottom, 14 points from safety] and he didn't play much. It didn't work out, but he was strong and powerful and when he went on a run he really did go on a run."
Emenalo's next move was back to the US for the first season of the new Major League Soccer in 1996. It was there, Roberts recalled, that Emenalo's wife died while pregnant with their second child while he was at a training camp with San Jose Clash. Emenalo, who has since remarried, was left to care for his daughter.
From San Jose he went back to Spain to play for Ramos – Lleida finished fifth in the second tier – and then on to Maccabi Tel Aviv with Grant. The Israel international David Ben Dayan, now at Hapoel Tel Aviv, was in the same side. "He was very positive, very motivated, a very nice guy," Ben Dayan said. "He played as a libero in the middle of midfield."
Since Maccabi, Emenalo's last club, he has worked in football, occasionally as an agent, which was when he became involved in Mikel's controversial transfer from the Norwegian club Lyn Oslo. When Grant brought Emenalo to Chelsea he had been working for the Tucson Soccer Academy in Arizona since 2005.
The academy is a regional academy that coaches children of both sexes and it is Emenalo's time there that has fuelled fears among Chelsea fans that their new assistant's last job was coaching a girls' Under-12s team. Dave Cosgrove, one of the academy's founders, said that the academy knew that Emenalo was likely to move on to bigger things.
"When we interviewed Michael it was a no-brainer," Cosgrove said. "No one was surprised when Chelsea came in for him. He had that kind of reputation and those kind of contacts in the game. He restructured our entire programme in the 18 months and made a great impact. The Chelsea job wasn't the first he had been offered in Europe but he felt a strong allegiance to Avram Grant."
Emenalo is now aligned to Abramovich himself and there can be few more powerful allies. "He was a gifted player," said Roberts, "and he has taken his playing career and built something good from that."
Join our commenting forum
Join thought-provoking conversations, follow other Independent readers and see their replies