Neil Warnock: As I know to my cost, Gary Johnson has previous with goal controversies
Warnock's World: I do think in situations like that referees should be able to cancel the goal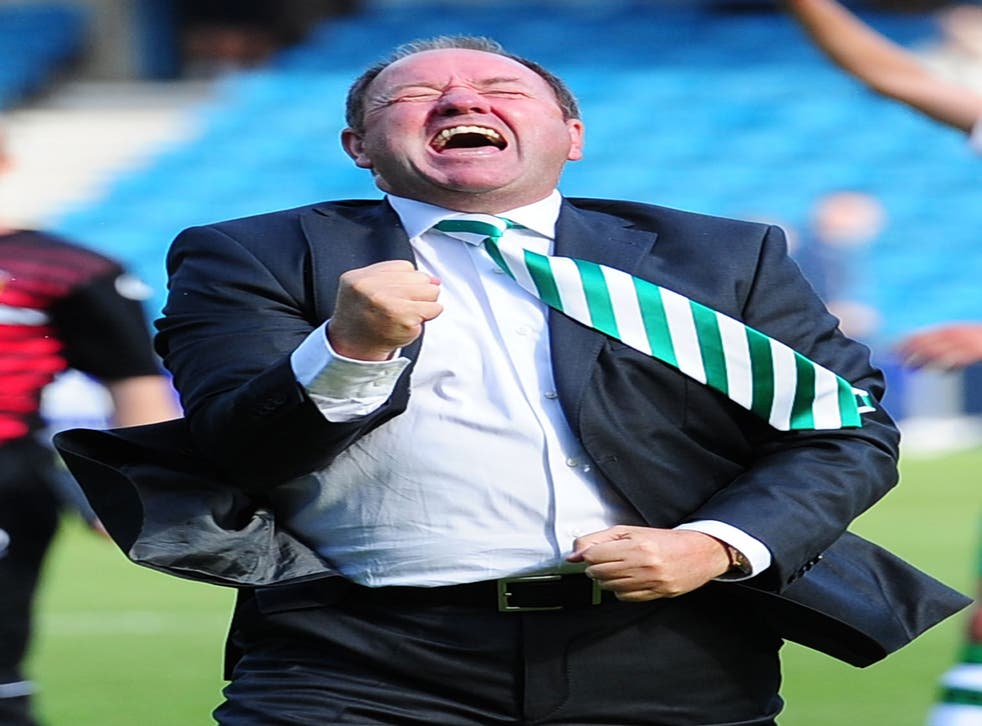 I had to smile the other night when the Yeovil Town-Birmingham City match came on the Capital One Cup highlights. As you probably heard, Birmingham were winning 2-1 in the 90th minute when their goalkeeper kicked the ball out because a player was injured. The game resumed with a Yeovil throw-in and, as is the custom, Birmingham's players stood off to allow the ball to be knocked back to their goalie. Only Byron Webster took advantage of this and chipped the keeper. That made it 2-2, forcing extra time. As you can imagine, all hell broke loose because it was obviously ungentlemanly conduct. Lee Clark, Birmingham's manager, told Yeovil's Gary Johnson he should order his team to let Birmingham score, but Johnson wasn't having any of it. City, understandably, were furious.
It brought some bitter memories flooding back to when I was at Crystal Palace and we played Johnson's Bristol City team. Freddie Sears, who was on loan from West Ham, scored a cracking goal for us and while the ball bounced back off the stanchion it was so obvious it had gone in the players all stopped. We were celebrating, City's players were on their knees, then we all realised Rob Shoebridge, the referee, hadn't signalled a goal. He and all his assistants were the only people in the ground who had not seen the ball go in.
I shouted to Gary, "You should let us score a goal." He wasn't interested. To cap it all Nicky Maynard scored a late goal to give City a 1-0 win. At Ashton Gate the dressing rooms are in the corner so you have a long walk from the dugout. I'll never forget walking off down the touchline with all those City supporters jeering, all of us knowing we should have won the game.
I told Gary, "You'll regret it, what comes around, goes around', and told the press I was disappointed but it wouldn't surprise me if everything went wrong for Johnson afterwards. I was right, he ended up getting the sack. I wonder what will happen with Yeovil now.
Of course he did, eventually, tell his team to give Birmingham a goal this week, but only in the second period of extra time after Yeovil had gone ahead, and he'd had time to think about it and realise all the stick he would get. I didn't have a lot of sympathy. Birmingham won the penalty shoot-out so justice was done in the end.
That season Palace only stayed up by a point so that match nearly sent us down. As for poor Sears, he never did score for Palace. He went back to West Ham but goals continued to be hard to come by and he's now at Colchester United in League One. Just think how his future might have worked out had that goal counted. Goalscorers thrive on confidence and he was robbed of a goal that could have kick-started his career.
I do think in situations like that referees should be able to cancel the goal. There is a bit of leeway in the laws regarding ungentlemanly conduct and they could use that to allow the game to restart with a free-kick to the team that had kicked the ball out.
Brendan must regret picking such a strong side
I hope there is nothing as unsporting in this weekend's derby matches, but I also hope they don't turn end up a damp squib like the Manchester United-Chelsea game. We had a boys' night in and were really looking forward to it. After 20 minutes William turned to me and said, "Dad, it's boring." I said, "It'll liven up." After 65 minutes he said, "Dad, can we turn over?" So we did. I suppose it was a tactical battle but it didn't exactly thrill. What it did show was how much Chelsea needed to bring in Samuel Eto'o, as I couldn't see them winning the league with Fernando Torres as the main man. I can understand why Jose Mourinho was interested in Wayne Rooney but once there was no chance of that happening they would have been left hoping Romelu Lukaku came good as it's obvious Jose doesn't fancy Demba Ba.
Sunday is an even bigger game for United as Liverpool is always the most eagerly awaited game of the season for both sides. Which meant Brendan Rodgers can't have been too thrilled with the way his Capital One Cup tie went. I tuned in as they were playing Notts County, and my old assistant, Mick Jones, is now there helping out Chris Kiwomya. Brendan fielded such a strong team it looked like they were going to get double figures at one point, but they missed chances, County got one, then another, and Liverpool ended up playing for two hours. I thought Liverpool's youngsters took their foot off the pedal as it seemed too easy. They mentally switched off, but in football you can never take anything for granted and it is hard to switch back on again.
The end result was Brendan also lost players to injury, which was no surprise as there were some tackles flying. Steven Gerrard came out of one and seemed to be thinking, "what am I doing being involved just days before United?" To lose three players is a blow. When Kolo Touré went off I felt for Brendan. He must have been thinking, "I was wrong to field a strong team." It's a no-win situation for managers. If you play a weakened team you get criticised, if you play a strong one you can lose three players before a huge game. Then to top it off the draw paired them with United, for Luis Suarez's comeback, too. Both managers need that draw like a hole in the head, but I bet TV are thrilled.
Tottenham-Arsenal has a tinge more excitement with what is happening with Gareth Bale. Whatever happens with him over the next few days it is all cat-and-mouse. I've dealt with Daniel Levy, and it is always hard to get a transfer over the line with him. He's been trying to get the last drop out of Real Madrid, but why not just wish Gareth the best and cash in? It's a decent fee and a fantastic move for Gareth, one that won't happen again if it fell through. On top of that Spurs have spent money already and look as if they have spent it well. They might not be as fluent going forward – any team would miss Gareth – but they have some strength in depth.
Everyone will be writing Arsenal off again – just as they were two weeks ago after they lost to Villa. Yet they have since qualified again in the Champions League and won well at Fulham. Arsenal keep losing players with injury, but keep scoring goals and winning matches. Arsène Wenger just seems to stay calm and come up with the answers and I certainly wouldn't bet against him doing it again and pulling a rabbit out of the hat in the last days of the transfer window.
Feeling evergreen with the Senior Greens
I spoke to the Senior Greens this week at their lunch. They are the veteran Plymouth Argyle fans. I had to thank them for the invite as it was a long time since I'd been able to feel so young. They took it in good spirit, though I don't know what William made of it. It was nice to talk about my career and tell some funny stories; no doubt I'll be able to do that a bit more now and then. Tomorrow I'm at Motherwell v Kilmarnock for BT Sport. I'm looking forward to seeing my former assistant at Sheffield United, Stuart McCall, who's done well at 'Well.
Register for free to continue reading
Registration is a free and easy way to support our truly independent journalism
By registering, you will also enjoy limited access to Premium articles, exclusive newsletters, commenting, and virtual events with our leading journalists
Already have an account? sign in
Register for free to continue reading
Registration is a free and easy way to support our truly independent journalism
By registering, you will also enjoy limited access to Premium articles, exclusive newsletters, commenting, and virtual events with our leading journalists
Already have an account? sign in
Join our new commenting forum
Join thought-provoking conversations, follow other Independent readers and see their replies