Neil Warnock: I never realised how big a club Leeds was until I found myself on the inside
What I Learnt This Week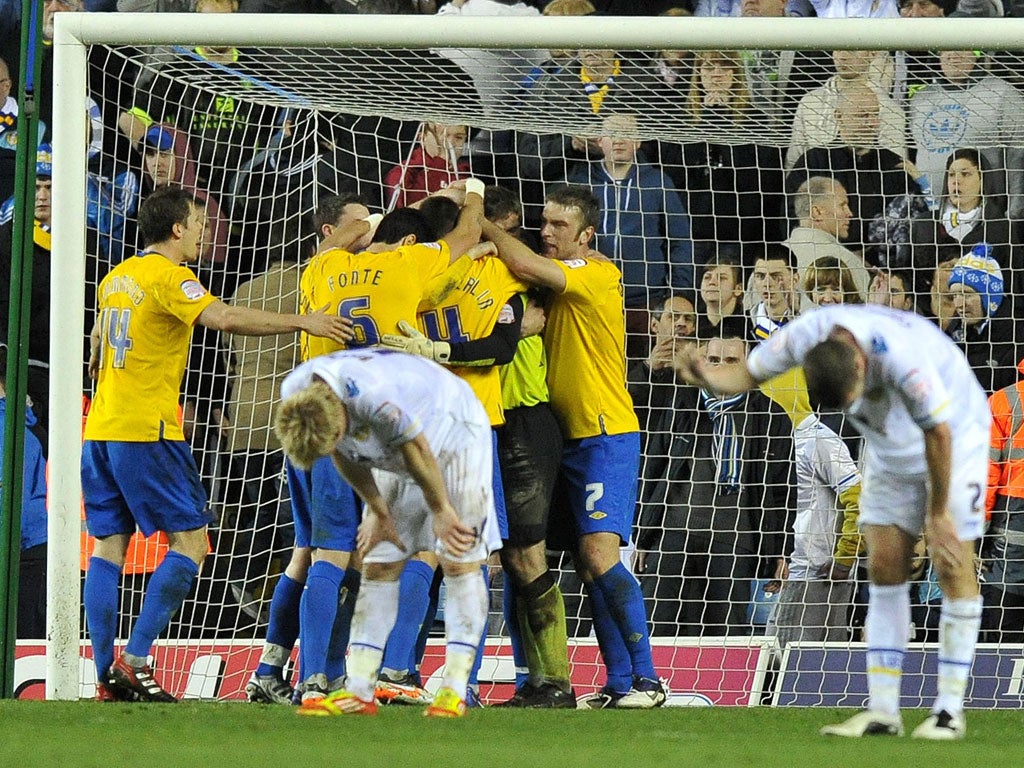 There are never enough hours in the day when you join a football club in mid-season, especially in the situation I find myself in at Leeds, where we've one eye on reaching the play-offs this season, the other on building a promotion-winning squad next season, and half-an-eye on what we will need if we do go up this season. Then there's the off-field aspect to sort out as well, like finding somewhere to live.
As I mentioned last week, I've moved into a nice little cottage, and after three weeks at Elland Road there's also been good progress on the football front. Defensively we've been good, only conceding once, to the league leaders, in three games. The problem is we've not scored at the other end. I'm hoping that will change in our televised match at Middlesbrough tomorrow lunchtime.
We certainly won't come closer without scoring than we did against Southampton last week, when we hit the woodwork more than once and their keeper was superb. We were outstanding and that is all I can ask. The atmosphere really whetted the appetite for our next home match, against West Ham, when we won't be far off having 30,000 in the ground.
When you arrive at a club the first thing you need to do is assess what you've inherited – not just the players, the whole set-up. Everyone is important at a football club; you need a united sense of purpose, from the gateman to the centre-forward. So I've got to know Claire, the cleaning lady, who's been here at least since David O'Leary was manager. I said to her: "You've seen a few managers off, and I expect you'll outlast me too."
Every match, every training session, I am learning something about the players. All that information is vital, because as well as trying to pick teams to win matches I need to make a decision on players whose contracts are winding down. I've already started speaking to a couple of them as I plan my squad.
Like every manager, I'm always looking to strengthen and I brought in Paul Robinson on loan from Bolton this week. He'll add experience and leadership to our defence. I'm still looking for other players before the loan deadline.
What has surprised me is just what a big club this is. You don't appreciate it until you are on the inside. We've supporters' clubs all over, from Ireland to Dubai. Every night there is a function to do with supporters. You want to go to them all so you can get to know people and get a feel of the club, but that's impossible.
I've really enjoyed it, though it's in at the deep end. On the way to Hull someone said to me: "This is Hull's biggest game of the season, a Yorkshire derby, and it'll be Middlesbrough's biggest on Sunday." Then they added: "And we still have to go to Millwall and Cardiff." I'll have to get my crash helmet out again.
I've been enjoying being back in the Yorkshire weather. Last weekend Sharon and the kids came up and I took them to the training ground on Sunday morning. What a good welcome. It was snowing, sleeting and minus two degrees. There were under-nine, under-11 and under-13s scheduled and all had to be cancelled. It was so cold some of the under-nines were crying as they went through a warm-up!
We then went in to Wetherby, which is a lovely town, and did some shopping. Guess what Amy bought amid the snow and freezing weather. A pair of shorts and a bikini.
2 AVB was too young, but he will be back
The news that Andre Villas-Boas had been sacked at Chelsea didn't surprise me in the slightest. I felt from day one he'd been thrown to the lions. I'm sure Roman Abramovich had good intentions bringing a young manager in to change an ageing squad, but to manage a club like Chelsea you have to have experience. It is impossible to deal with the players they have, otherwise. I think if anything he made his mind up too quickly. I don't think a player's age at that level is very significant. Look at Paul Scholes and Ryan Giggs. In the end chopping and changing for the sake of it ended up costing him his job because of the unrest it caused.
Having said that, I'm sure with the pay-off he has got and his coaching ability Andre will be able to get back in with a job in which he can relax and enjoy himself. He is a smashing young man with a good future in the game; I just think it was a bit too soon for someone of his experience.
Andre was not the only manager fired last week. Les Parry had a tremendous run at Tranmere when he took over and I think he can look back with a lot of pride at his time at the club. On the other hand it is great to see Ronnie Moore back in his element and what a start, snatching a draw in the last seconds with everyone, including the goalkeeper, in the box. I felt for Keith Curle, my old coach; that would have been a fifth win in five starts without conceding a goal. It has still been a fantastic opening for him and I'm ever so pleased, especially as Notts County is a club I hold close to my heart.
3 Apoel embarrass our Euro underachievers
The story of the week has got to be that Cypriot club, Apoel Nicosia, getting into the last eight of the Champions League. It's like a team like Watford, a mid-table Championship club, doing it – except Watford have bigger gates and a bigger record fee. It's unheard of, really, and I suppose it embarrasses our clubs who, unless Chelsea can overturn Napoli's advantage next week, will all be watching on the sidelines.
I thought the scenes after the game were magnificent. By all accounts it seems to have united the whole of Cyprus; Greeks and Turks all seem to be celebrating and pulling together. It is not as if they have had an easy ride either. Porto, Shakhtar Donetsk and Zenit St Petersburg, all recent European trophy-winners, were in their group – and it is no mean feat to beat Lyons.
We might have no one left in Europe at all ourselves by the end of the month, judging by the first-leg results of City and United in the Europa League. So much for the all-Manchester final; it just shows you have to take things one round at a time.
4 It's tough for bottom three if they lose today
Today's Premier League focus is on the bottom, with some massive games. I do fear for the bottom three if QPR and Blackburn get results today and are able to open a little gap. This is a time when players have to really stand up for their managers.
I feel if QPR can win at Bolton it would be the springboard for the remainder of the season. Given the run of fixtures Rangers have had, they would have hoped to be higher up the table by now, but it is funny the way things can work out; they might find it easier to beat teams who are higher up the league. They certainly have a squad which is more than capable of beating Liverpool next week at home, especially with players coming back from injury and suspension.
While on the subject of my old club, did you watch The Four Year Plan? If you did you'll appreciate why I classed the job as the toughest in my career. I suppose that's why it probably hurt a little bit more when I had to leave. I guess it was a bit unlucky to have three owners in 18 months.
5 Moyes has taken up my line on dive cheats
It was interesting hearing Davie Moyes talking about retrospective punishment for divers. I've been arguing for that for years. I do believe if it is proved beyond doubt a player dived he should be banned for six games – not fined, fining a player is no longer a deterrent. Cheats are so good at diving now, poor refs haven't a cat in hell's chance of spotting it.
6 My catchphrases are given the cold shoulder
Having dinner out with Sharon this week, I couldn't help feeling sorry for a youngish couple who, after their starter, put their coats on and went outside in the freezing cold for a cigarette. They did the same thing after the main course. I can't understand that with the lovely taste of the meal, plus how bad smoking is for you.
I also had a bite with the kids and, when I was drinking my tea the waitress asked me if I wanted sugar. I replied with a smile: "You don't have sugar with a body like mine."
Then I noticed Amy squirming with embarrassment. She said: "I wish I had a fiver for every time you said that, Daddy; can't you change the record?" I suppose everyone has stock phrases they overuse. In my first few years with Sharon, whenever we met friends who said, "I'm sorry, I don't know anything about football," I'd reply, "That's all right, you can be one of our directors." It got to the stage Sharon knew I was going to say it before I did.
Join our commenting forum
Join thought-provoking conversations, follow other Independent readers and see their replies