Nicolas Anelka: FA charge West Brom striker for his 'quenelle' gesture
Anelka has been charged with making 'a reference to ethnic origin and/or race and/or religion or belief' gesture during the 3-3 draw with West Ham in December
Agency
Tuesday 21 January 2014 10:03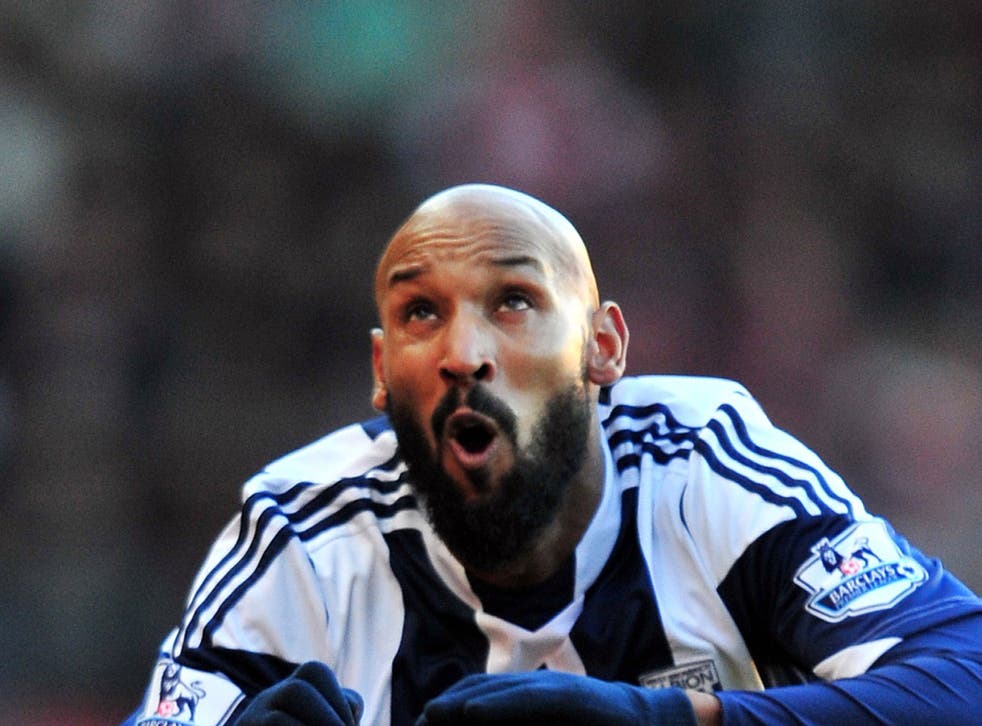 Nicolas Anelka has been charged by the Football Association over his controversial 'quenelle' goal celebration.
West Brom's French striker is facing a minimum five-match ban under new FA rules after the gesture, which some say is an inverted Nazi salute and has anti-Semitic connotations.
Anelka has been charged with making a improper gesture and that it was an aggravated breach, in that it included "a reference to ethnic origin and/or race and/or religion or belief."
Anelka, who has denied the goal celebration was intended to be anti-Semitic, made the quenelle salute after scoring in the 3-3 draw against West Ham on December 28.
The FA said in a statement: "The FA has charged the West Bromwich Albion player Nicolas Anelka following an incident that occurred during the West Ham United versus West Bromwich Albion fixture at the Boleyn Ground on 28 December 2013.
"It is alleged that, in the 40th minute of the fixture, Anelka made a gesture which was abusive and/or indecent and/or insulting and/or improper, contrary to FA Rule E3[1].
"It is further alleged that this is an aggravated breach, as defined in FA Rule E3[2], in that it included a reference to ethnic origin and/or race and/or religion or belief."
Anelka has until 6pm on Thursday to respond to the charge.
West Brom's shirt sponsor Zoopla, an online property search engine, said on Monday it would not be renewing its deal at the end of the season because of the incident.
Anelka has agreed not to perform the salute again after the club accepted it had caused some offence but there has been no apology from the player.
He has insisted the quenelle was a gesture in support of his friend, the controversial French comedian Dieudonne M'Bala M'Bala, who has been prosecuted for anti-Semitism.
The FA brought in an expert to help decide on whether charges should be brought and has spent several weeks working on the case due to its sensitivity.
A three-man independent regulatory commission will now be appointed to deal with the case - either to decide on the sanction if Anelka admits the charge or to hold a disciplinary hearing if he denies it.
Football's anti-discrimination group Kick It Out, which has expressed frustration over the length of time taken to decide on the case, called for a swift conclusion.
A statement said: "Kick It Out notes the Football Association's announcement to bring a charge to West Bromwich Albion striker Nicolas Anelka.
"The FA has previously demonstrated its commitment to taking effective and swift action to deal with all forms of abusive conduct in football, and has spent a longer time than desirable in order to give careful consideration to the allegations made in this case.
"Kick It Out awaits Anelka's response to the charge before making any further comment. The campaign hopes that this matter can now be quickly concluded."
PA
Register for free to continue reading
Registration is a free and easy way to support our truly independent journalism
By registering, you will also enjoy limited access to Premium articles, exclusive newsletters, commenting, and virtual events with our leading journalists
Already have an account? sign in