Nicolas Anelka gesture: 77% of French readers in magazine poll were not offended by the 'quenelle' celebration
View from France: Survey from weekly news magazine supports striker
James Gheerbrant
Monday 30 December 2013 13:13 Comments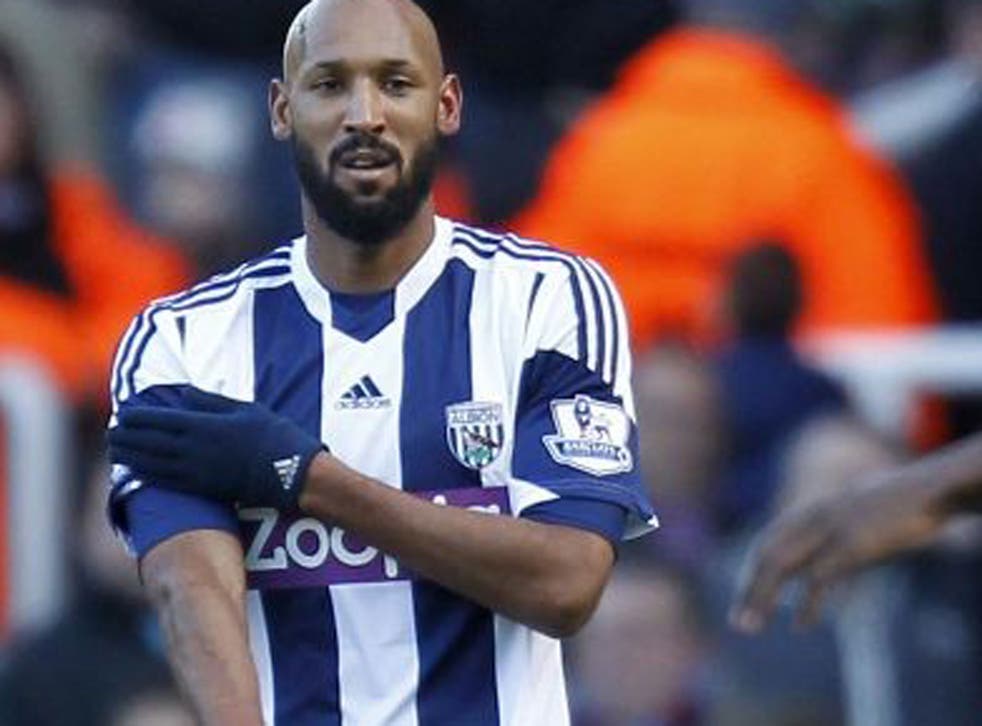 Nicolas Anelka's 'quenelle' celebration may have been condemned across the political spectrum – but public opinion has not swung so decisively against the West Bromwich Albion striker, with a clear majority of respondents supporting Anelka in a survey for the French weekly news magazine Le Point.
A poll for the magazine's website on the question "Are you offended by Nicolas Anelka's 'quenelle' in support of Dieudonné?" saw over 33,000 readers vote 'no' – more than 77% of responses.
Anelka said his gesture, after the first of his two goals in the 3-3 draw at West Ham on Saturday, was a dedication to his good friend Dieudonné, a stand-up comedian who has been convicted in the past of anti-Semitic remarks. The striker, however, sought to clarify his reasons for the celebration on Sunday night. "Of course, I am neither racist nor anti-Semitic and I fully assume my gesture," Anelka wrote on Twitter. "The meaning of 'quenelle' is anti-system. I do not know what religion has to do with this."
Anelka has also received backing from the footballing fraternity, with Montpellier defender Mathieu Deplagne, who himself performed a 'quenelle' celebration earlier this year, insisting on French radio the gesture had "no political or anti-Semitic connotation".
Deplagne added that if he scored again, he would "happily" repeat the celebration. His earlier 'quenelle' did not provoke a similar outcry, and the player was not disciplined by the French Football Federation.
Read more:
Even bestselling daily Le Monde was less than unequivocal in its criticism of Anelka. In an editorial piece, respected sports correspondent Marc Roche condemned the gesture, but insisted it should be seen within the wider context of "a resurgence of anti-Semitism in the Premier League", citing the Tottenham Hotspur 'yids' chant and Sunderland's appointment of Paolo Di Canio as examples.
The row shows no signs of dying down, with French President Francois Hollande the latest figure to wade into the controversy. Chiming with his Sports Minister Valerie Fourneyron, who denounced the "shocking, sickening" gesture on Twitter, Hollande told reporters on Sunday that "the anti-Semitic character [of the 'quenelle'] could not be denied".
The FA must now untangle the competing arguments as it begins its investigation into the incident. If Anelka's gesture is found to be discriminatory, he faces a minimum five-match ban.
Register for free to continue reading
Registration is a free and easy way to support our truly independent journalism
By registering, you will also enjoy limited access to Premium articles, exclusive newsletters, commenting, and virtual events with our leading journalists
Already have an account? sign in
Join our new commenting forum
Join thought-provoking conversations, follow other Independent readers and see their replies