Nicolas Anelka defends 'quenelle' gesture: 'I am not anti-Semitic or racist' says West Brom striker, who asks FA to drop charge
The Frenchman made the gesture after scoring against West Ham and faces a minimum of five games out if found guilty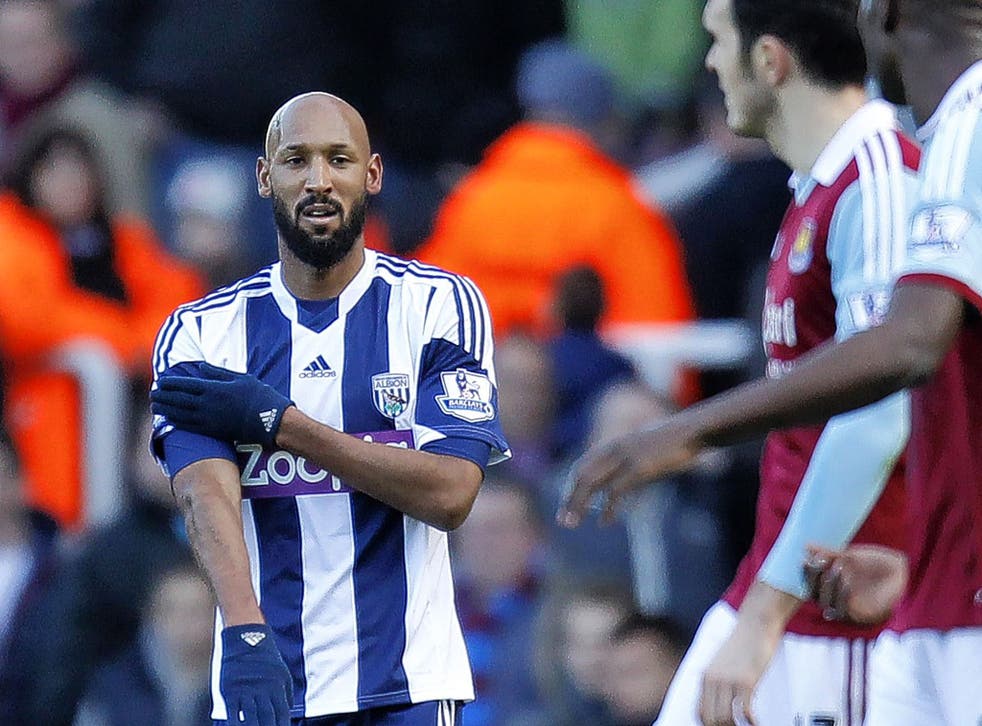 Nicolas Anelka has called on the Football Association to drop a charge against him over his 'quenelle' goal celebration and insists he is neither anti-Semitic or racist.
West Brom's French striker is facing a minimum five-match ban, unless he can prove his case, after being charged by the FA for an alleged anti-Semitic gesture.
Anelka performed a salute known as a 'quenelle' against West Ham on December 28 and is facing an aggravated charge which under new FA rules carries the five-match suspension as its starting point.
He pointed out the head of the CRIF, an umbrella group for Jewish institutions in France, had said the quenelle could not be regarded as anti-Semitic in the context it was performed in.
Anelka said in a statement on his Facebook page: "I therefore ask the English FA to kindly remove the charge made against me. And I repeat, I am not anti-Semitic or racist."
The FA had appointed an academic expert to advise on the case before it brought the charge, but Anelka questioned "what better expert" there could be than Roger Cukierman, the president of CRIF.
Anelka added: "The English Football Association has hired an expert to decide the meaning of my quenelle, who concluded that my gesture had an anti-Semitic connotation, which led to my charge by the FA.
"It would have been more legitimate for this expert to be French, living in France, who would have an accurate knowledge of my actions.
"What better expert than Mr Cukierman, president of CRIF (Representative Council of Jewish Institutions in France), who explains very clearly that my quenelle could not be regarded as anti-Semitic!
"He also explained precisely and when the gesture could have such a connotation."
A video clip on the website of French newspaper Le Figaro shows an interview with Cukierman saying Anelka's gesture was not anti-Semitic and that he should not be heavily punished.
Cukierman said: "It seems a bit severe to me because it seems to me that this gesture only has an anti-Semitic connotation if the gesture is made in front of a synagogue or a memorial to the Holocaust.
"When it's made in a place which is not specifically Jewish it seems to me that it's a slightly anarchic gesture of revolt against the establishment, which doesn't deserve severe sanctions."
Other pressure groups, however, have called for Anelka to be handed more than a five-game suspension due to his lack of an apology.
Jonathan Arkush, vice-president of the Board of Deputies of British Jews, said: "What he did was sufficiently serious to justify a longer suspension than five matches. He has not indicated one bit of remorse or regret or apologised for his actions."
Anelka was charged by the FA with making a improper gesture, an aggravated breach in that it included "a reference to ethnic origin and/or race and/or religion or belief."
The quenelle has been described as an inverted Nazi salute, and was created by French comedian Dieudonne M'Bala M'Bala, who has been prosecuted for anti-Semitism. Anelka is a friend of Dieudonne's and the player has insisted his salute was a gesture of support and aimed at the French establishment.
The 34-year-old French striker has until 6pm on Thursday to respond formally to the FA charge.
Another two of West Brom's key sponsors are considering withdrawing their backing from the club over the saga.
On Monday, primary shirt sponsor Zoopla, a property and house prices website co-owned by Jewish businessman Alex Chesterman, announced they would not be renewing their £3million contract once it expires at the end of the season.
Now Jack Wolfskin, an outdoor clothing, footwear and equipment specialist, and Holler watches, Albion's official timing partner, have confirmed they may follow the example taken by Zoopla.
Both companies are monitoring the situation after Anelka was charged by the FA.
A statement issued by Jack Wolfskin to Press Association Sport read: "Jack Wolfskin is following the developments closely, but has not taken a decision yet.
"The FA is waiting for a statement from Nicolas Anelka before coming to a final judgment.
"We consider the charges as serious and strongly disapprove of any gestures or statements which are meant to discriminate a single person, or a certain group of people.
"We are now awaiting the judgment of the Football Association before taking further steps.
"Depending on what our partner West Brom says, which measures they take and considering our legal possibilities, we would consider ending our sponsorship as one option."
In its own statement, Holler said: "We currently have a contract until the end of the season with West Bromwich Albion.
"We will be reviewing the situation with regards to whether we extend that after this season."
Kit supplier adidas will not be adopting such a stance, insisting it is firmly behind the club.
A spokesperson for adidas told Press Association Sport: "adidas is wholly opposed to extremism of any kind and has made this clear to the club.
"However, this is a disciplinary matter for the club and we remain fully supportive of West Bromwich Albion in handling this matter in conjunction with the FA.
"We remain committed to West Bromwich Albion, and look forward to continuing our partnership."
PA
Register for free to continue reading
Registration is a free and easy way to support our truly independent journalism
By registering, you will also enjoy limited access to Premium articles, exclusive newsletters, commenting, and virtual events with our leading journalists
Already have an account? sign in