Noel Gallagher exclusive: Forget about me, Balotelli's the real rock star
We want to believe this kid goes into petrol stations and buys everyone a full tank
Noel Gallagher
Friday 09 March 2012 01:00 Comments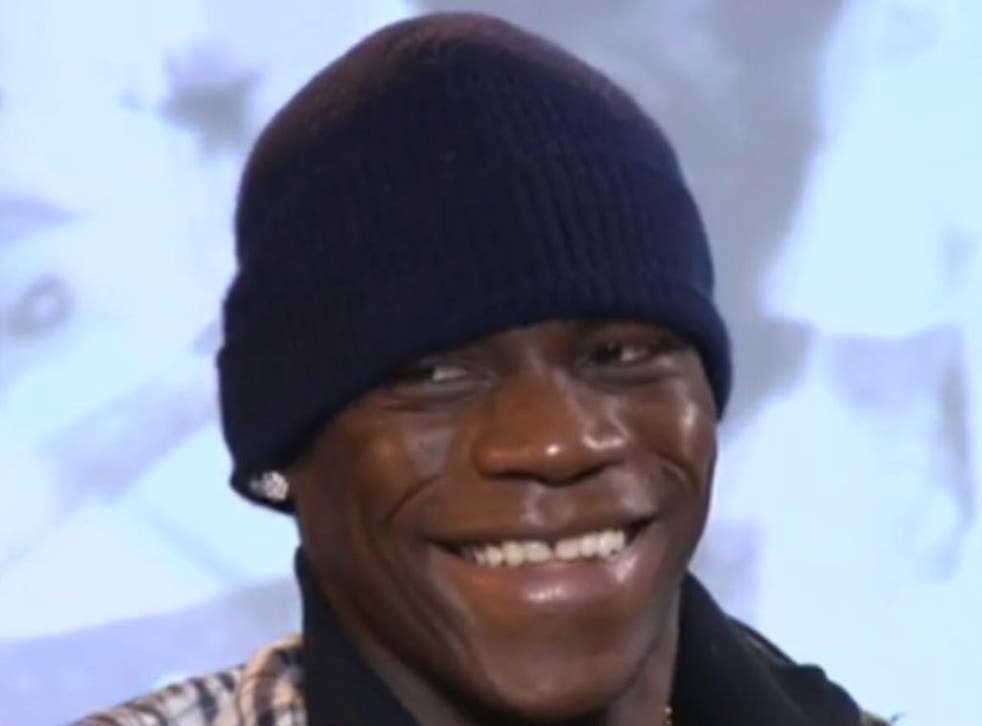 The BBC had been trying to get hold of Mario Balotelli to do a TV interview with him for quite a while. But he doesn't do TV interviews because he doesn't like journalists. And they kept going back to him and he kept saying no.
But I've been on tour and I've been dedicating a song What a Life to him every night. It's amazing the reaction that it gets, all around the world. People love him. It starts off with booing because he's a City player, but it turns into cheers because he's a modern day rock-star.
And he'd heard of this and he said if he was going to do an interview he'd only do it with me. So they asked me to do it, and I cleared my schedule. Too right, I'll do that for a laugh.
I spent an hour with the lad, he was quite shy. You could tell he's got a bit of the devil in him. He seems to be very much unaware of why people would make a fuss about him. He seemed very interested as to why I would dedicate a song to him. He's like all naturally talented people: he's not got a clue what he's doing.
I can only liken it to this: I was born with a natural gift for music. And I've never had a lesson in my life, I was never taught to play the guitar, or any musical instrument, and I can play half a dozen of them. I was never taught how to write or sing or anything.
And when people ask me to teach them to play the guitar, I'm at a loss, because it just comes to me. I haven't got a clue what I'm doing when I do it. And when I meet other songwriters, and they talk to me about my songwriting, they might as well be talking French. Because I don't understand any of this, I just do it. And it's like that for him.
I was asking about his penalties, and he just shrugged his shoulders the way that he does when he scores. I asked him about the stoppage-time penalty against Tottenham: The league title's on the line, you're 21, and in a new country, why did you grab the ball? "Because I always score." But what about the senior players? Sergio Aguero and Gareth Barry, did they not make a move? "No, because they see me in training every day, and I never miss." He said that he regularly puts 10 out of 10 past Joe Hart.
I asked him what was going through his mind with his "Why Always Me?" T-shirt in the derby at Old Trafford, the day after he nearly burnt his house down with fireworks. "I got up, and I read the papers, and I knew I was going to score a hat-trick". But you only got two? "That's because Mancini took me off, if he'd kept me on I'd have scored a hat-trick." And I believe him. So I asked him about "Why Always Me?" And he said it was a message to the press: "Why are you so interested in me?"
I go all over the world and all over Britain, and my one topic of conversation – if it's not music – is football: with black-cab drivers, people in pubs and so on. And everyone loves Balotelli. Everybody in England, even Man United fans, they all love him. And that's fascinating for him. I'd love him if he played for United. At the interview he asked a question: "Why do you love me so much?" And my answer was five minutes long, and he was laughing all the way through. I don't think he could quite fathom what all the fuss is about.
But it's the goal with the shoulder, the penalties, the bits on YouTube where he nicks Aguero's gloves in the warm-up, all that kind of thing. He's young enough for it to be all innocent. And he shows flashes of sheer brilliance.
So I asked him about the rumours, we listed them all. Unfortunately 90 per cent of them are bollocks, but there's a grain of truth in them all. I told him he was killing me, because we want them all to be true. We want a footballer to be going around giving £1,000 to a homeless person, because it's just cool. We don't want professional footballers to be like Michael Owen or Ashley Cole, people that think the world owes them something. We want to believe that this kid goes into petrol stations and buys everyone a full tank of petrol. Not because that's what they should do, but because footballers are young and they should behave young.
My favourite Balotelli story is the magic tricks. One day he was wandering through the Trafford Centre minding his own business, as if he could do, like a modern-day Mr T. And there's a guy doing magic, and he asked if he could teach him some magic. The guy said, "No, I don't teach magic." So Mario went home, pondered it, and thought, "I'm not having that", so he went back to the Trafford Centre and said to the bloke, "teach me these magic tricks". The guy said, "No, there's too many people here." So Mario took him in his car, back to his house for dinner, and the guy showed him magic over dinner. That's where he learnt the tricks.
He's not arsed about the money, where he is, who he's playing, none of it. He does have a great affection for Roberto Mancini. He said the only reason that he's in Manchester is because of Mancini, they obviously have a bond. I think he loves the fans, because for all the times he's been sent off the fans have never turned on him. I asked him what he wanted to achieve in football, and he just wants to be the best player in the world. But I'm not sure he knows how to go about that. He's just a force of nature.
Register for free to continue reading
Registration is a free and easy way to support our truly independent journalism
By registering, you will also enjoy limited access to Premium articles, exclusive newsletters, commenting, and virtual events with our leading journalists
Already have an account? sign in
Join our new commenting forum
Join thought-provoking conversations, follow other Independent readers and see their replies