Oliver Gill, the one-time rising star who turned his back on Manchester United for a life in the city
Gill was part of Sir Alex Ferguson's 18-man squad on four occasions before he chose a different path - he talks Will Unwin through his journey from academy to assurance
Will Unwin
Wednesday 06 September 2017 14:59 Comments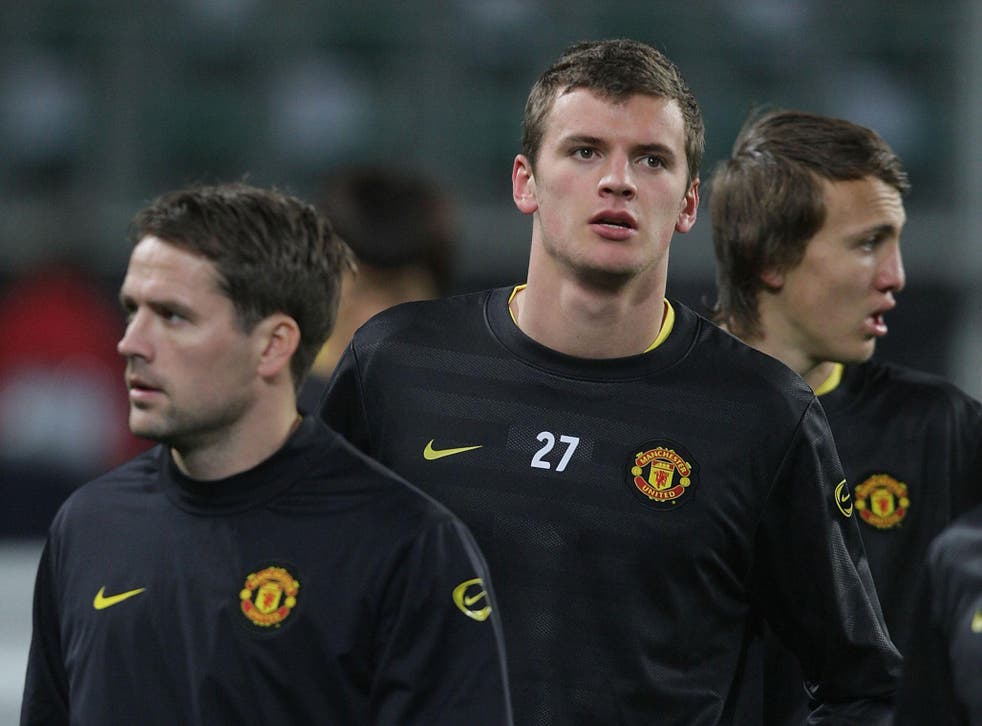 As Michael Owen completed his hat-trick in a Champions League victory over Wolfsburg, the team's youthful bench went wild, knowing they'd all doubled their wages for the month. One of those untested youngsters was centre-back Oliver Gill, a man who always had a strong interest in finance.
"We were 2-1 up, it was a complete dead-rubber, Edin Dzeko missed a chance to make it 2-2. The difference between a draw and a win bonus for a reserve player was a lot of money, it was a month's salary for us. Owen scored and we were all going wild on the bench, no one else bothered to get up and we were going it for it off the pitch. That was a good trip."
The intelligent defender would appear in Sir Alex Ferguson's 18-man squad on four occasions overall, but eventually rejected the chance to stay on as a professional footballer at one of the world's biggest clubs in order to go to university.
Gill wasn't even a teenager when he was invited to a six-week trial with Manchester United after impressing for his school. He also had the option of going to Blackburn Rovers, but naturally selected to join the club he supported.
"When I first joined, I suddenly felt out of my depth, as I'd only played in school and Sunday League football before, but with coaching and playing alongside better players, you rapidly progress. By the end of the season I'd improved so much through the training and coaching, and I realised I wasn't the worst player in the age group. I wouldn't say I was ever the Danny Welbeck of the age group, but I was good enough."
Gill didn't expect to progress as well as he did, playing alongside the likes of Welbeck and Matty James in United's famous academy, eventually signing a professional contract. At Under-14s, the team won every game in the season, a sign of the quality on show in the side he was a part of.
"I took it year-by-year, so when I was 13 I never thought I was going to be a professional, I never looked too far ahead at that age, it was more about enjoying playing. There was a small part of me which thought it would be cool to be a professional footballer but it was so remote at that point and the players are so much better. You look at the Under-18s when you're 13 and it seems so far off. Then you go up and up and up, then suddenly you're an Under-18s player. Once I got to Under-18s and start doing it more full-time, that's when I started to think more realistically about it."
Throughout his short career at United, he had the fact his father David was the club's chief executive looming over him, something he can brush off as barely impacting on him as he rose through the ranks on merit. It was a tumultuous time at Old Trafford due to the recent Glazer takeover of the club, with some fans targeting Gill with abuse during reserve team games, due to his father's role at United, but this went unnoticed by the mature defender.
"I tried to block it out, but it was slightly more blown up than I realised myself. I think there was one game I was on the bench for the first-team, completely oblivious, then I read some article the next day about it.
"I was aware of it, but no one ever had a go at me directly. No one ever game up to me and said "you're a whatever and your dad's a whatever," so it was more of a background consideration, but it never affected me too personally. It was a controversial time at the club, so it wasn't the nicest thing in the world, but it was OK."
Nowadays, clubs put their youngsters into private schools as a matter of course, but Gill was a rarity for an academy footballer, he was educated at Manchester Grammar School, more famous for producing cricketers, which ensured he would always take the academic side of things seriously. After finishing his GCSEs, Gill signed a student contract, rather than a full scholarship with the club as he looked to keep his options open, something he thinks impacted on his progression as a footballer.
Many teenagers have a year out following their A-Levels, and Gill was no different, instead he spent it training with the Manchester United first-team squad rather than on Thai beaches, while his place at university was deferred. He would appear on the bench twice more in the Premier League in wins over Bolton and West Ham, but would never make it onto the pitch.
"I was thinking about staying. The first year I did full-time I almost treated it as a gap year and would see how it goes. I had a few experiences of being on the bench, we won the reserve league, I enjoyed it. With the full-time training and coaches I had you just improve so much, so thought I should see how it goes and if I could make a similar level of improvement. I was still young, I wasn't delaying the inevitable, as if I'd made an appearance for the first-team and maybe kicked on from there, you never know.
"It was a fantastic experience and that's one of the things I'd look back on with the most fond memories, as I was training against Giggs and Scholes who were players I'd grown up watching, so it was a privilege. I learned a lot both on and off the pitch in my time at the club.
"I think if my career was going to be that, I would have stuck at it a bit longer. It was a good experiences and something I will never experience again. Even just being in the dressing room is very interesting, listening to the pre-match team talk, they would do an analysis on the opposition on all these players you'd watched on Match of the Day, which gave me an insight into the professional game, as they showed you a player's strengths and weaknesses. It was a very eye-opening experience. Being in at half-time, with Ferguson's reputation of ranting and raving, but I never really saw that side, even when they were down he'd be more analytical and calm. It was a fantastic experience and if I thought I was going to be playing for Manchester United I don't think I would have made the decision I did."
Heading on loan to Bradford City in October 2010 on loan was an education in the lower leagues, having been brought up in the privilege environment at Manchester United. Dropping down to a struggling League Two club to train on a school field and have 11,000 fans boo the team on his debut was a completely new experience for Gill, who finally understood the other side of football.
Gill and fellow loanee Reece Brown helped the Bantams pick up two wins in the four league games they appeared in, but both returned to United at the culmination of their one-month deals in Yorkshire, and Gill would never play league football again.
The loan spell at Bradford was the trigger for the defender, who would go on to graduate from the University of Durham in Economics, as he accepted a career in the game was not suited to him, as he feared not making it at the top of the sport. Gill also accepts a life of playing Tuesday an Saturday in the lower leagues was not what he envisaged.
"I enjoyed the experience in a sense, and it was only a month. They were very good to me, taking me on and giving me the experience of playing in front of 10,000 or 11,000, which I thoroughly enjoyed. I certainly learned a lot about playing with a bit more pressure; Peter Taylor was under pressure and I read in the local press that he would lose his job if we lost the next game; we had to go away and we won the game so he was very happy.
"Men's football was a good learning curve, it didn't put me off, but it maybe made me realise it wasn't the life I wanted. It was not the same as training at Carrington, we were training at some local school, there wasn't a gym. It was the other - more lowly side - of football, so it was eye opening in the other direction."
In his final year at Old Trafford he was named the Reserve Team Player of the Year, but that was not enough to persuade him to stay on living out other people's dreams. Naturally, Gill thinks about what he would have happened if he'd made a different decision, if he had played a game for the United first-team or if he didn't have the choice of being able to go down the academic route in life.
"It was a really tough decision. I've been asked a lot of time why I did it and no one has ever said "that's a good decision" but I would stick by it. I occasionally regret it when I am working long hours now, but I haven't regretted it too much.
"I wouldn't say there was one moment when I didn't make a squad and thought I needed to get out of there or anything like that. It was more going on loan and realising I wasn't going to get to get to the level I wanted to; I wasn't going to be a Premier League player - I could see where my limitations were. I realised I wasn't going to be a Manchester United player, and I could see my friends having fun and I had to decide what life I wanted for myself.
"I wanted to give university a chance and thought I'd enjoy myself there, not that I didn't enjoy my second year full-time at United, but I could see I wasn't going to be playing for Manchester United or playing in a Premier League team, I would be off playing somewhere I didn't want to play in the lower leagues and that didn't attract me as much. I thought I would see how university went and I haven't regretted it, apart from when I working long days or see someone I played with get a big contract and I think "bloody hell". If I could make the decision again, I wouldn't change it, it was the right one for me, even if it's not for everyone."
Since graduating, Gill has joined Price Waterhouse Coopers, where he works in assurance, a concept he has given up on explaining to people he meets. He enjoys the work, but his mind can wander back to those days on the Carrington training ground, playing with his heroes, when he has a tight deadline or is coming to the end of a 12-hour stint in the office, but he is resolute he made the correct decision.
The 26-year-old has not turned his back on football, still playing five and 11-a-side in London, while also considering following in his father's footsteps by getting involved in the business side of the sport, once he's got a grounding from his current employers.
"If could pick my ideal job it would be the one my dad did because I'm a Man United fan, it's probably the most interesting job you can do in business. It would be signing players, going to watch all the game and having an influence on the team, in a sense. However it's not something I'm thinking about in the short-term and similar to when I started out playing football I'm taking things one step at a time."
Gill will never know what might have been with his football career, the one certainty is that his time as a player would have been short, instead he is setting himself for a lifelong association with the sport on the other side of the white line, as he knows a thing or two about making tough decisions.
Register for free to continue reading
Registration is a free and easy way to support our truly independent journalism
By registering, you will also enjoy limited access to Premium articles, exclusive newsletters, commenting, and virtual events with our leading journalists
Already have an account? sign in
Join our new commenting forum
Join thought-provoking conversations, follow other Independent readers and see their replies