Your football club's owners do not, never have and never will care about you
Two stories this week illustrate that very point...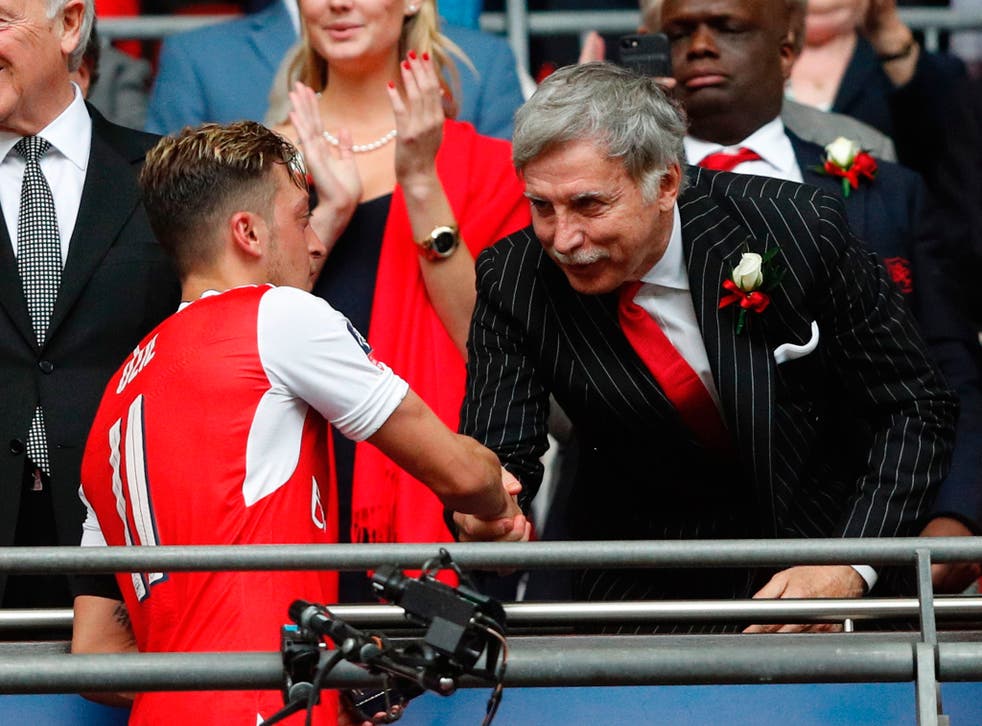 Henry Norris, the former Arsenal chairman, is perhaps best known as the man who hired the legendary Herbert Chapman and paved the way for the club's unprecedented golden era in the 1930s. Spurs fans may know him better as the man who successfully uprooted Arsenal from south London to Highbury: the original franchise owner. For all his achievements, Norris was also a bully and a crook, who used the club's expense account to pay for his own chauffeur, and who met his professional end when it was found he had personally pocketed the revenue - all of £125 - from selling the team bus.
There was Robert Maxwell, the notorious newspaper magnate and former Oxford United owner whose many infelicities - among them a penchant for cosying up to brutal dictators and a shameless raid on his own company's pension fund - only became fully apparent after his untimely death in 1991. And then there was Bob Lord, the former Burnley chairman who led the club to a sparkling run of success in the 1950s and 1960s but who also deserves to be known as the man who barred television cameras from Turf Moor, on the grounds that it would keep money out of the hands of "the Jews who run television".
So for all that follows, let's not pretend that the business of owning a football club is a calling that has ever attracted our very finest. But in an age when football clubs are often owned not by individuals but by countries, administered not by a board sitting around a table but by a tangled web of investment funds and holding companies parcelling and funnelling vast sums of money around the world through a million invisible voids, the question of who gets to own them - and why they want to - takes on an ever more pressing relevance.
Two stories this week, neither of which will have created more than a ripple in the news, illustrate that very point.
Down in the seventh tier of English football, Dulwich Hamlet, a much-admired south London club that attracts crowds of 2,500, is effectively being held to ransom by a property developer that wants to build houses on the site. Meadow Residential have cut off the club's funding after the local council rejected planning permission, and are prepared to strangle Dulwich in order to force a rethink. As my colleague Jack Pitt-Brooke has been reporting, spectators are now resorting to PayPal to fund the players' wages.
At the opposite end of the footballing pyramid, the parent company of Manchester City have just appointed Sir Howard Bernstein, the veteran former chief executive of Manchester council, as a development adviser. Nothing particularly untoward about that, you would imagine, and certainly no suggestion of any foul play. Bernstein has played a key role in the city's post-industrial regeneration, is a lifelong City fan into the bargain, and in an interview with The Guardian earlier this year, explained his strategy for growth. "Successful cities," he said, "are really about how you attract people who have got money".
Over the years, Bernstein has followed this principle to the letter. Three years ago, he helped broker a £1 billion property deal with City's Abu Dhabi owners, brushing aside concerns of the emirate's human rights record, where Israeli citizens are barred from entering the country and homosexuals face up to 14 years in jail if they are found guilty of "unnatural sex with another person". Now, having already signed up as a consultant with Deloitte, who advised on the deal, Sir Howard has decided to join the Abu Dhabi payroll.
And before City fans cry vendetta, you could tell dozens more tales just like this: at Blackpool, where owners Owen and Karl Oyston have just been ordered by a high court judge to pay £31 million to minority shareholder Valeri Belokon after "illegitimately stripping" the club for years. At Leyton Orient, a club run into the ground and out of the Football League by former owner Francesco Becchetti. At Sheffield United, part-owned by Prince Abdullah, a member of the Saudi royal family that presides over one of the world's most repressive, illiberal regimes.
The point is this. The sort of person who wants to own a football club these days is, at times, exactly the sort of person you do not want owning a football club. Attempts at regulating ownership, whether through Financial Fair Play rules or 'fit and proper person' tests, have proven painfully inadequate. Football clubs, with their captive market, global branding, relatively small entry stakes and - in many cases - prime urban land - could scarcely be better designed to attract the Maxwells and the Lords of this world.
None of which should be particularly novel or surprising to anyone. But what continues to surprise is the lengths to which some fans will go to defend their owners from scrutiny. The speed with which they will close ranks in order to ward off any sort of introspection or moral reckoning. This is as true of City fans with Abu Dhabi as it is of Chelsea fans with Roman Abramovich and Stoke fans with online gambling company Bet365.
The bitter irony is that, in the vast majority of cases, the owners of your football club don't care about you. They're not in this for your happiness. They're in this for their own happiness, their own prestige, and usually their own profit. Occasionally, happily, your aims and theirs may coincide: superstar signings, a swanky new stadium, wins, points, titles, trophies, scintillating football. But don't for a moment think they're doing any of this for your benefit.
Football has a habit of getting its priorities askew. You may not approve of Jose Mourinho's style of football, or Paul Merson's television manner, or Jonjo Shelvey's tackling style. But none of them are running sweatshops, or abusing migrant workers, or throwing journalists into jail (although in Mourinho's case, if wishing made it so). Football loves a cartoon villain. Meanwhile, some of the real villains are hiding in plain sight.
Join our new commenting forum
Join thought-provoking conversations, follow other Independent readers and see their replies