Partick Thistle's monobrowed mutant sun god brings new evil into the weird world of the mascot
If anyone hadn't heard of the Scottish club before – and it's possible – they have now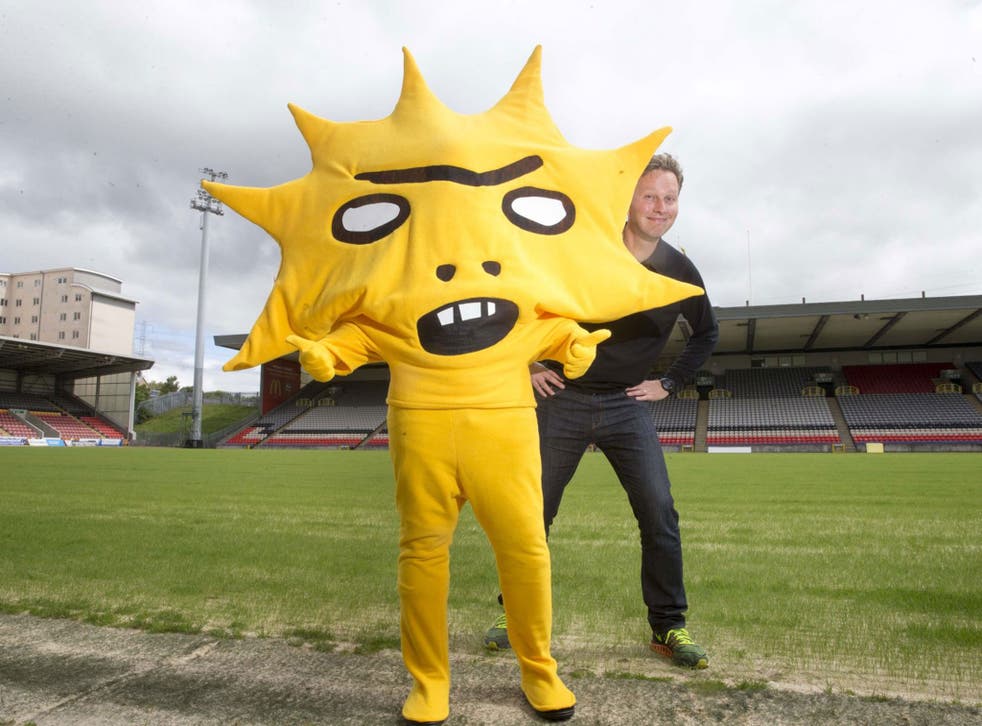 It will have to go down as a PR open goal which was skewed horribly wide. Sunday, 21 June, 2015. Stonehenge. The air is alive with bongos and body odour. From somewhere in the distance, perhaps the car park, comes the lilting sound of a social anthropology undergraduate and virgin squeezing a three-note melody through a flute made of tree bark. The sun's first rays settle on the wrong side of the A303, casting their sacred shadow upon the stone megaliths of Salisbury Plain and its annual dreary army of druggies, druids and dropouts.
Then, right there in that instant, was the moment for Partick Thistle to release their new mascot upon the earth, his eyes blank, arms outstretched, nose askew, angrily somnambulating out of the dawn horizon, this jagged demi-human hemisphere of solar terror.
Instead, it came 24 hours later in the form of a photo op at Firhill Stadium on the north side of Glasgow, complete with the compulsorily twee Twitter account and a press release informing us that this truly spine-chilling mutation, which goes by the name of Kingsley, is the product of a collaboration between a local artist with proven links to the hipster community and a clearly more-money-than-sense Californian investment fund.
Do not believe a word of it. It is clear that football has angered the sun gods, and they have sent their monobrowed, pupil-less evil child to wreak some kind of vengeance.
What have we done? Well, obviously it's Qatar's fault. The sun has always cherished his major role in the world's biggest sporting event. A winter World Cup will reduce him to a bit-part player.


In one respect at least, Kingsley is a triumph. If anyone hadn't heard of Partick Thistle before, and let's face it it's possible, they have now. That's a mission in which the previous mascot Jaggy MacBee, an innocuous-looking bumblebee now available on a free transfer, never made any great inroads.
Kingsley's creator David Shrigley, a genuine Partick fan who was nominated for the Turner Prize in 2013, says his vision "represents the angst of being a football fan" and that any comparisons to anthropomorphised third-degree sunburn are unfair.
Certainly deeper wells of artistic endeavour have been drawn on than is the case for any of Kingsley's contemporaries. No previous mascot has been likened by The Guardian's art critic to "the rage of Caliban at seeing his own face in the glass", which is a great pity given the wealth of material out there. "Beware, my lord, of Gunnersaurus; It is the green-eyed monster which doth mock the meat it feeds on," is a sentence that should have been written long before now.
Indeed, Arsenal's 8ft foam dinosaur, made flesh in 1994, has a more common back story, in that he was the product of a competition run by the Pepsi Junior Gunners, and won by an 11-year-old boy called Peter Lovell. His muse had arrived via the more standard format of a trip to the cinema to see Jurassic Park, and the artist's notes, written in Peter's very best joined-up handwriting, advise only that "the stomach and tail must be of equal weight so that Gunnersaurus does not topple over".


Being only 11 at the time, little Peter, who recently had his own wedding speech unexpectedly gatecrashed by his proud creation, could not have been expected to foresee the unfortunate jarring of demeanour and occasion for which the Gunnersaurus has become notorious.
When your facial range extends to just the one turbo-grinning expression, it could be argued whether it is wise to march into the centre circle each Remembrance Sunday, link arms with the players and bow your giant Prozac-fuddled head in honour of the nation's war dead. Long may it continue. In the rarefied air of the Premier League the mascot, essentially an American import, feels like just another embodiment of the family-friendly, corporate sanitisation of it all. But transposed a few octaves down to the lower reaches of the football pyramid, where some waddling, simpering 9ft foam-rubber mammal clashes so spectacularly with the glamour-stripped reality all around it, there is a tendency for these squidge-happy beasts to acquire mythical status.
York City's Yorkie The Lion certainly didn't alienate himself from his loyal supporters when, several years ago, he collapsed, feigning injury several times over while an opposition player in the penalty box received extensive treatment for a broken leg, even if it did eventually earn him a formal sanction from the Football League.
When a fan's every waking weekend is a psychological battle against the inner voices telling you you're mad to keep putting yourself through it, there is great comfort to be drawn from the knowledge that at least you're not the one doing it in nylon trousers on the inside of an angry swan.
Thousands of fans rightly applauded the fortitude with which a then 59-year-old man called Lenny Berry fought the Bradford City establishment when they told him that, having lost seven and a half stone after contracting diabetes, he was no longer fat enough to carry off the bowler hat and briefcase look of the Bradford City Gent. Such stoic determination was the very stuff that had on so many occasions gone awol from the playing staff in his 19 loyal years on the sideline.
Nor did the fans question the wisdom of Sammy The Tammy, Dunfermline's bike-riding bear, when he clambered inside a cardboard tank and, with the premeditated assistance of the stadium sound-effects department, fired a volley of live rounds at the travelling Raith Rovers faithful. In cautioning against his behaviour, local police couldn't help but refer to the unfortunate timing of the incident, which came only days after the Celtic manager Neil Lennon had received a petrol bomb in the post.
We hope, too, that it is no accident that sunny Kingsley, named, inevitably, after the Kingsford Capital Management firm that has brought him to life, will rule over a place that receives an average of 90 minutes plus stoppage time of sunshine a year. Already the fans are warming to his glow.
"He's better looking than most of us," one said on a midweek walkabout in Glasgow town centre. If you can't laugh, you'd have to cry, and there's more than enough reason to do that already.
Register for free to continue reading
Registration is a free and easy way to support our truly independent journalism
By registering, you will also enjoy limited access to Premium articles, exclusive newsletters, commenting, and virtual events with our leading journalists
Already have an account? sign in
Register for free to continue reading
Registration is a free and easy way to support our truly independent journalism
By registering, you will also enjoy limited access to Premium articles, exclusive newsletters, commenting, and virtual events with our leading journalists
Already have an account? sign in
Join our new commenting forum
Join thought-provoking conversations, follow other Independent readers and see their replies