Paul Scholes column: As Manchester United man, I'm worried that Manchester City have moved ahead of the game at youth level
EXCLUSIVE: The buzz in Manchester is that it's City who are getting the better local players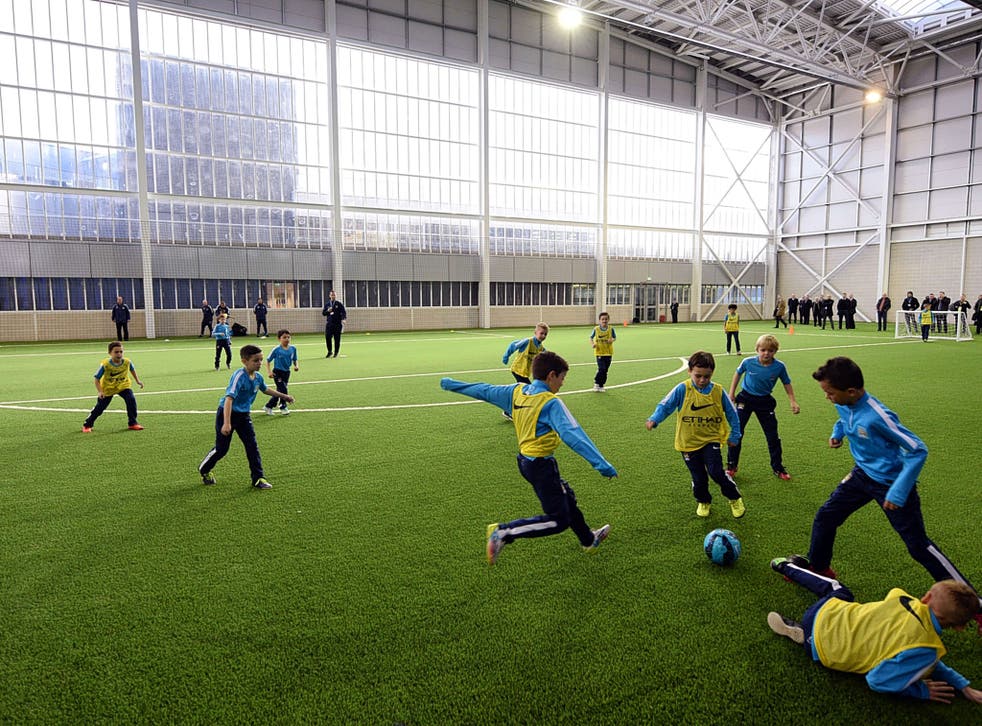 When I was a kid, it was the case among the lads I played football with that if Manchester United wanted to sign you then joining Manchester City was not even a consideration. United did not have to persuade or offer inducements. We would have walked there ourselves.
Thirty years on, and the picture in Manchester is very different and, as a United fan, it worries me. Trying to look at it from a neutral perspective I have to say that what City have achieved is impressive and their impact on the youth scene in Manchester began long before the opening of their City Football Academy this week, an event which seems to have generated more publicity in some quarters than the arrival of Christmas itself.
United have won 10 FA Youth Cups, more than any club in the land and eight more than City. Yet the buzz in Manchester is that it is City now who have the better academy programme. That it is City who are getting the better players in the local area. How that has happened, I cannot say definitively but it will come down to more than one factor. Clearly, the offer of a professional contract when a boy turns 17, and the size of that contract can never be ignored.
Manchester City player ratings vs Roma

Show all 11
It is also about the coaching too. I am more in favour of creating footballers who know how to do the jobs they need to do in a game. At City the emphasis has, I am told, been more about teaching kids to play in certain systems. The results of all the age-group teams are not published by the clubs, not below the Under-18s anyway, but I have heard that when the clubs play each other across the age groups, it is City who come out on top.
Some people say that winning is not that important in youth development. I disagree. You learn about being a footballer by playing matches and you learn about winning by winning those games. Playing at United, in the Under-16s and Under-18s, we were expected to win every week. My contemporaries, people like Nicky Butt and Ryan Giggs, were born and bred winners, and that was the way United liked it. Winning games prepared us for the first team, where we were expected to win every time we stepped on the pitch.
It is a nice idea to say to kids "it doesn't matter about the result", but when you become a professional you quickly realise that is all that matters. The sooner you get the winning mentality, the better.
United last won the FA Youth Cup, an Under-18s competition, in 2011 and they were beaten by Chelsea, another very strong academy, in the semi-final the following year. City last won it in 2008 and in the last three years have been knocked out in the fifth round, twice by Fulham. What might concern United fans is that in the last two years their team has been eliminated by Burnley and, last season, Huddersfield Town.
The FA Youth Cup is just one way of taking the temperature of a club's academy. United have a fantastic history in producing players and there will always be boys who will want to come to the club. The issue is whether they are good enough for the first team. Some of the current lads who have been promoted, such as Paddy McNair and Tyler Blackett, have benefited from an injury crisis but will they be there in the long term? James Wilson clearly has a chance of making the grade.
The bigger picture is how City have upped the stakes with their new academy and training complex. United's Carrington base is a great training ground and academy, but City have just taken theirs to another level. These things matter now. It is a long way from the days when I used to get three buses from my home in north Manchester to the old Cliff training ground in Salford.
It is a subject that I make no excuse for returning to. In those days you were expected to get yourself to training on time. There were no minibuses to ferry you around. None of the mollycoddling. It was sink or swim and I loved it, especially being with my mates all day. It taught me about being a good footballer but also about taking responsibility for myself. I learnt to be streetwise.
But things change and you can take nothing for granted. In the modern era, United, with their history of being the greatest talent producer, have to watch that they do not become second choice in their own city.
I don't understand why Rodgers was not more attacking against Basel
I can recall driving to Old Trafford in March to watch Liverpool play United and hearing the teams on the radio. Although United had Wayne Rooney and Robin van Persie in the side, it was Liverpool with Luis Suarez, Daniel Sturridge and Raheem Sterling who sounded much the stronger of the two, and so it proved.
They meet again on Sunday with Brendan Rodgers still picking up the pieces from another blow, the Champions League elimination by Basel. Last season I felt he had a confidence about him, and would pick attacking, positive teams. His selection on Tuesday was nothing like that. It was a game he needed to win and yet he picked a midfield of Joe Allen, Jordan Henderson and Lucas Leiva – all solid players but more than two from those three and the side feels defensive.
Liverpool needed to blast Basel out of the way. Instead Rodgers left Adam Lallana and Philippe Coutinho on the bench. At half-time he brought on a left-back, Alberto Moreno, and a winger, Lazar Markovic, who has done very little for him so far. Then when he did bring on Coutinho, a No 10 to his boots – he even wears the number – he played the Brazilian in central midfield.
Sterling aside, there was a real lack of pace in this Liverpool team. Both Glen Johnson and Jose Enrique struggled and you would expect that, on Sunday, United will attack the space between Johnson and Martin Skrtel where Basel got so much joy.
Even though they struggled at times against Southampton, United have the better attack of the two sides and Van Persie is in form. As far as Liverpool are concerned, for now I just cannot see from where they expect the goals to come.
Intimidated by the Crazy Gang? Never
When I was an apprentice at United I can remember watching the old Crazy Gang-style Wimbledon on the television and a mate of mine saying, "Imagine you up against Vinnie Jones", with the implication that it would not be a happy outcome for me. It turned out that my third league appearance of the 1995-96 season was against Wimbledon and Jones played. Intimidated? Never.
The legend of Wimbledon and the fear they put into opponents has been revisited with the new BT Sport documentary about them. Jones and Andy Thorn were the only survivors of the 1988 FA Cup-winning team who played in that game in 1995. We were certainly never afraid of them and not only because we had players like Gary Pallister, Steve Bruce, Nicky Butt and Roy Keane in the team.
At United we accepted that there were some teams who would try a different way to win football matches. Fair enough, we were happy to go head-to-head with them too. Nicky would go through Vinnie Jones if there was a ball to be won. There was never any thought of being intimidated.
I finally got a bit of revenge on Jens Lehmann last week
I played in a friendly match in Bangkok last week, along with a few others who have won a bit in the game – Cafu, Fabio Cannavaro, Clarence Seedorf, Luis Figo, Patrick Kluivert, Javier Zanetti, Andrei Shevchenko and Steve McManaman among them.
Having a drink afterwards it was interesting to hear what those greats of the game are up to: a bit of coaching, or media work, or representing their national football associations. Most of all, everyone really seemed to miss playing at the highest level and games like these, with good players, give you a little of the buzz back. Having said that, it will never replace proper football.
Watch the video below:
During the game I noticed the opposing team's goalkeeper Jens Lehmann off his line at one point so I took the liberty of chipping the ball over his head and into the net. Jens is a nice guy and came up to me afterwards to say, "You've been waiting a long time to do that, haven't you?" He was right. I will never forget him saving my penalty in the shoot-out at the 2005 FA Cup final.
At last, Manchester City looked solid in Europe
Manchester City had a much more solid feel about them in Rome on Wednesday night. No Yaya Touré, five in midfield and a more defensive approach. Sometimes you have to make compromises to win games in Europe, and you need to ride your luck. It was a good Roma team that they were up against. Maybe Manuel Pellegrini has found a new way to play in the Champions League.
Register for free to continue reading
Registration is a free and easy way to support our truly independent journalism
By registering, you will also enjoy limited access to Premium articles, exclusive newsletters, commenting, and virtual events with our leading journalists
Already have an account? sign in
Register for free to continue reading
Registration is a free and easy way to support our truly independent journalism
By registering, you will also enjoy limited access to Premium articles, exclusive newsletters, commenting, and virtual events with our leading journalists
Already have an account? sign in
Join our new commenting forum
Join thought-provoking conversations, follow other Independent readers and see their replies