Paul Scholes column: At first, Nemanja Vidic and Patrice Evra looked out of their depth... now they are Manchester United legends
In his latest exclusive column for The Independent, Scholes reveals how his former colleagues established themselves at Old Trafford
Paul Scholes
Friday 09 January 2015 00:40 Comments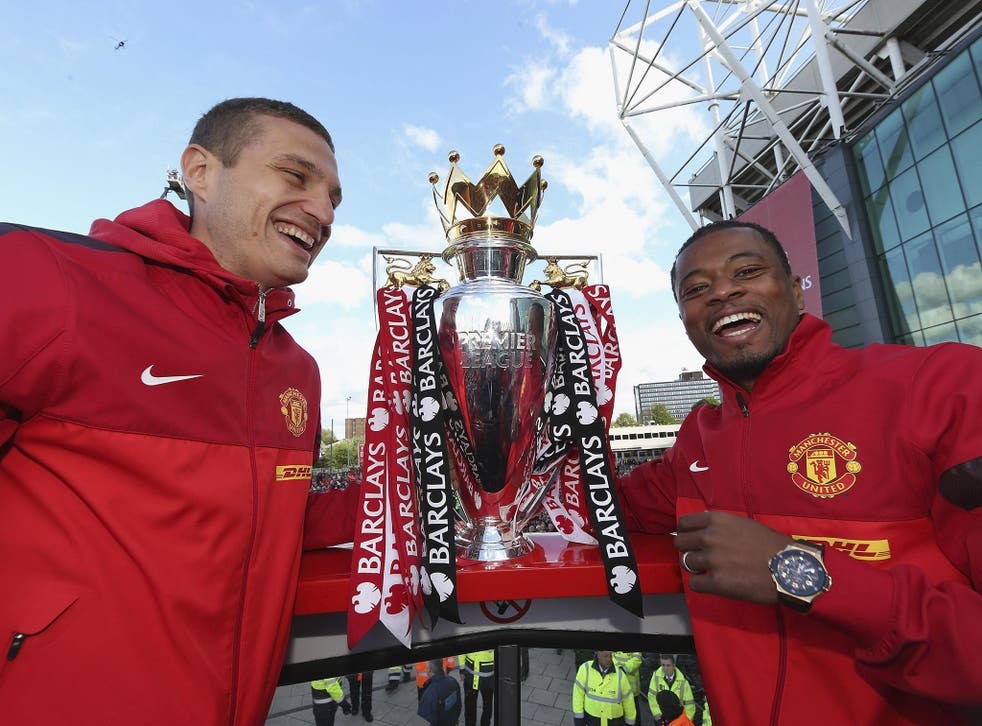 Signing new players in the January transfer window was never Manchester United's style when I was there, because the hard work was done in the summer, bringing in the best individuals to improve the team and integrating them in the culture of the club before the season began.
Every so often, Sir Alex Ferguson would make an exception to that rule, and while it would be fair to say that it did not always work in his favour, his record was pretty good. When I think back to the signing of two young lads who joined us in January 2006, I am reminded of the fact that you cannot always judge a footballer on the first impression he makes.
To say the dressing room at United was concerned about the suitability of Patrice Evra and Nemanja Vidic when they arrived would be an understatement. Yet they turned into two of the greatest players at the club in the last 10 years; arguably two of the greatest players the club have ever had. They both captained United at different times. They were also prime examples of footballers coming from overseas into the Premier League who needed time to adapt.
I believe that Patrice has described his first experience of Premier League football as "like being in a washing machine". At half-time on that day at the Etihad Stadium – his debut was a Manchester derby – you could say that, in a manner of speaking, Sir Alex turned off the spin cycle. Patrice didn't come back out for the second half, and it was not hard to see why.
We lost the game that day at the Etihad and, although I didn't play, my abiding memory is of City targeting Patrice. I don't blame them, we would have done the same. They struck long diagonals out to our left and every time Trevor Sinclair would attack the ball, smash Patrice out of the way and City would be in behind us. We were 2-0 down at half-time, lost 3-1 and Cristiano Ronaldo was sent off. A bad afternoon all round.
When Patrice first arrived, we used to wonder whether the manager had signed a jockey, rather than a footballer. There was hardly anything of him. Gradually, however, his personality emerged. This was one tough player, who was determined that he was not going to be brushed aside and become one of the forgotten men at United. He stuck out his chest and got on with it.
Patrice became one of the best full-backs United have had. By the time Gabriel Heinze had recovered from his cruciate injury, Evra was the first choice. The next season he won the first of his five Premier League titles and the rest is history. I enjoy watching him playing for Juventus. They could be an outside bet for the Champions League. With Carlos Tevez, Andrea Pirlo, Alvaro Morata and Fernando Llorente, they have a very good side.
It might surprise you to hear that Nemanja, who arrived from Spartak Moscow, was not the powerful centre-back he became over his years with the club. There was nothing of him when he arrived. He was skinny and relatively easy to push off the ball. Like Patrice, he took a battering in his first few weeks at the club – in training as well as matches.
Manchester United: Players who were linked with a January move to Old Trafford

Show all 21
His league debut was a 4-3 defeat to Blackburn Rovers at Ewood Park, with Rio Ferdinand playing in midfield and later sent off. It was one of those crazy Premier League games with goals flying in, defensive mistakes and tough tackles. Nemanja must have realised quite early on that he was not strong enough to play in the centre of defence at that time, so he did something about it.
For the next year, every time I walked past the gym, I would see Nemanja in there lifting weights. He turned himself into a big, strong centre-half who was capable of knocking strikers out of the way. He always had a great ability to head the ball, but allied with his strength he became unbeatable in the air. Throughout his United career, we would play away at difficult grounds and it would be Nemanja heading crosses and set pieces when the team were under pressure.
In training, he was different. He always fancied himself as a No 10, and he was a very skilful individual. It was a shame that his injuries got the better of him at the end of his time at Old Trafford. But what a career it was for him and Patrice. They were great personalities, too, and the manager bought them for the combined price of around £17.5m. Not bad for a couple of future United captains.
United signed Diego Forlan in January 2002, and his struggles in front of goal were a torture for him. It took Diego 27 games before he finally scored and, although he got important goals against Liverpool at Anfield in December 2002 and then the winner against Chelsea in the League Cup later that month, he never really recovered from that start.
I wouldn't say that his subsequent success, at Villarreal, Atletico Madrid and also with Uruguay, was a shock to us. He clearly had talent. It is just that sometimes, the start a player goes through when he joins a club has a long-standing effect on his whole career there. Look how long it took Fernando Torres to score his first goal for Chelsea, and contrast that with Diego Costa getting off the mark straight away.
Louis Saha was signed by United in January 2004 and did not quite fulfil his potential. I loved playing with Louis. When it comes to the striker-midfielder relationship, the best ones are those in which you know instinctively where the striker wants the ball, and when. I felt Louis and I had that relationship. I could anticipate him, and his movement and strength were very good.
It was Louis' way that unless he was 100 per cent fit, he did not want to play. It meant that he missed a lot of games for United. Realistically, you play very few games feeling completely free of injuries, aches and pains. When he was on his game he was exceptional. I felt my understanding with Louis was as good as the one I had with Ruud van Nistelrooy. It was a pity we didn't play together more.
Walking into the dressing room at a club like United takes some nerve, whatever your record has been in the past. If you can handle being in there, you can handle pretty much anything that football in England throws at you. We all have to go through it. Signing a player for the long term in January, as United did with Juan Mata last year, is not easy – but it can be done.
Pulis will bring organisation and sound tactics to Albion
Tony Pulis has his first league game as West Bromwich Albion manager on Saturday against Hull City and I am sure his new players will know exactly what is expected of them. He will bring organisation and mental toughness to the team. Beyond that there is nothing fancy about it. His way is sound tactics and good motivation for the players. We always knew we were in a game against Pulis's Stoke, when I played for United. But we always believed we would beat them.
Great to see Moyes making his mark with Sociedad
I was glad to see David Moyes getting a great result with Real Sociedad against Barcelona on Sunday. They rode their luck and if ever there was a time to beat Barça it was with them resting so many big players. Nonetheless, I saw a bit of the old Everton steel in that performance. They were good at home under him and Sociedad showed signs of being able to do the same.
Scholes' week: What caught my eye
Player of the week: Alexis Sanchez
The Chilean striker is keeping Arsenal's season afloat almost single-handedly.
Match of the week: AFC Wimbledon v Liverpool
It was a proper, old-fashioned Cup tie. A great game to watch.
Manager of the week: Kevin Wilkin
The Wrexham manager, gave it a really good go against Stoke and they were unlucky not to get at least a replay.
Moment of the week: Akinfenwa's goal
I enjoyed Adebayo Akinfenwa's goal against Liverpool. He looks a proper handful!
Register for free to continue reading
Registration is a free and easy way to support our truly independent journalism
By registering, you will also enjoy limited access to Premium articles, exclusive newsletters, commenting, and virtual events with our leading journalists
Already have an account? sign in
Join our new commenting forum
Join thought-provoking conversations, follow other Independent readers and see their replies