Paul Scholes column: Eden Hazard would be my Player of the Year – but I wonder if he has that appetite for goals of Messi or Ronaldo
EXCLUSIVE COLUMN: Writing exclusively for The Independent, Paul Scholes picks his top seven Premier League players of the season, reveals his delight at Salford winning the league and offers his view on Jack Grealish
Paul Scholes
Friday 24 April 2015 12:16 Comments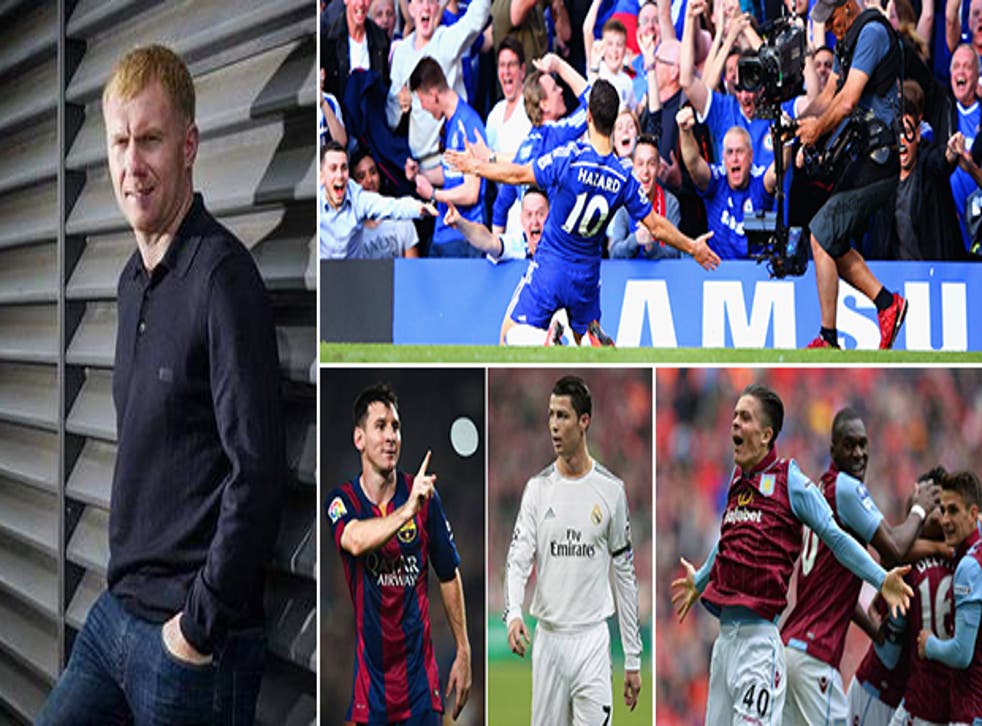 No player has been streets ahead of the rest when it comes to the Professional Footballers' Association Player of the Year award, and when I scan down the list of six nominees I do wonder how John Terry found himself omitted.
Terry has been the key figure in the team that will win the title this year; a key figure because Chelsea are essentially a defensive team. Their 34-year-old captain is their main man in that regard, he plays in every game and he is deserving of a place on the shortlist of the PFA Player of the Year award, although he would not be my choice to win it on Sunday night.
Had I still a ballot paper in this particular election, my vote would go to Eden Hazard. I prefer the attacking footballers – you wouldn't expect me to say otherwise – and Hazard has been the best in that regard. Not streets ahead of the likes of Harry Kane, and nothing like the wow-factor of those two big players at Barcelona and Real Madrid. But Hazard has made the difference in big games, like the one against Manchester United.
If I were to place the six shortlisted players, plus Terry, in order, I would rank them like this...
Paul Scholes' top 7 Premier League players of the season

Show all 7
Hazard is a superb player, and one who does not go missing in big Premier League games. When Jose Mourinho has the opposition locked down it is to Hazard whom Chelsea look to get the assist or the goal which will win them the game. That's what Mourinho teams do. It isn't always pretty and I would not say that they have blown the rest of the league away, but then you don't always have to do that to win a league title.
Not every title-winning Manchester United team that I played in did that. In the 2012-13 season we won the title by a margin of 11 points in the end but I never felt we were brilliant. Robin van Persie's goals were crucial. We were still the best team but other title seasons felt more emphatic.
As far as this season goes, it would be wrong to argue that Chelsea have not been the best team in the Premier League. If, as expected, they finish the job in the next couple of weeks, they will have deserved it.
This has been Hazard's third season in the Premier League and he will have to produce the kind of consistent form he has managed this season for another three years to be talked about among the greats. Clearly, Lionel Messi and Cristiano Ronaldo are still on a level of their own in world football. That said, I think Hazard is comparable with the likes of Luis Suarez and Neymar.
There is no shame in being part of that group of players. The two at the top have phenomenal goalscoring records and the teams they play for are in the last four of the Champions League. As for their domestic leagues, I am sure that Hazard faces a more difficult test against the mid and low-ranking Premier League teams than the equivalent teams Madrid and Barça encounter in their league.
One thing I do wonder with Hazard is whether he has that hunger to score goals that you see in Ronaldo, Messi and Suarez. Those are players who have a ferocious appetite to put the ball in the net. They're unstoppable. Hazard seems to me to be a relatively gentle soul. One who is just as happy skipping past a couple of opponents and putting it on a plate for a team-mate.
He does that very well, and I have no doubt he will deserve his accolade at the PFA awards. Playing the way he does, under pressure to score goals and make them, is not easy and he has been a big part of Chelsea's success. But in this modern age, if he wishes to challenge the achievements of Messi and Ronaldo then he will have to prove that he can match their relentless desire to score goals.
I'm so proud of our Salford team. Winning the league has been an amazing effort
It will be a great moment tomorrow when Salford City, the club I co-own with my old Manchester United mates, receive the Evo-Stik Northern First Division trophy. Winning promotion to the Northern Premier League in our first season as owners has been a real thrill and we are very proud of our players and our joint-managers, Anthony Johnson and Bernard Morley.
The pressure has been on the lads for the last 12 games or so as we have fought Darlington for the title, and they have come through well. You have to remember that all these players have full-time jobs, including the managers, and that really takes it out of them as the games come thick and fast.
Our centre-half Chris Lynch, for example, fills gas canisters for a living and at one midweek cup game I watched he had to come off early in games to get to his night shift. I don't know what Lynchy is like at his job but as a centre-half he has done very well for us. This lad would tackle a transit van.
The midweek games away from home are the hardest for our players. They finish work, jump in the car and can be stuck in rush-hour traffic for a couple of hours before they play. We have noticed that it is those games that can be a problem. That said, these boys keep themselves in great condition. There are none of the beer bellies or crafty cigarettes that you might have seen a generation ago. They are all excellent athletes.
That is the biggest change that I can see in non-league football. I think it is a cultural thing among the young generation. I notice it in my teenage son, too. Young people want to feel good and look good and, as far as Salford's games go, it means that they are played at 100mph with no quarter given.
Along the way we have had to sack a manager, Phil Power, which was a tough decision. We have been up against Darlington 1883, historically a much bigger club with bigger gates. That said, our attendances have increased by a greater percentage than any other club in the country. Last season we were averaging crowds of around 180 and this season it has gone to 370.
For our home game against Darlington in January we had 900, although many of them were away fans. We attracted 726 for a free-entry game against Clitheroe Town. We have wondered about playing Friday nights to attract the United and City fans. Salford is a big place and a city I know well, and I believe we can attract bigger crowds as we go up the league.
As ever, we appreciate the fans who have been there right from the start. Many of them help out volunteering at the club and, although there was some discontent at the start over the change of kit, that core of fans has been wonderful. They have manned the bar and the souvenir stall and we even take about 20 to all away games!
On the pitch we have been helped by my old United team-mate Danny Webber, whose experience has been a crucial factor for us. Not just in winning games but in the dressing room too. Danny has had a very good professional career and has seen it all over the years. He has been great at steering the younger lads in the team.
Do I ever get tempted to pull my boots on? At the start of the season watching games I felt that pull but, don't worry, it soon passed. Space would be the problem for me. At this level it's about winning the first ball, the second ball and sometimes even the third ball. I like a bit of time on the ball to decide what I am going to do with it, which isn't easy when you've got a super-fit twentysomething opponent bearing down on you every second.
I'll leave it to the youngsters to get on with. I can't wait for the new season in the seventh tier of English football. We want to go again.
I really like the look of Jack Grealish. He has promise. I just hope he chooses England!
I had the same options as Jack Grealish when it came to international football, in fact I could have played for Northern Ireland as well as the Republic. On my mum Marie's side, my Nana was from the Republic of Ireland and my Granddad was from the north. Lots of families in Manchester have strong Irish connections but it never occurred to me to play for anyone other than England.
I really like Grealish as a player. He has got promise. I haven't seen enough of him to know whether he is a No 10 or better coming off the left-hand side. Only time will tell how many goals he has in him. Only time will tell if he is going to pull his socks up, too. Juan Sebastian Veron had that habit as well.
But what I can see in Grealish is that he is a clever player. He has great control, he can dribble and he can pass. He might well have a free-kick in him too. Let's not go overboard yet. There are the makings of a decent player there.
What I don't understand is why he has taken time off from international football. You need to start playing international football first before you think about taking time off. I guess it is about giving himself time to choose between Ireland and England. The Republic will always need him more but England is where he will play at the higher level. The fact that he is prepared to take his time probably tells you he is a confident boy.
Scholes' week: What caught my eye
Man of the week
Christian Benteke. Excellent in Sunday's semi-final. Great performance, great goal.
Moment of the week
Neymar's goal against PSG. Iniesta takes the ball on and plays him in. Brilliant.
Match of the week
Bayern 6-1 Porto. The great teams can always rescue a bad situation.
Manager of the week
Pep Guardiola. Team doctor walks out, pressure on, yet he gets the result.
Register for free to continue reading
Registration is a free and easy way to support our truly independent journalism
By registering, you will also enjoy limited access to Premium articles, exclusive newsletters, commenting, and virtual events with our leading journalists
Already have an account? sign in
Join our new commenting forum
Join thought-provoking conversations, follow other Independent readers and see their replies