Paul Scholes column: Raheem Sterling is a major asset for Liverpool, even if he isn't always the greatest striker of the ball
In his exclusive column for The Independent, the former Manchester United midfielder claims the England forward's shots are too often a scuff or a bobble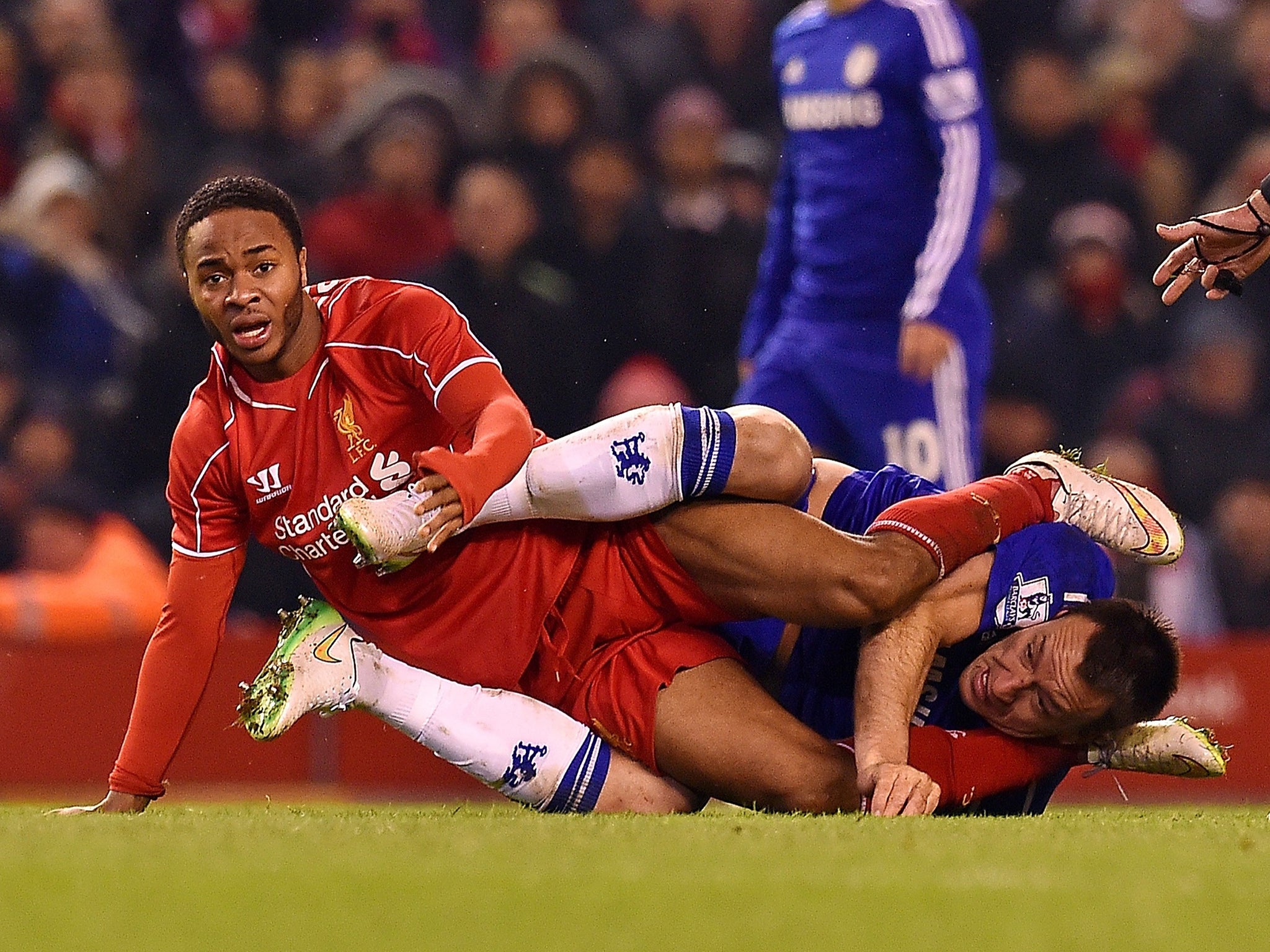 It is only fair to give credit when it is due and, having criticised Liverpool this season, I have to say I thought they played very well in the second half against Chelsea in the Capital One Cup semi-final on Tuesday. I would go further than that: at times they were brilliant.
They looked to me like an energetic, aggressive team. This was their ninth game undefeated so clearly they have been playing better for some time, but I would put this one down as their best performance of the season so far, given the quality of the opposition. They could have won it. They probably should have won it.
Emre Can and Lazar Markovic, two from that group of new signings that looked so unconvincing in the first four months of the season, have found some form. I prefer Mamadou Sakho to Dejan Lovren in defence, not least for the fact that he always looks to play the ball forward. You need to be positive if you want to play attacking football and I see that quality in Sakho.
In attack, Steven Gerrard, Raheem Sterling and Philippe Coutinho did not appear to have set positions. They were given the freedom to go where the attack took them and that was part of what made them so difficult for Chelsea's defence to control.
The back pages were all about Sterling and it was indeed a wonderful equaliser that he scored. This young lad has great skill on the ball, his pace is clearly a major asset and more often than not he turns and runs at goal, which is a great instinct for a player in his position. He will know that he needs to score more goals to go up a level.
But, in terms of his goalscoring, there is an observation I find myself coming back to every time I watch Sterling. I don't rate him that highly as a striker of the ball and by that I mean, literally, how he kicks it. Given the level we are talking about – footballers at the very top end – that might come across as a weird thing to say, but bear with me.
When you play football at the highest level for long enough, at close quarters with the best players day in, day out, you notice the small but significant differences in style and technique. You could compare kicking a football to a golf swing. Those footballers who really know how to address the ball have the full repertoire. They can whip a football with bend on it or hit a straight ping with no deviation either way. They don't need three attempts to get it right, either.
David Beckham was the best I ever saw, the most natural striker of a ball I played with. Wayne Rooney knows how to strike a football, so too Gerrard, Ryan Giggs, Michael Carrick, Toni Kroos, Luka Modric. Watching Sterling, I feel that the weakness in his game is his strike. His touch is good. His problem is the hit. Too often his shots are a scuff or a bobble.
That said, he looks fresh and sharp and Liverpool will be that much stronger for it. Their surge for the title last season was powered by the run they went on in the spring and perhaps they are gearing up for the same. Their last defeat was the 3-0 loss at Old Trafford on 14 December and, even though they were in a bit of a hole then, they still created the chances to score five or six. The roots of their revival were there. I expect them to challenge for the top four again.
I just don't get phenomenon of posting dressing-room pictures
I don't go looking for the post-match team pictures posted by players on Instagram but usually someone ends up showing them to me, or I notice them when they get printed in the newspapers. Where to start with this latest phenomenon? It's all wrong.
It was Aaron Ramsey doing it on Sunday after Arsenal beat Manchester City 2-0 at the Etihad Stadium, although I am told he is by no means the only offender. In my world the dressing room was sacrosanct. The only time anyone was permitted to take pictures in there was when we had won a trophy. Unless I am wrong, Arsenal only got three points for beating City. It wasn't the European Cup final.
If you want a measure of how private a place the dressing room was when I was growing up at Manchester United, consider this: even Sir Alex Ferguson would knock before coming into the dressing room at the Cliff, the old training ground. The dressing room is for the players, and the players only. It was a rule respected by all the staff at Old Trafford.
In my final couple of years at United we had one player, new to the team and young, who posted a picture from the dressing room on Instagram or Twitter. I won't embarrass him by naming him because that too would contradict the rules about what stays private. Safe to say, the manager went ballistic and the player never did it again.
When you are playing for a top club, when the pressure is on, when scrutiny is everywhere, you need some privacy. You need a place away from public view, where people can be open and, at times, difficult conversations need to be had. That is what a team should always try to maintain. Taking pictures in there, opening it up to the rest of the world, does not help that.
And if you haven't won a trophy to show off, what exactly is it about these pictures that people are expected to be interested in?
We were too busy trying to win games to worry about sledging
The issue of sledging is back on the agenda in cricket with David Warner's comment to Rohit Sharma. I love cricket, watching and playing, but the sledging part of it has always felt alien to me. In all my time at United, through league titles and Champions League victories, we never tried to belittle opponents or tell them that we thought they were inferior.
It was not in our nature. We were so absorbed with winning games that we never felt the need to tell opposition how good we thought we were, or how little we thought of them. I accept that, as a cricket fan, some of the more light-hearted stories I read about what goes on out there on the square are funny, like Shane Warne greeting Ian Bell as "the Shermanator" every time he came out to bat.
I suppose cricket is a game more suited to those kinds of exchanges. Yet for all the big games we played in, and all the high pressure moments, it never occurred to me that there was an advantage to be gained from insulting the opposition, in jest or otherwise.
Ginola was good enough to have fitted in at United
It won't surprise you to hear that I could not think of anything worse than heading up a campaign to be Fifa president and having to tour the country trying to drum up support, but David Ginola has obviously done the sums and considered it worth taking on.
Ginola was a great player in his time. He could play off either foot, he could beat a man. I don't recall him ever being discussed as a potential United target but he would have been good enough to play for the club. I think Sir Alex Ferguson would have got a bit more tracking back out of him. For all his qualities, I am still amazed he won the Football Writers' Association Footballer of the Year award in our treble-winning season. What more could we have done?
Join our commenting forum
Join thought-provoking conversations, follow other Independent readers and see their replies