Paul Scholes column: This Manchester United team is not being true to the club's ethos of attacking and taking risks
EXCLUSIVE: At times United's football is miserable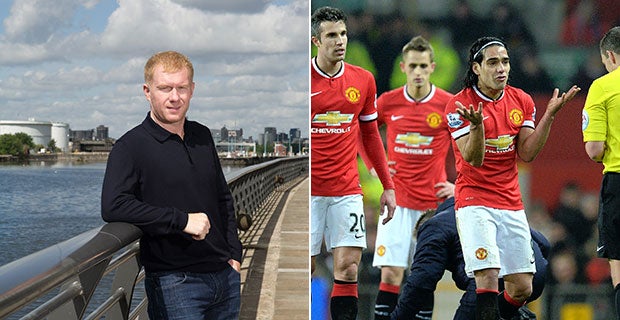 Part of being a Manchester United player under Sir Alex Ferguson, perhaps the most important part of being one of United's attacking players, was that when you were in possession you had to take risks in order to create goalscoring chances. It was not an option; it was an obligation.
In the periods of my career when I stopped passing the ball forward, or when I stopped looking for the risky pass that might open up a defence, the consequences were the same. The manager stopped picking me. I got back into the team when I went back to doing it the way he wanted.
United's history was built on attacking football, which does not always mean that the team kept clean sheets or did not concede chances. Why do you think United have had some of the best goalkeepers in the world over the years? They needed them because the team committed so many players forward.
As a midfielder at United I had to pass the ball forward and, yes, it did not always work. It did not always mean putting a chance on a plate for the strikers. It was up to them to get on the ball and score goals. Was it easy? No, but we were playing for United. It was not supposed to be easy.
Manchester United - the latest match in pictures
Show all 124
Of the current team, Angel Di Maria has taken more risks than any other player and, unfortunately, for him it has not worked out. He has given the ball away a lot for very little returns. Otherwise there seems to be an emphasis on possession. I would go further than that: there is an obsession with possession.
United fans don't care if the team only has 40 per cent possession as long as they are watching an attacking team. My experience was that the supporters understood that even our best teams, even the teams with Peter Schmeichel or Edwin van der Sar in goal, were going to concede goals. We were not reckless, or naïve, but always the chief aim was to attack – and we backed ourselves to outscore the opposition.
This season, how many times have United been rescued by David De Gea? Without him they would be three, four places lower down the table.
I realise that the comparisons I am making are with a golden age in United's history and that nothing lasts for ever. I was fortunate to play with so many wonderful footballers and under the greatest manager of all time, but I do believe that a club's ethos, the principles of how it plays, should outlive even the biggest individuals in its history. United are about attacking football, and everything else has to takes its place behind that.
We come at last to the two strikers, Robin van Persie and Radamel Falcao. I feel they look like strangers at times, while Wayne Rooney is moved around the team to accommodate them.
Wayne can play anywhere on the pitch. He is so willing, and he will give you at least a 7/10 performance most times. Against Burnley he ended up as a defensive midfielder. At other times he has been pushed out to the right-hand side, where he will look for the strikers early or switch the play. But if Van Gaal does not think Rooney is a better option up front than the other two then there really is a problem.
He has a fantastic goalscoring record for United, behind only Sir Bobby Charlton and Denis Law, yet against West Ham he did not have a single touch in the opposition's box. That cannot be good for the team.
Van Gaal has taken some criticism for his Tuesday press conference when he produced those statistical printouts to come back at Sam Allardyce over his joke that United were a long-ball team. There was part of me that was pleased to see Van Gaal show a bit of edge and take someone on. It is what we expected of him when he was appointed.
Even so, I know Big Sam quite well and he had his tongue firmly in cheek when he said what he did about United. At the end of the day, all Van Gaal had to remind himself was that, for all Big Sam's qualities, we were not talking about the manager of Real Madrid or Liverpool or Bayern Munich. We were talking about West Ham. There was no need to rise to the bait.
I like Pochettino. He has confidence without arrogance
His team might have lost to Liverpool on Tuesday but the more I see of Mauricio Pochettino, the more I think he is the best young coach around.
What I like about Pochettino is the way that he looks in control. He is in control of his players, in control of the way that they play. He is confident without being arrogant and his team is playing with a great energy.
He had very little to spend in the summer and yet he improved the players that he inherited. He has a clear way of playing, the 4-2-3-1 formation, and from what I hear his squad's fitness is a major part of the way he works. In that respect he takes them right up to the limit in training and they play the same way.
Not only that but he has been brave in picking younger players ahead of the likes of Emmanuel Adebayor, Roberto Soldado and Paulinho. In Nabil Bentaleb and Ryan Mason he has a very hard-working, solid midfield base. Ahead of them, the attacking three of Christian Eriksen, Mousa Dembélé and Erik Lamela are given licence to rotate positions. In Harry Kane he has found himself a great centre-forward.
I recognise that Tim Sherwood gave a lot of these young players their first chance and Pochettino has shown the same faith in them. Mason and Bentaleb are both still relatively inexperienced in the Premier League, although they broke through relatively late in their careers, and at this stage they will make mistakes. They both did so against Liverpool in the first half. But they still offer a lot to the team.
Mason has caught my eye a lot this season. He can tackle, he is tactically disciplined and he kicks the ball cleanly with either foot. He gets about the pitch too. I understand he had a few loan spells and some injury problems before he made it as a regular with Spurs and his development has been overshadowed by Kane. But I see no reason why Mason should not be in the next senior England squad.
That brings us to Kane. You simply cannot argue with goals against teams like Chelsea, Arsenal and Liverpool. Especially away at Liverpool. I think scoring for the away team at Anfield is still a litmus test for any striker who wants to call himself a goalscorer. Kane is not just picking up goals at home against teams in the bottom half of the table, he is scoring against the best and away from White Hart Lane too.
What makes him special? I have said before that he does not have a standout quality but scores highly across a number of categories. The more I watch him, the more I appreciate his temperament. Playing in attack is difficult. You are under scrutiny and you have to be able to deal with that. Kane seems to do it easily.
Take Tuesday night. Martin Skrtel is good at rattling the opposing centre-forward. He did it to a player as experienced as Diego Costa and got a reaction out of him. Yet Kane never reacted to Skrtel once, and never looked like doing so. Then, when the chance presented itself he was ruthless. I have said before his finishing reminds me of Ruud van Nistelrooy. The thing about Ruud was he never wanted to give the goalkeeper a sniff of saving it. Kane is the same.
From the outside, Spurs have always seemed a turbulent club. They are either on Cloud Nine or near the bottom of the league. What Pochettino has brought is a calm. He has shown respect to the players he has left out and carried along with him those youngsters who broke through under Sherwood.
On top of that, I hear he takes time to watch the youth teams and the Under-21s play. I cannot tell you how important that is. Modern managers have a lot of demands on them and many feel, with justification, that they do not have the time to commit to watching the junior sides. But it makes such a difference to the mood at a club when the first-team manager knows every youngster by name. The manager I played under did.
I'm sure I've called Robbie much worse down the years!
I realise that my inadvertent remark on BT Sport that was picked up by the cameras has caused a fair bit of amusement. I have to be clear about one thing, the "k***head" comment was something of a reflex that came out because I must have been so relaxed on the Fletch and Sav sofa. In reality, I did not even realise I had said it until the presenter, Darren Fletcher, apologised on air a few minutes later.
So let me clarify: I don't think Robbie Savage is a k***head! We have known each other since we were kids and I enjoy being on the show with him. I am sure we said much worse to each other in those Manchester United youth teams. Anyway, it was after the 9pm watershed, right?
Join our commenting forum
Join thought-provoking conversations, follow other Independent readers and see their replies