Pete Jenson: What England could learn from Spain (and it's not the benefits of a midwinter break)
A Different League: Placing greater importance on the forming of young England teams is just as important as giving senior players a rest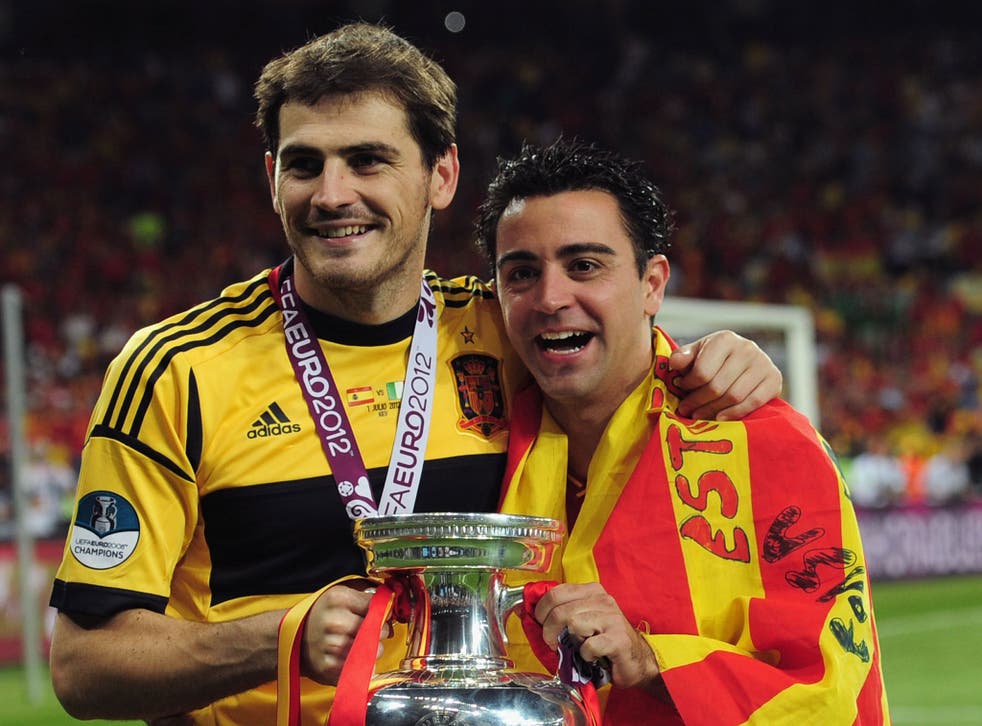 When is a midwinter break not a midwinter break? When a club uses it to travel to Qatar to play a football match. Real Madrid and Qatar-owned Paris Saint-Germain have both flown to Doha for a friendly that will be played on Thursday.
This is the gravy train that the Premier League's biggest clubs will climb aboard as soon as the first midwinter break is given the go-ahead in England. It will be lucrative. Just don't hold your breath on it transforming the national team's fortunes in major tournaments.
As Graham Hunter's recently published account of Spanish football's historic treble Spain makes clear, the relationship between rest and results is not always clear. No set of players played more from 2008 to 2012 than the Spanish national side, and yet no team won more.
In his account of their unprecedented three straight trophies he writes about the kind of shape the Spanish were in going towards their third tournament win at Euro 2012. Most of the players had averaged 4,000 minutes of playing time in the season leading up to the tournament and many had gone well over 5,000.
From 2008-12 the Spain players only had one summer off due to participation in the Confederations Cup in 2009 and the World Cup in 2010. La Liga's midwinter break only amounts to one weekend's fixtures anyway and for the Barcelona players in the squad in 2009 and 2011 the effects were hardly felt because of the demands of travelling to the UAE and Japan to play in the World Club Cup. In December 2009 Barcelona also managed to fit in a friendly in Kuwait.
Stopping the Premier League for one weekend in mid-January would do no harm to England's tournament chances but the clues as to what the real priorities should be – as the Football Association begins to look at the evidence assembled by its England Commission – are contained elsewhere in Hunter's brilliant telling of the Spain story… and will be far less appealing to most Premier League clubs.
One statistic jumps off the page: Spain have won 14, and finished as runners-up in six, of the 43 Uefa youth tournaments played between 1997 and 2013. The fact that Spain have also won three major tournaments in that time suggests it might pay to start looking at sub-senior level tournaments in a completely different light.
Hunter describes how winning an Under-16 Euros and then being knocked out of an Under-17 World Cup at the group stage together cemented the relationship of Fernando Torres and Andres Iniesta. Their shared journey went all the way to the World Cup final.
Then there is the bond formed between Xavi and Iker Casillas, first formed when they survived the fleapit hotels, cockroaches and (real bullet) shoot-outs of the 1999 Under-20 World Cup in Nigeria that they won, 11 years before winning the real thing in South Africa.
Underpinning Spain's various youth category sides is a network of voluntary scouts, all briefed by the Spanish FA to come up with a top 55 of 14- to 15-year-old players every July. These players' clubs are informed of their status in what is known as "the magic 55" and they are obliged to release them to the national centre of excellence three consecutive days of every month from September to January; and then again from January to July after the group's number has been culled to 33.
The big clubs in England have got their way over youth development with the Elite Player Performance Plan that allows them to pick off the best of the rest at cut-down prices; returning those players to a national coaching body on a regular basis would be a way of giving something back in return.
The bigger clubs will welcome a midwinter break; they might need to welcome some less self-serving alterations if things are to really change.
If the team that have won the last three major trophies are a guide, then placing greater importance on the forming of young England teams is just as important as giving senior players a rest.
There's nothing secret about agents' awards ceremony
It was All Fool's Day in Spain on Saturday with the kind of spoof stories reserved for 1 April in England given an airing. It was reported that Real Madrid were saving money by reducing the size of their directors' box; Manchester United agreed a deal to sign Atletico Madrid's Koke; and a member of Barcelona's coaching staff had found a dusty old file on the club's former defender Dmytro Chigrinsky and were now trying to sign him again. Nothing could top the "real" news story two days later, however, that for the fourth year running Jorge Mendes has been voted agent of the year at the Globe Soccer Awards. He has won it every year since being the force behind the foundation and subsequent promotion of the annual event.
Join our new commenting forum
Join thought-provoking conversations, follow other Independent readers and see their replies