Pirates v the Premier League: a war on the web
Scores of games are shown live, and illegally, online each week. Should football authorities try to stamp them out – or join the trend? By Nick Harris and Katie Nixon
Tuesday 06 October 2009 00:00 BST
Comments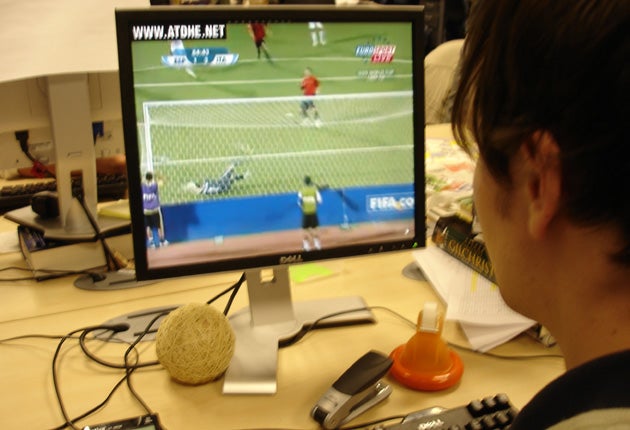 England's match in Ukraine this weekend is a major landmark in the history of sports broadcasting: as many as a million fans will subscribe to Britain's first high-profile football match available exclusively online. It is of course entirely legal: Kentaro, a European agency that deals in sports broadcasting right, set up the deal with the Ukraine's FA when traditional broadcasters showed little interest.
But behind this match lies another trend. On any given day, thousands of football fans in Britain and around the world will go online to watch games streamed live – not always legally. Compared to watching on television, the quality is poor, and the commentary could be in almost any language you care to name, but as with so many other forms of piracy, many consumers are prepared to overlook such details for free kicks.
One regular online viewer, who wishes to remain anonymous, explains the attraction: "There are hundreds of web services out there – but it's incredibly easy to find the match you want to see. I've bookmarked a handful of websites that act as middlemen, pointing me in the right direction to find the match I want. Before a game, all the usual football fan-sites are full of people swapping the addresses of sites showing the action.
"Picture quality is poor, and the stream often goes dead during a game – but I get to watch almost every Arsenal match, often taken from a French channel for some reason. I can look past quality issues – after all, it's free."
These "middlemen" websites, such as Justin TV (see panel, above), operate in a legal grey area – they feature links to the illegal streams, which are posted by third parties, but they do not publish the streams directly or create them. Still, issues of legality does not seem to put off viewers. Last night's match between Manchester City and Aston Villa, supposed to be shown exclusively on ESPN in the UK, had almost 3,000 viewers, and other games are said to have attracted as many as 41,000 pairs of eyes.
Proponents of the internet as a democratic platform full of free content, celebrate paying nothing. Football fans who regularly swap URLs for new, free sites, delight in it. But the Premier League insisted yesterday that it needs to protect its lucrative rights, and it is doing all in its power to stop illegal net broadcasts.
The League works with a London-based "enforcer" firm, Net Result, to interrupt the broadcasts. "Last season alone, we succeeded in 'cleaning' more than 1,800 websites illegally broadcasting our footage and will seek recourse to the courts when appropriate," a League spokesman said.
The League is also understood to be consulting on an ongoing basis with lobbyists from the music and film industries to try to persuade politicians to take action to address the problem. The League also encourages official broadcasters to show games online, hoping that if Sky, for instance, shows games on its Sky Player web service (which is free to TV subscribers) legally and at high quality, it will show up the pirates' illegal alternatives. The League also keeps an eye on emerging encryption technologies, such as those now used by Hong Kong communications firm PCCW, that make games "un-pirateable".
Still, there is a constant battle, involving several ongoing legal skirmishes, to stop internet freeloading. A popular Netherlands-based peer-to-peer website, Myp2p, has been targeted, but the warning letters have failed to stop the site. The site does not condone illegal content and will remove the links when put on legal notice.
The music industry has been here before, and has proven that legal battles can be slow and hard to win. Should sports broadcasters learn to work with online distributors instead? Andrew Croker, of Perform, the digital sport specialist showing the England game, is unconcerned by piracy, and believes the web is the future. "The media is changing, and people want to choose how they view sport," he says. "All our networks are encrypted and our streams are secure. Consumers will choose high-quality streams, and they'll understand that these obviously have to be funded somehow."
Back of the net: How matches are streamed illegally
By Katie Nixon
How do matches end up online for free?
Put simply, the TV signal is hijacked by online pirates. Visit any of the popular streaming sites and you will quickly notice that broadcasters from around the world are being ripped off: Sky, ESPN, NBC, Norway TV, Canal Plus, Mongolia Sports – you name it.
Is piracy badly damaging the Premier League's income?
Not yet, with the emphasis on yet. The League makes roughly £1bn per year from TV rights (domestic and foreign combined) but as broadcasting changes, that could rapidly diminish if and when high quality, uninterrupted live footage is easily free for all games.
How do the people track down the matches being streamed?
There are literally thousands of websites that showing free football matches. Websites including JustinTV, Myp2p and Iraq Goals act as directories, with websurfers clicking links to bring up the web streams. These websites act merely as conduits and often cannot be targeted directly with legal action. JustinTV, for instance, first appeared two years ago and also shows lists many web streams that are perfectly legal.
So will the Ukraine v England match be free online on Saturday?
No. Because this match is not being shown live on television, the stream will not be easy to hijack. The pay-per-view website footage is not in a format that can be pirated.
So what's the problem with the provision of free live football online?
Just as many record labels and film studios argue that piracy deprives them of income and damages their industries, so the Premier League argues that football income could drop, affecting not just players' wages but also damage areas, from the improvement of stadiums and fans' facilities to grass-roots coaching
Join our commenting forum
Join thought-provoking conversations, follow other Independent readers and see their replies