£160m Aon training ground deal ensures Manchester United stretch lead over City in the global branding league
Manchester City's pursuit of United's financial status is formidably difficult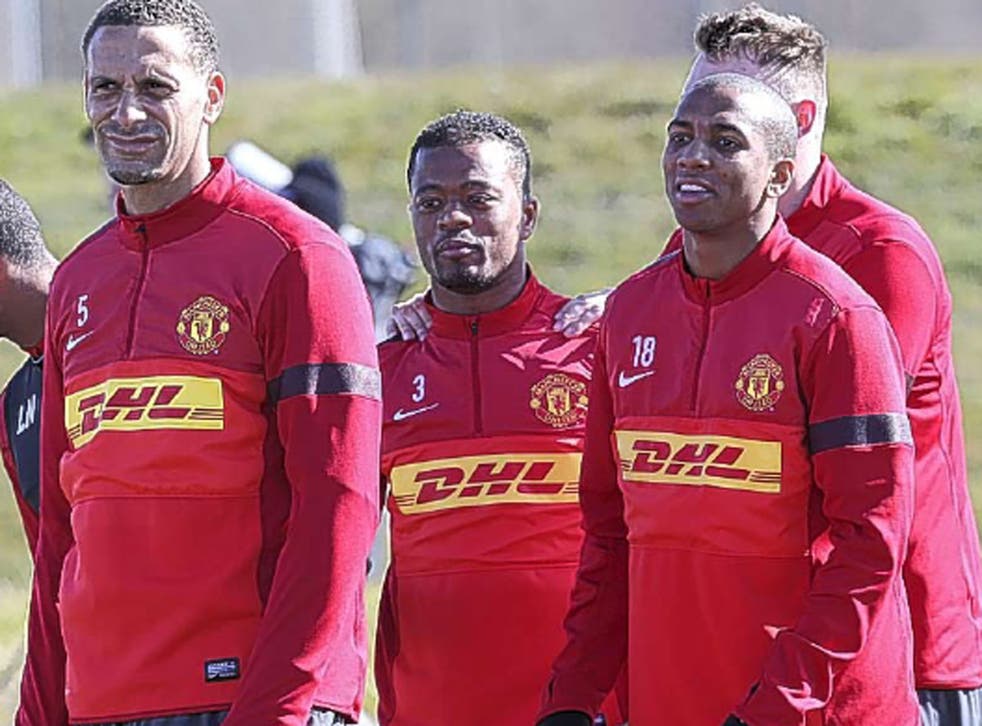 The timing was coincidental, on the day of an Old Trafford derby which promised to be all but a coronation of the new champions, but it will still have allowed Manchester United a deep kind of pleasure. The club today enhanced their chances of reclaiming their position as the highest-earning side in the world with an eight-year deal worth almost $30m (£19.6m) a year, through which Aon will sponsor the Carrington training ground.
Aon's willingness to strike a new deal with United, which also makes it sponsor of the training kit and gives it branding on tours abroad, sets the club on track towards the €500m (£425m) annual revenue figure which Real Madrid became the first sports club to burst through, last year. The exchange rate, increasing the value of euros relative to sterling, is the one factor which makes United's pursuit of half a billion euros a year a tall order. But with an additional £40m flooding into the club's coffers through next season's new domestic TV deal, the club are making Manchester City's pursuit of Old Trafford's financial status a formidably difficult task.
Under the Aon deal, from 1 July the club's Carrington training ground will be renamed the Aon Training Complex – it remains to be seen how that one catches on with writers, for whom a sponsored training ground will be a new concept in this country – and is worth almost double the figure the insurance, risk management and human resources group spent on a four-year deal to sponsor United's shirts in 2009. No Premier League club had a sponsor for their training kit until United secured a four-year deal with DHL in 2009, an arrangement which they bought themselves out of in October, in an attempt to attract a better offer elsewhere.
The new Aon deal also comes months after United secured the record seven-year Chevrolet shirt sponsorship deal with General Motors, double the figure Aon will pay until June 2014 – from when it will be worth around £45m a year. On the horizon is a new kit sponsorship deal, possibly worth between £58m and £70m a year from July 2015, with Nike currently two months into a six-month period of exclusivity. But it is the sheer volume of smaller, regionalised deals which is helping to take United back to the hallowed position of biggest revenue earners, which they commanded for many years until Real and Barcelona began eclipsing them in 2003-04.
United's owners the Glazers have their detractors but it is during their custodianship that the scale of deals such as Aon has exploded, under executive vice-chairman Ed Woodward, who will succeed David Gill as United's chief executive on 30 June. Beneath the headline sponsorships is a panoply of smaller deals involving scooter, soft drink, telecoms and even paint firms.
United have opened an office in Hong Kong; a presence for the club on the east coast of the US is planned, such is America's commercial potential; and there could be more in Asia, Africa and/or the Middle East. The club's challenge is installing enough of the right calibre staff to secure and drive through these deals, which carry a 70 per cent margin.
There have been spin-offs for Sir Alex Ferguson's back room in some cases. A tie-up with Toshiba has seen Carrington in possession of a standard of medical kit usually reserved only for university teaching hospitals. The Independent revealed last October that the Japanese giant believes its MRI (magnetic resonance imaging) equipment, which has twice the standard magnetic field measure, can actually help Ferguson's staff predict that a player is about to break down. Aon will provide expertise from its analytics division which United's sports scientists hope they can use to analyse some of that medical data and minimise risk.
City are engaged in a determined quest for global revenues of their own, seeking to diversify beyond the portfolio of Abu Dhabi commercial partners who currently deliver a substantial proportion of the club's income. The Independent revealed six weeks ago how they are seeking to establish partner clubs on at least three continents. Their announcement of the Etihad Campus – sponsored by the Abu Dhabi airline to the tune of £350m-£400m over 10 years – made them the first to create the prospect of a sponsored training facility, due to open before the 2014-15 season. But the task of Tom Glick, City's chief commercial and operating officer, is tougher than Woodward's because City are yet to deliver the sustained on-field success which he can work with.
While many other clubs, including City and Arsenal, have sold sponsorship rights to their stadiums, United have no such plans to do so. "Old Trafford will not be sold," said Woodward. The club are doing perfectly well without resorting to such measures. They can settle for branding the main stand with Ferguson's name.
Getting shirty: biggest deals
* Manchester United's new £19.6m-a-year 'training' deal outstrips most clubs' record shirt-sponsorship deals – with the Old Trafford side's upcoming £45m deal with Chevrolet already topping that list.
* Largest shirt sponsorship deals
Man United Chevrolet £45m/yr [from 2014-15 season]
Barcelona Qatar Airways £25m
Bayern M Deutsche Telekom £23.6m
Liverpool Standard Chartered £20m
Manchester City Etihad £20m
Sunderland Invest in Africa £20m
Wolfsburg Volkswagen £17m
Real Madrid Bwin £16.8m
Arsenal Emirates £15m
Chelsea Samsung £13.8m
Schalke Gazprom £12.8m
Register for free to continue reading
Registration is a free and easy way to support our truly independent journalism
By registering, you will also enjoy limited access to Premium articles, exclusive newsletters, commenting, and virtual events with our leading journalists
Already have an account? sign in
Register for free to continue reading
Registration is a free and easy way to support our truly independent journalism
By registering, you will also enjoy limited access to Premium articles, exclusive newsletters, commenting, and virtual events with our leading journalists
Already have an account? sign in
Join our new commenting forum
Join thought-provoking conversations, follow other Independent readers and see their replies