PSG president Nasser al Khelaifi acquitted in Swiss corruption trial
Paris Saint-Germain president has been acquitted of aggravated criminal mismanagement while former Fifa general secretary Jerome Valcke received a 120-day suspended prison sentence for forging documents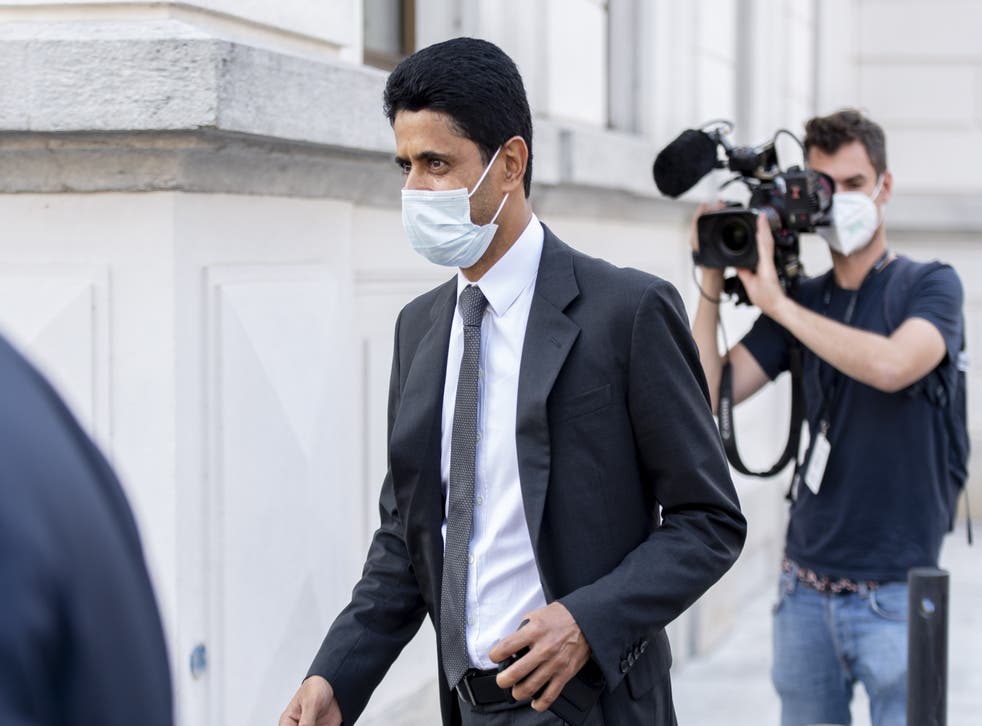 Paris Saint-Germain president Nasser al Khelaifi has been acquitted of aggravated criminal mismanagement as part of a Swiss corruption trial involving former Fifa General Secretary Jerome Valcke, who has been found guilty of forging documents relating to Italian and Greek World Cup television rights.
Valcke, who was sacked by Fifa in 2016 following revelations in the 2015 corruption scandal that rocked the sport's international governing body, had been charged with accepting bribes, multiple counts of aggravated criminal mismanagement and the falsification of documents in regards to TV rights for World Cups and the Confederations Cup.
Valcke is currently serving a 10-year ban from football that was handed down by the Fifa Ethics Committee in 2018, along with a 100,000 Swiss francs fine.
Al-Khelaifi was charged with inciting aggravated criminal mismanagement after being alleged to have given Valcke the exclusive use of a luxury villa in Sardinia, which it was claimed had links to Bein Sports landing an extension to its 2026 and 2030 World Cup broadcast rights in the Middle East and North Africa regions.
Prosecutors had asked for a 36-month prison sentence for Valcke and a 28-month sentence for Al-Khelaifi, with both denying the charges.
The 10-day trial ended on Friday with Valcke being handed a 120-day suspended prison sentence, and he was also ordered to repay Fifa €1.75m (£1.58m) plus interest for forging documents, but he was cleared of the most serious charges regarding accepting bribes and aggravated criminal mismanagement.
An additional charge of corruption against Al-Khelaifi was dropped by Fifa before the case reached a trial after the PSG president agreed to pay a substantial settlement.
Al-Khelaifi, who is also chairman of Qatar-based media giants Bein Sport, issued a statement to say the verdict "fully and completely clears my name" in what appeared to be a thinly-veiled swipe at Fifa for bringing about the charges in the first place.
In a statement released after the verdict was delivered, Al-Khelaifi said: "After a relentless four-year campaign against me that ignored the basic facts and the law at every turn - I have finally, fully and completely cleared my name. Today's verdict is a total vindication. It restores my faith in the rule of law and in due process, after four years of baseless allegations, fictitious charges and constant smears of my reputation - all of which have been proven to be completely and wholly unsubstantiated.
"I can now devote all my energy to my various roles, which are all focused on building a positive future for world sport - at a time when the industry needs strong leadership the most."
According to Al-Khelaifi's defence, the villa never belonged to the PSG president and there was no evidence of him inciting Valcke to commit illegal activity. They also argued that the broadcast rights were not undervalued during the process of them being awarded to Bein Sports.
The defence also noted the current allegations against Fifa president Gianni Infantino and former Swiss Attorney General Michael Lauber, who have been charged with "obstructing criminal proceedings" earlier this year. They claimed the allegations of collusion between Fifa and Swiss prosecutors "muddied" Al-Khelaifi's trial.
Join our new commenting forum
Join thought-provoking conversations, follow other Independent readers and see their replies