QPR captain Joey Barton threatens to 'expose' Gary Lineker and says of Match of the Day pundit Alan Shearer - 'I despise him'
Simon Rice Comments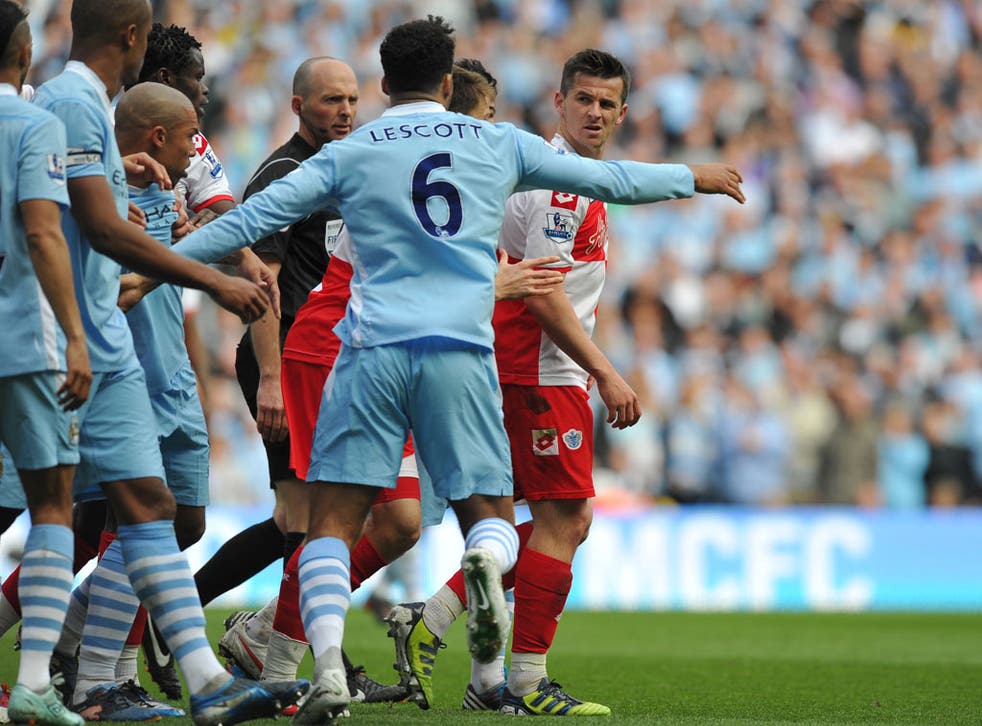 Joey Barton has gone on the offensive on Twitter, lashing out at Match of the Day pundit Alan Shearer and the presenter of the BBC show Gary Lineker, following his dismissal in the dramatic match at the Etihad Stadium.
The QPR captain was sent off during his side's 3-2 defeat to Manchester City, a match which saw the home side crowned Premier League champions, when he elbowed Carloz Tevez in the chin.
After being shown the red card by referee Mike Dean, he then kicked out at Sergio Aguero, appeared to aim a headbutt in the direction of Vincent Kompany and had to be restrained from confronting Mario Balotelli.
Yesterday he took to Twitter, where he has close to 1.5million followers, to defend his actions.
"Can do nothing but apologise to the players and fans.
"Still don't think it is a sending off.
"Still not my proudest moment but who gives a f***. We are safe.
"The head was never gone at any stage. Once I'd been sent off, one of our players suggested I should try to take 1 of theirs with me. Never worked but god loves a trier.
"Think a few people are forgetting Tevez started the fracas by throwing a punch to the head."
During the Match of the Day programme, Barton returned to Twitter following criticism from former Newcastle player and caretaker manager Shearer.
He posted: "Shearers still on my case... I know I f***** up Alan, thanks for stating the obvious.
"Whilst were both stating the obvious about each other, can I just say for the record what a great player u were. Well better me...
"But I have a better hair (which is not hard), wear well better shirts on TV and have a personality (something u lack).
"P.S. My final point, ur a s*** pundit/manager...
"I really don't like that p****, in fact I honestly despise him... Goodnight.
"I'd take it off Hansen and @GaryLineker but not from that bell, same fella that stamped on Neil Lennon,then threatened FA if they banned him"
The 25-year-old, who served a term in prison in 2008 for common assault and affray during an incident outside a McDonald's restaurant in Liverpool, returned to Twitter today in response to former England striker Lineker.
The Match of the Day presenter had tweeted: "Hear @Joey7Barton had a dig at Shearer. Is this an attempt, I wonder, to deflect from the obvious and deserved criticisms coming his way?"
In response, Barton tweeted: "@GaryLineker no deflections here mate. Think the fact about 100m people seen it will see to that. Just don't like how he gets personal..."
The spat continued today after Lineker tweeted: "@joey7barton Still raging then? Still kicking out? And still, presumably, misunderstood? But only by yourself I suspect."
Barton appeared to threaten Lineker in response, posting: "@GaryLineker do u wanna go there publicly "Mr Squeaky Clean" ? Think u should have a look in that vast closet of skeltons (sic) before u respond.
"@GaryLineker I know a lot about THAT side to u the people don't and won't bat an eye lid at exposing u. So mind ur manners Squeaky...
"@GaryLineker now back under your stone you odious little toad..."
Barton faces an automatic four match ban for his sending off on Sunday, as it was his second dismissal of the season. Yet that could be extended to as much as nine matches should the FA take action over his subsequent actions as he left the field.
Register for free to continue reading
Registration is a free and easy way to support our truly independent journalism
By registering, you will also enjoy limited access to Premium articles, exclusive newsletters, commenting, and virtual events with our leading journalists
Already have an account? sign in
Join our new commenting forum
Join thought-provoking conversations, follow other Independent readers and see their replies