Exclusive - Rafa Benitez: Liverpool will qualify for Champions League ahead of Manchester United because they have no European distractions
Liverpool will get back to those great European nights at Anfield
Rafa Benitez
Friday 17 January 2014 02:00 Comments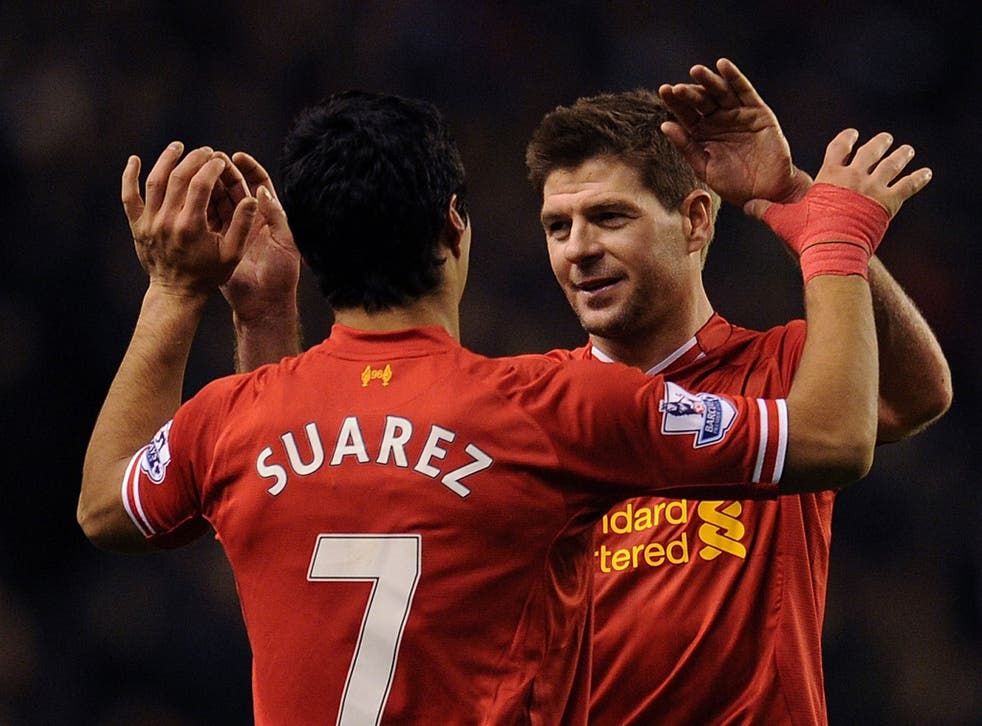 The new year means a great race in the Premier League – something we haven't seen for a long time – and everybody is talking about who they think will take a place in the top four, knowing that those predictions can't be made with confidence.
I think it will be the season when my old club Liverpool will finish in the top four, and get back to experiencing the great Anfield Champions League nights which were very special to me. I think there will be a changing of places because Liverpool coming fourth will mean Manchester United finishing outside of the Champions League. It is hard to talk confidently about these things in a crazy British season, of course, but Liverpool will have one important advantage when January is over.
That is time. They don't have to play in Europe in the months ahead and that is a big advantage when the others are distracted by those commitments. I don't mean it is not good to be competing and pressing to win in the Premier League and Europe, too. In early 2009 at Liverpool – the middle of March that year – we played United, Real Madrid and Aston Villa in 12 days, won them all, scored 13 goals and conceded one. We found that precious moment when everyone was on fire and wanting to play, play, play – and pushing. We had so much confidence that we could beat anyone at that time.
Liverpool have discovered confidence again, too, but three of the other teams – Manchester City, Chelsea and Arsenal – are stronger, with better squads, and the time Liverpool have to refocus and prepare for the league games will be very important to them. There will also be less risk of the injuries that they cannot afford.
It is not the only factor playing in their favour, though. A lot of people talk about the strikers but do they realise how much Steven Gerrard still brings to Liverpool, because I have seen more talk this season about whether he is the same "Gerrard of old" – as you like to say in England.
It was interesting to see him playing in the deeper regista role in the win against Stoke City, because regular readers of this column will know why I think he has the qualities to be an influence there. It is his anticipation, ability to pass long and short with incredible accuracy and also dictate the tempo. Not many players can do that.
Gerrard's return is very important. He is one of the best players I have worked with; an analyser who can play anywhere and still cause trouble in the box. He has always played with a lot of patience and commitment but now it is easier for him because he has more experience, has worked with different managers and has different visions of how teams can play.
It will also help Liverpool to play Arsenal, Manchester City and Chelsea – the big teams who have beaten them – at home in the second half of the season, because Anfield has become a difficult place to go to again. A run of wins at home or away can create the confidence I was talking about us having in March 2009.
City and Chelsea look like the best two squads in the Premier League to me. I remember our first discussion of the season in the column, when we said that City were the ones who could be the biggest danger. Looking from the outside here in Italy – from where I probably see less Premier League football than you – they are developing that soaring confidence.
Chelsea are spending more money now, too, and building on the Europa League we won there. So, they are a little bit ahead of the others, with Arsenal just behind in the group who are stronger than all the rest.
We will have to see if Manchester United can make it into the top four and, after all I have learnt about the club over the years, I know that you cannot rule it out. I only have to go back in my mind to 2008-09, when we finished second to United by four points.
We won 10 of our last 11 league games that season, with the crazy 4-4 draw against Arsenal the only one that broke the run, while United had that Federico Macheda goal against Aston Villa (after 90 minutes) and Michael Carrick at Wigan (86 minutes). It was their title and they earned it but it showed how hard it is to predict!
For Liverpool, the expectation is always there and a big part of the challenge is how to manage it without creating pressure for the players. You cannot play down the expectations. The fans want to know that you believe you can achieve your target so you have to say that, without having fear.
When you do that, some players might say, "He is just saying that because he has to" and perhaps in a way sometimes you are. But what matters most at a club like that is not what you say in public, behind the microphones and all the dictaphones, but what your actions are in front of the players.
They need to look at you and know you are prepared, know you have solutions and have done what is needed to prepare them for the challenge of each game.
The expectations and the noise grow bigger and bigger as the end of the season gets closer. But if you can transmit that confidence, nobody will be intimidated.
Farewell, Luis, you could always do the unexpected
I was talking the other day to Luis Garcia, who has announced his retirement, and I can't let this column pass without talking about the quality that made him very special for us at Liverpool.
He would sometimes give the ball away and the fans would be frustrated but he was so good when creating things, working between the lines and showing his game intelligence.
In the big games it can come down to who can make that little bit of difference and do the unexpected thing on the pitch. Maybe the thing you cannot always coach or expect. Luis Garcia always had that.
Keep your eye on Sterling – I rated him from the start
I am sure we will talk more about England as the summer comes near, but one of the players we must watch now is Raheem Sterling. I remember the day I met him, with his mother Nadine at Melwood. The head of our academy, Frank McParland, had been telling me how good he was and that we must sign him and when I took him on the tour of our Liverpool training ground that day we came across Fernando Torres. I introduced him to Fernando and he wasn't fazed. That told me something.
He was very young but he had that quality of wanting to receive and be on the ball. That is rare. England could benefit from the way he is meeting some of the expectations we had back then.
Register for free to continue reading
Registration is a free and easy way to support our truly independent journalism
By registering, you will also enjoy limited access to Premium articles, exclusive newsletters, commenting, and virtual events with our leading journalists
Already have an account? sign in
Join our new commenting forum
Join thought-provoking conversations, follow other Independent readers and see their replies