Real Madrid and City expose the folly of Manchester United's refusal to field a woman's team
The Red Devils are the last 'megaclub' to not have a women's team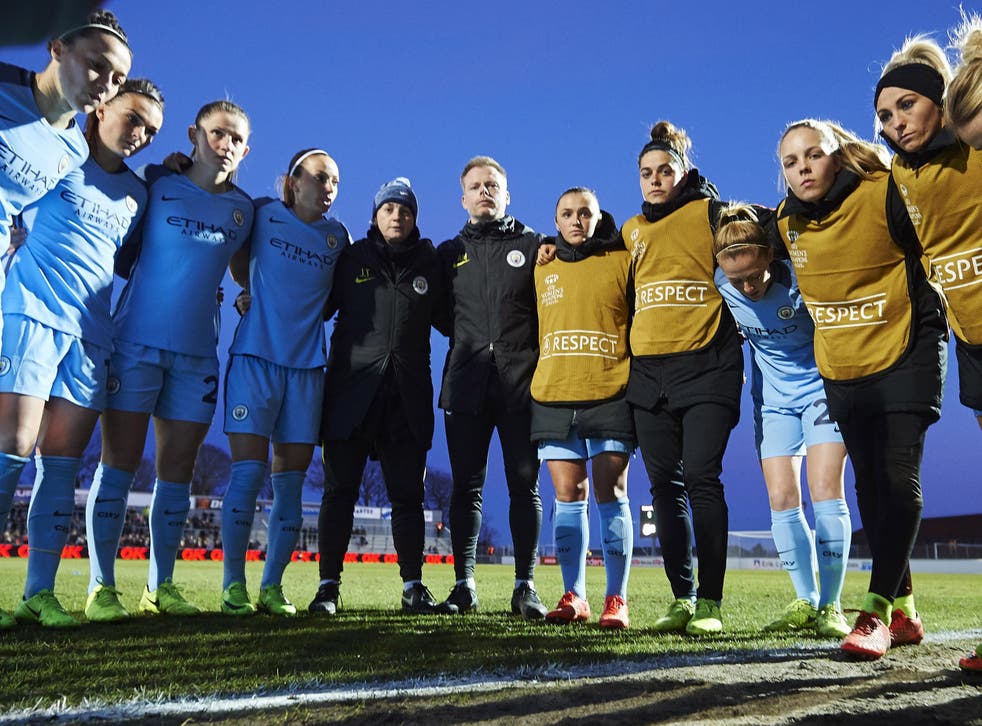 The word from the Spanish capital is that the politics of envy has driven Real Madrid's president Florentino Perez to capitulate and, in line with the many who have argued the case, introduce a women's football team at his club.
Perez simply didn't like to see Barcelona basking in the acclaim their own women's team brought by playing phenomenal football. Look on Women's Soccer Zone Twitter feed (@Wosozone) at some of the goals scored by Marta Unzue and Co and you get the picture. As usual with Perez, no quarter was spared when he decided that he was being left behind, in a country where 20 of the 42 teams in the top two divisions have a women's team. A Real women's side is expected to have a £15m budget - comfortably more than any other team including Barcelona and the excellent Atletico Madrid.
Pérez is thought to have failed in bid to lure Lola Romero, who has stayed at Atletico out of loyalty to the domestic champions and winners of last year's Copa de Reina (Queen's Cup). It had been originally thought that Real would take over another club based in the city - CD Tacón, who play in Spanish women's football's second tier. But having now decided to start his own side, Perez is expected to recruit the two women who have made Tacón a success: Ana Rossell and Rene Ramos.
It's all classic Perez and there is a message here for Manchester United, who are destined to become the last global club steadfastly sticking to the rationale that their sole focus must be on a world-beating men's team and there will be no women's team for them.
It is an inflammatory thing to say in their city, but for evidence of how short-sighted this outlook is, United's executives would have done well to visit Manchester City's Football Academy on Tuesday lunchtime, where members of the women's team who will compete in a Champions League quarter-final against the Danish side Fortuna Hjorring on Thursday night were meeting local young women at a community event.
There was something about the way that several of the invited young group spoke to City's Carli Lloyd, the World Cup winner and world player of the year, which told you that it was an experience which would resonate down the years. The overriding ethos is that every fan should be able to "recognise themselves" in a City player, if they so choose. "A 14-year-old girl may choose to wear a Sergio Aguero shirt to the match, but if she wants to wear a Toni Duggan shirt, why not?" as one of the staff working with the team put it at Tuesday's event.
To extend the point, the club believe that a young woman should be able to have the same dream of putting on a Manchester City shirt as a young man does. It almost goes without saying that such a philosophy is wholly right and that the cost attached to making that a possibility is an utter irrelevance, in the age of the £250,000-a-week Premier League footballer.
The fact that United had a women's team but axed it 10 years ago compounds the sense of Old Trafford myopia. It is a commercial failing, too. A new way of reaching more women across the globe would be a priority for most running an organisation with United's reach. City certainly view the women's team as a commercial asset, too. United told me on Wednesday that their position on the issue has not changed but that the matter is being "kept under review."
It is hard to avoid the sense that the very male landscape at the top of United does not help. There is just one woman on the United board – the late Malcolm Glazer's daughter Darcie Glazer Kassewitz, who has been a far less frequent visitor to Old Trafford than her brothers Joel and Avram and more focussed on the Glazers' Tampa Bay Buccaneers NFL franchise.
In this respect, too, United feel like the club the world left behind. All of the leading Premier League clubs have women in actively influential, day-to-day executive roles apart from United and Arsenal, with the composition of the north London club's board resembling a Who's Who of the MCC.
Actions speak loudest, of course. City are contributing to the women's game taking strides. They attracted a record single club game attendance last season – 4,096 for the home game against Chelsea which took them to the title - and to progress to the final of the Champions League would represent a huge land-grab for the women's game within these shores.
"Although we obviously want to do well for this club, I think we want to do well for the young girls around here as well," said City's Jill Scott. "We want to keep inspiring them so if that means we have got an opportunity for girls to come to the semi-finals of a Champions League, that might inspire a couple more to ask for a pair of football boots for Christmas." It is hard to put it better than that.
Join our new commenting forum
Join thought-provoking conversations, follow other Independent readers and see their replies