Referee brandishes 36 red cards in one match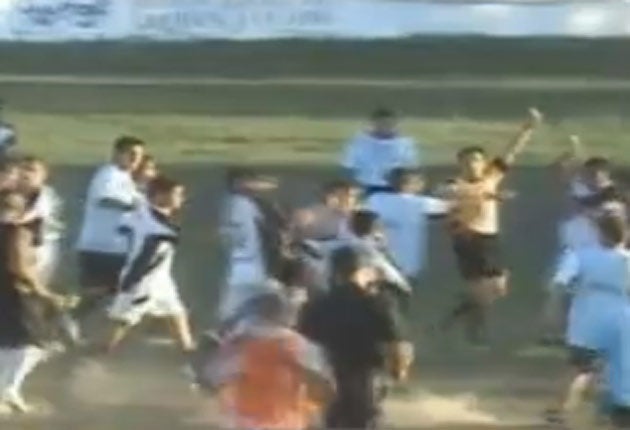 A referee has set a record by showing 36 red cards in a single game, dismissing all the players, substitutes and coaches.
The crazy scenes occurred in the fifth tier of Argentinean football between rival teams Claypole and Victoriano Arenas.
With two players already dismissed in the first half, the second descended into chaos when players went lunging into tackles and there were repeated stand-offs between them. It boiled over when a mass brawl erupted that saw the managers and coaches enter the pitch with their fists flying. Some fans were also seen joining in.
Referee Damian Rubino would later file his match report, in which he saw fit to serve every player with a red card, along with a further 14 people, a mixture of subs and coaches.
Victoriano Arenas manager Domingo Sganga, discussing the manic scenes in Buenos Aires, was quoted as saying: "They wanted to kill me". Meanwhile his opposite number Sergio Micielli says the referee overreacted to the brawl: "Most players were trying to separate people. The ref was confused".
Rubino's red cards could yet be overruled by the local FA according to reports.
For more on South American football, listen to The South American Football Show by clicking here.
Join our commenting forum
Join thought-provoking conversations, follow other Independent readers and see their replies