Roberto Mancini loses cool over speculation about his future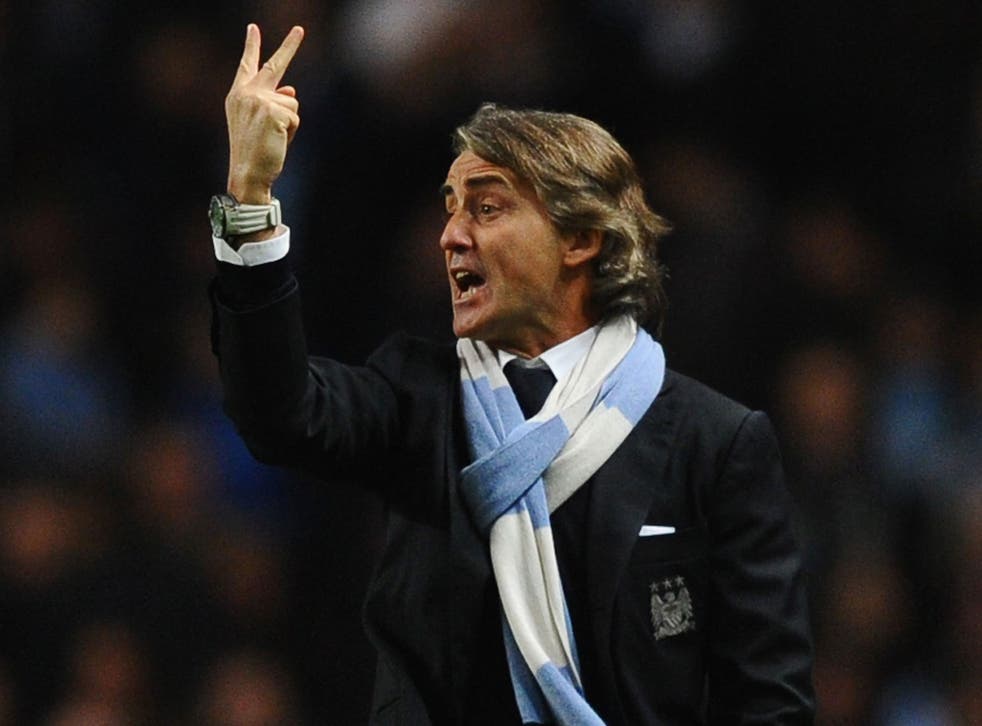 Manchester City manager Roberto Mancini swore in front of reporters and TV cameras as he was asked to comment on the latest speculation concerning his future.
With City's hopes of retaining their Barclays Premier League title fading, Mancini's position has come under considerable scrutiny.
Malaga coach Manuel Pellegrini is the latest name to be linked with his post at the Etihad Stadium.
Mancini dismissed suggestions he could be sacked when he met media prior to last week's FA Cup win over Leeds and had to revisit the subject after the game.
When former Real Madrid boss Pellegrini was then mentioned in the opening question at his latest press conference, Mancini indicated he was clearly wearying of the discussion.
After a shrug, but then a smile, Mancini said: "f****** hell!"
After a brief pause and a laugh, he gave a more thorough response.
The Italian said: "I cannot continue to answer about this every week.
"We have another two months. In two months you will know if this can happen but I can't continue with this.
"This is normal for you, it's your job, don't worry, but I can't continue to answer each week about one (manager) or another or another.
"But also because I don't understand this - why would Manchester City change their manager? For what reasons?"
City trail Premier League leaders Manchester United by 12 points, a gap that could have increased before they face third-placed Chelsea on Sunday.
But after leading City to FA Cup success in 2011 and following up with last year's dramatic title victory - the club's first league win in 44 years - Mancini retains the support of the fans.
His name was chanted a number of times during the win over Leeds last Sunday, which took City through to the last eight of the cup.
Mancini said: "After the FA Cup (game) I said that in the last 18 months since Manchester United won the Premier League, there were seven trophies (to play for) and Manchester City won three of those seven trophies.
"For this reason I don't understand (the speculation).
"I'm not the CEO or chairman, if you want to ask these questions ask them.
"I have four more years on my contract, I think I'm doing well, I am happy here."
Mancini said he was still unsure whether captain Vincent Kompany, who has missed the last four games with a calf injury, would be fit to return against Chelsea.
Join our new commenting forum
Join thought-provoking conversations, follow other Independent readers and see their replies