Roy Keane and Patrick Vieira relive rivalry - after the former Manchester United and Arsenal captains shared ice cream in Warsaw
Thawing of frosty relationship, which is subject of TV show on Tuesday night, began with a shared ice cream
Robin Scott-Elliot
Tuesday 10 December 2013 02:00 Comments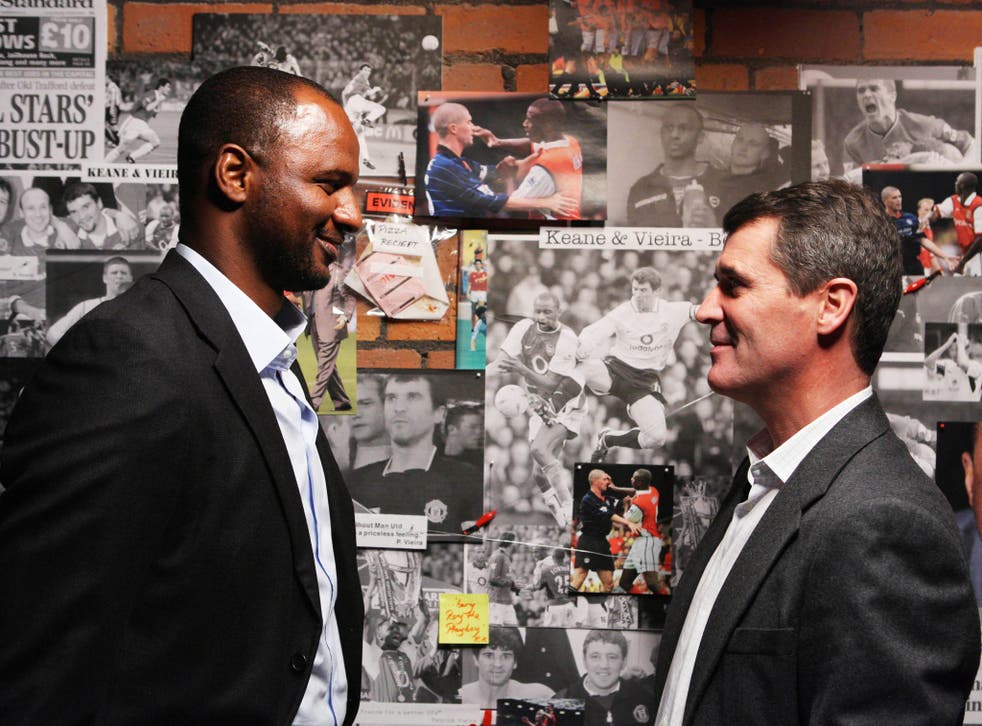 For nine furious years it was a relationship founded on and fuelled by an intense competitiveness, an absolute desire for physical domination and, from one side at least, hatred.
"I can't think of any other word that springs to mind when I was going into battle with Arsenal," says Roy Keane with a simplicity that makes it seem the most natural thing in the world. "Hatred was the word."
For Keane to describe meetings between Manchester United and Arsenal through the closing years of last century and the first five of this one as "going into battle" is all too apt. It was the contest that defined a Premier League era. At the heart of this collision were Keane and Vieira: 19 meetings, eight won by Keane and his troops, six by Vieira and his, few passing without at least one tackle to make the nation wince or an incident that sent a rolling cast of Keane, Vieira, Martin Keown, Ruud van Nistelrooy and plenty others up before the FA beak. It may be only eight years since their last collision but rewatching Keane take on Vieira and the tackling already seems from a lost age.
They last faced each other in the 2005 FA Cup final. Within months both were gone, Vieira sold to Juventus, Keane bundled out of the door in typically controversial fashion.
"I shed a few tears in my car outside the training ground," says Keane of his departure from United. "For about two minutes."
Their paths rarely crossed until in the summer of last year they found themselves part of ITV's team for the European Championship. One afternoon they explored Warsaw's old town together. Keane bought Vieira an ice cream. The relationship thawed.
The interview between the two to be shown on ITV 4 this evening – a combination of the two chatting, occasionally sparring and often laughing – is an engaging watch, funny and informative. Shot in a disused warehouse in Manchester, it tells a good story, although the nostalgia undoubtedly encourages a more forgiving light to be cast on their occasionally thuggish on-field behaviour.
"It took two years to convince Roy to do the interview," says Tony Pastor, founder of LoveSport productions, whose first major film this is. "Patrick took no convincing."
"He is my favourite enemy," says Vieira in the film of Keane. "I don't know if that makes sense to you but it made sense for me, because I loved every aspect of his game."
Vieira is the one who appears to have more comfortably carved out a post-playing career, most at ease with what he does now as football development executive at Manchester City, as well as his TV work. Keane tried and failed at management before becoming a regular at ITV.
From a distance, Keane is easily characterised, overly intense, overly aggressive. He lives up to elements of that in this film. Asked if his intensity at times hindered him, he replies: "There is no doubt about it. But that is part of my DNA. It's no point saying I wish I had stepped back from that. You have to get in the ring."
Those who know Keane better dismiss a simple portrait of an angry man, intolerant of the failings of others. He is, says one ITV producer who worked with him at the Euros, "super bright, not the man you think he is". For example, Keane devours Malcolm Gladwell's books.
There is evidence of the three-dimensional Keane here; his response to how he readied himself for the big games. "A lot of my preparation was about fear: fear of losing, fear of letting my neighbourhood down, my family down, fear played a big part in my sporting career," he says. Gabriel Clarke, the ITV reporter who, along with Pastor, developed a relationship with Keane that cleared the way for this film, asks him which lingers longer, enjoyment at winning or the frustration at losing?
"The enjoyment was very, very brief," says Keane. "Too brief. Before you know it you get into another game and the fear creeps back in, not wanting to let anybody down."
Keane's falling-out with Sir Alex Ferguson is straightforward enough, whatever the differing versions; Ferguson had had enough. Keane's choice of Jaap Stam, Ruud van Nistelrooy, David Beckham and Paul Ince in his favourite United XI may coincide with the fact that like him they all fell out with Fergie. There is no place for Ryan Giggs, nor Paul Scholes or Gary Neville. Neville and Scholes came close, he says, but of Giggs he adds: "Having a great career doesn't mean you're a great player".
Keane's relationship with United suffered for his cold fury with Ferguson but this season he is back at Old Trafford as a season-ticket holder. There is the new job as Martin O'Neill's No 2 with Ireland. He remains keen to manage down the line.
But there is always Keane the arch-competitor. His eyes twinkle as he asks Vieira if he recalls his misplaced pass that set Giggs on his way to that goal in the 1999 FA Cup semi-final – a game in which Keane was sent off. He wonders why no Arsenal player fouled Giggs. "I would have just absolutely took him out," Keane informs Vieira. Vieira's eyes twinkle back. This is clearly a meeting both enjoyed, a rekindling of days gone by. Only now it has a scoop of friendship on top.
"There is not the same kind of excitement," remarks Vieira of today's meetings of the two rivals in red. "They are almost too nice to each other," responds Keane. "There is almost too much respect for each other."
'Keane and Vieira: The best of enemies', ITV 4, 10pm Tuesday night
Register for free to continue reading
Registration is a free and easy way to support our truly independent journalism
By registering, you will also enjoy limited access to Premium articles, exclusive newsletters, commenting, and virtual events with our leading journalists
Already have an account? sign in
Join our new commenting forum
Join thought-provoking conversations, follow other Independent readers and see their replies