Russia doping crisis: Fifa must look at suspending Russian Sports Minister Vitaly Mutko, says FA chairman Greg Dyke
Mutko was chairman of the organising committee behind Russia's winning bid to host the 2018 World Cup
Peter Lansley
Wednesday 11 November 2015 00:58 Comments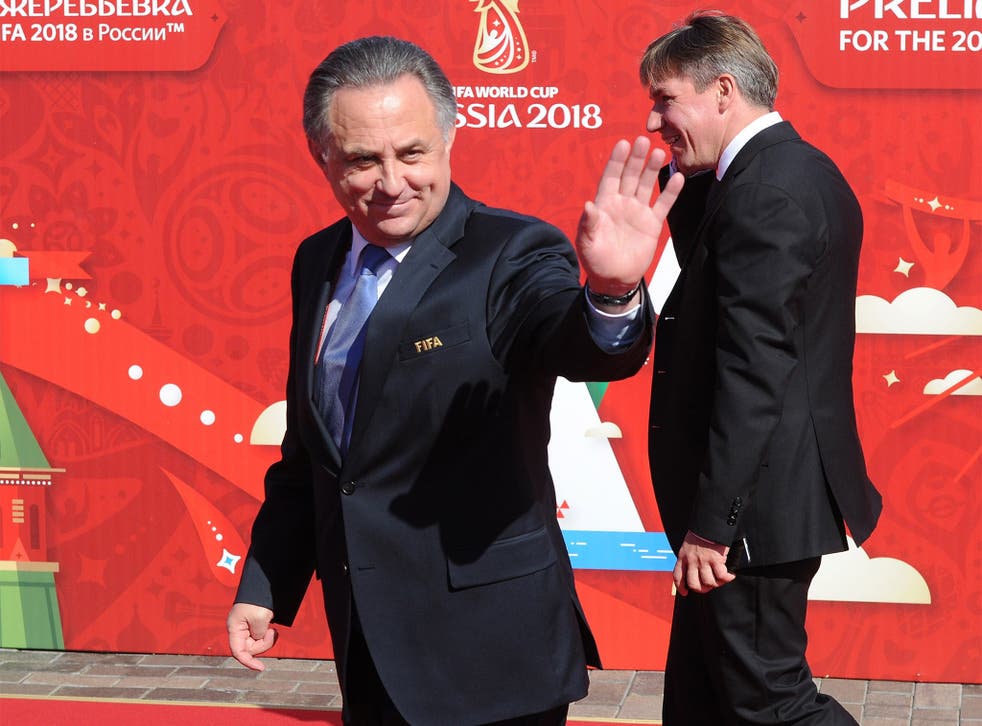 Greg Dyke, the Football Association chairman, has urged Fifa to consider suspending Vitaly Mutko from his role on its executive committee after the Russian Sports Minister was accused of being "complicit" in the World Anti-Doping Agency report into drug misuse in Russian athletics.
Dyke stopped short of suggesting that Russia should lose their right to stage the 2018 World Cup but did question Mutko's position as chairman of the organising committee after Wada accused him of being "aware" of the alleged doping and its cover-up. Fifa's ethics committee has pledged to look into the findings of the report.
"Whether someone who is involved in all that can stay on the board of Fifa is something Fifa needs to address very quickly," said Dyke, who was speaking at the Birmingham County FA's unveiling of plans to increase football participation in the region.
"He's head of the organising committee, Minister for Sport… It's not bad, is it? He's got about six jobs. It will be up to Fifa. Fifa will have to decide whether he can stay on the board of Fifa or whether he has to be suspended because of the allegations surrounding athletics."
Moscow's testing laboratory has been shut down by Wada and faces a long process to regain accreditation. In 19 months' time, Fifa will run an anti-doping program for the 2017 Confederations Cup in Russia, with Wada-accredited labs in Lausanne, Switzerland, and Cologne, Germany, highlighted as "perhaps two of the best" by Michel D'Hooghe, the Fifa medical committee chairman, if alternative venues are required to test players' samples.
Dyke revealed that the FA have hired a QC with a view to reclaiming the £21m invested in England's futile bid for the 2018 World Cup from Fifa.
Dyke's criticisms of Sepp Blatter have intensified since the suspended Fifa president recently claimed that awarding the 2018 World Cup to Russia was a foregone conclusion before England, and the other rivals bidders, started their expensive campaigns.
Dyke admitted that the FA are now pursuing Fifa for compensation for the investment of taxpayers' money. "A lot of people put in money – I believe Birmingham City Council put in £250,00, for instance – so when all that stuff came out from Blatter, we said, 'Let's go and talk to our lawyers' because we needed to work out what was the legal basis for getting our money back, if you can, and we went to a QC. They suggested we ask Fifa a series of important questions. Our intent is to get the £20-odd million back from Fifa. They've received the questions, yes. We want answers back before we lodge our claim."
While Dyke believes that the bidding process for the 2018 World Cup is evidently flawed, from Blatter's admissions, he is not necessarily claiming Russia are guilty of any wrong-doing as a rival bidder. "I've not seen any evidence of corruption in the allocation of the Russian World Cup," he said.
"A lot of very good journalism has been done on whether or not the Qatar World Cup bid was tainted, but I haven't seen it for Russia. But you do wonder."
Register for free to continue reading
Registration is a free and easy way to support our truly independent journalism
By registering, you will also enjoy limited access to Premium articles, exclusive newsletters, commenting, and virtual events with our leading journalists
Already have an account? sign in
Register for free to continue reading
Registration is a free and easy way to support our truly independent journalism
By registering, you will also enjoy limited access to Premium articles, exclusive newsletters, commenting, and virtual events with our leading journalists
Already have an account? sign in
Join our new commenting forum
Join thought-provoking conversations, follow other Independent readers and see their replies