Sam Wallace: Leaving Tottenham for Real Madrid could be a bad move for Gareth Bale
Real are the greediest, neediest child in the nursery
Sam Wallace
Monday 03 June 2013 12:00 Comments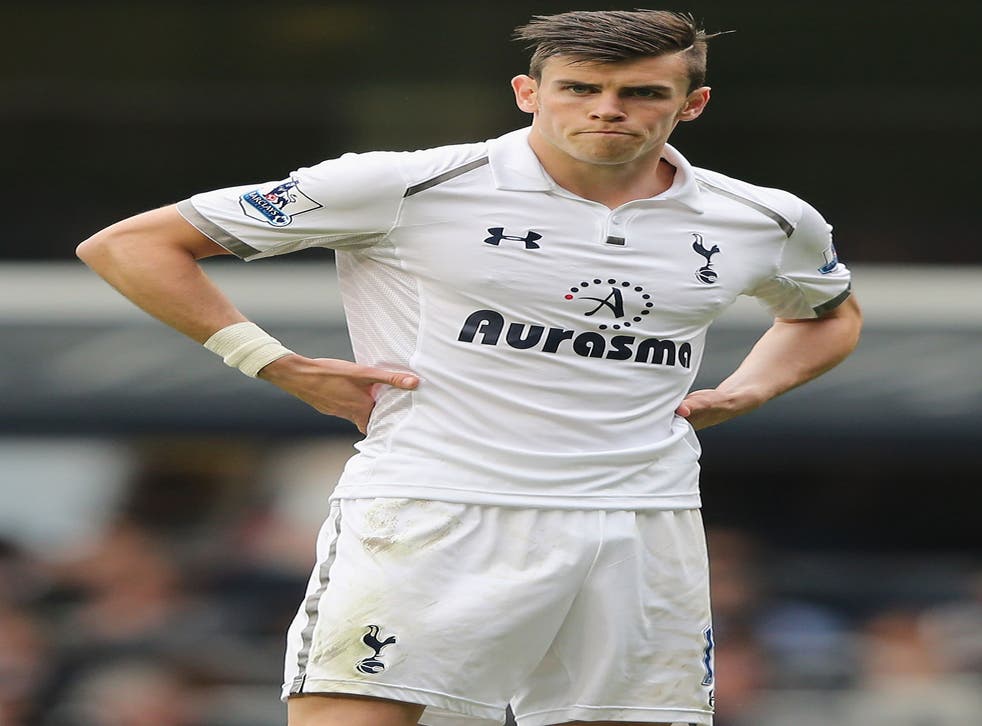 Given that they buy everyone else's best players it is a fair assumption that at some point soon Real Madrid will win their 10th European Cup and break Barcelona's virtual stranglehold on the Spanish title. They won their last Champions League in 2002, which is not as long a wait as other major clubs have been forced to endure, but since then they have spent €930m (£795.5m) on transfer fees alone to try in vain to repeat the trick.
Perhaps No 10 will be delivered by Gareth Bale, or Luis Suarez, or Edinson Cavani or any of the other colossal, gold-plated super-footballers that Madrid want to sign this summer. You don't need a sophisticated scouting network to tell you that these players could make a difference. Any eight-year-old with access to a Sky Sports subscription and Fifa 13 on his Xbox could tell you that.
Last year it was Luka Modric Madrid signed, the year before that it was Nuri Sahin and Fabio Coentrao. It will be someone else next year. But you can be sure that there will be someone. There always has to be someone.
That is Madrid, the greediest, neediest child in the nursery. Their familiar summer cycle of yearning, pursuit and acquisition is so well-known to us now that the story has a dull predictability to it. Before you know it, Madrid's new boy will be lying on the examination table for his commercially-endorsed medical, giving the camera a jaunty thumbs-up and trying not to look overawed.
All big clubs sign players from their smaller, less wealthy rivals. It is one of football's immutable laws that the hierarchy gets enforced and if you are not careful, as with Arsenal, losing one to a bigger beast can quickly turn into a torrent over the years. So it goes that Manchester United sign Robin van Persie from Arsenal and Bayern Munich sign Mario Götze from Borussia Dortmund and Borussia Dortmund sign Marco Reus from Borussia Mönchengladbach.
What sets Madrid apart from the likes of United and Bayern is that the tactic is pretty much the only one in their playbook. There are no players coming up from the academy any more. There are few gambles on younger, relatively unproven players, unless you count Raphaël Varane. It is an endless conveyor belt of last season's big talent, signed at a premium and often rapidly disposed of at the first hint of failure.
If they wished to sign the best player in the Champions League final this season then they would have had to make Bayern an offer for Arjen Robben. But, of course, they have already been there, done that, signed him, tired of him and moved on. Clearly Robben merited a bit more faith and there are others they have sold or released too early, like Claude Makélélé and Juan Mata.
There is the attraction of the wages Madrid pay, but there is money everywhere in European football these days. The Premier League, in case no one had noticed, is swimming in it.
For Bale, does Madrid represent the apex of football? Perhaps, in historical terms and the glamour that comes with their name. With three titles in 10 years in what is now a two-horse race, they have hardly dominated in Spain, let alone been top dogs in Europe. Ronaldo won much more in six years at United than his four at Madrid, in spite of his phenomenal goalscoring. They are just as likely to be the rock upon which careers founder.
Michael Owen's stellar career stalled at Madrid. It felt like the club bought the striker simply because they could and then diminished him. Even David Beckham, whose history at the club has been polished up by the PR machine, arrived with Luis Figo playing his position and had to be converted into a holding midfielder. Given that he twice finished second in the Fifa World Player of the Year award as an attacking right-sided player, that was a curious move.
Watching those white shirts run out at a full Bernabeu on a European night is one of the great sporting spectacles. No one has to remember that the rest of the Spanish league is denied anything like an equitable share of the television revenue by Madrid and Barcelona. Or that Madrid themselves are under investigation by the European Commission competition office over allegations of illegal state aid.
These are not the complex factors great footballers consider when Madrid come calling. And by and large that kind of stuff has nothing to do with them. They sign the contract and play the football, under huge pressure to win, and the politics are someone else's job. But all that contributes to what a club is – to the impatience of the fans, the insecurity of the coach, and it eventually filters through to the players.
What of the league itself, where the trips to Levante and Getafe feature more empty seats than supporters? Or the occasion last season when Madrid played Rayo Vallecano and an electrical storm caused the floodlights to fail. Everyone had to come back the next day and Rayo claimed the cables had been cut to avoid a fine. The league's administrators are so incompetent that last week the season ran over into the international break.
No one expects Bale to stay at Tottenham for the rest of his career, not when the rewards are so immense elsewhere. But he would do well to ask himself why it should be inevitable that he joins Madrid.
It is natural that he will want to compete in the Champions League every season. When he leaves Spurs, no one will be able to say that he has not earned that right. And when he makes that career-defining move he needs to make sure that the club he joins is his best option in every respect. Will that be Madrid? The best advice you could give him is that it does not have to be.
Crime on the streets of Rio? Don't take it as read
Having eaten out in the Rio de Janeiro district of Lapa on Saturday night, I was walking down a quiet street at around 9pm with two fellow members of the press when I felt someone tap me on the shoulder. The man in question was holding up a wad of Brazilian reais, which after a split second of confusion I recognised as the roll of notes that I should have had in my pocket but had dropped. He laughed at my dazed reaction and waved away my attempt to give him a reward. I know that crime is bad in Rio. But that is the story I will remember.
Hectic Chelsea schedule is the way of the future
By the start of next season, Chelsea will have completed three summer tours: their double-header against Manchester City in the US last month, games in Thailand, Malaysia and Indonesia in late July and now a six-team tournament in America at the start of August.
It is an extraordinary schedule and this trend is only going one way. Come 2015, the next non-tournament year, clubs will be playing friendlies well into June. Only a downturn in the players' performance in the league season will stop it because the money is clearly too good to turn down.
Register for free to continue reading
Registration is a free and easy way to support our truly independent journalism
By registering, you will also enjoy limited access to Premium articles, exclusive newsletters, commenting, and virtual events with our leading journalists
Already have an account? sign in
Join our new commenting forum
Join thought-provoking conversations, follow other Independent readers and see their replies