Sam Wallace: Steve McClaren's Dutch courage should make English football proud
Talking Football: McClaren has left the big Dutch guns trailing a club who have never been champions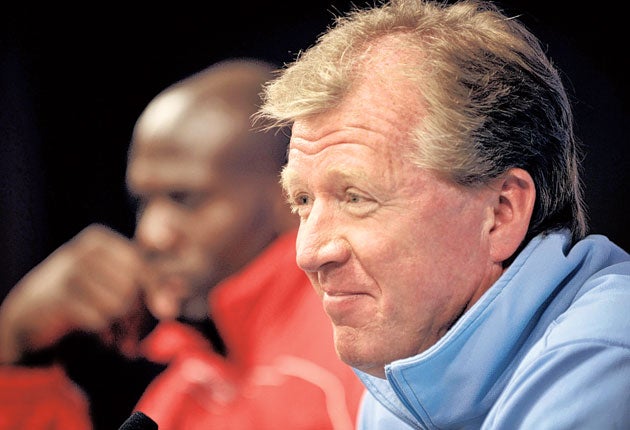 The last English manager to get a team into the Champions League was the late Sir Bobby Robson with Newcastle United in 2002. But that might well change this month with an English manager who has gone about building one of the most remarkable seasons in European football.
Steve McClaren is two wins away from the Dutch title and a place in next season's Champions League after his side FC Twente beat Heerenveen 2-0 on Saturday. He has left the traditional big guns of Dutch football trailing with a club who have never before been champions of the Netherlands in their 45-year history.
By way of comparison, it would be like Fulham winning the Premier League. It is a potentially stupendous achievement by an English coach, made all the more impressive because it is exactly the kind of challenge we should wish our brightest managers to undertake. We import so much coaching talent, redressing the balance of trade is a cause for celebration.
Would it be too much to ask English football to forget about the disappointments of England's failure to qualify for Euro 2008 and feel proud that McClaren is flying the flag for English managers overseas?
Should Twente get the necessary two wins in their remaining three games, starting with a big one against AZ Alkmaar tomorrow, then McClaren will have achieved something that so few Englishmen in modern times have accomplished. If it were anyone else, he would be regarded as a trailblazer but McClaren is still fighting the tired old prejudices that date back to that Euro 2008 qualifying campaign.
In the Netherlands, the description most commonly applied to McClaren is that he is a "gentleman", in the old, genteel English sense of the word. He does not say a great deal in the media but he is regarded as fair and even-tempered and in a quietly subversive way he has gone about toppling the established hierarchy of Dutch football, rather like Sir Alex Ferguson once did in Scotland with Aberdeen.
In fact there are even conspiracy theories in the rural eastern province of Twente that the Dutch football association (KNVB) do not want McClaren's team to win the title. The KNVB are said to fear that Twente are not sufficiently equipped to compete in the Champions League and a bad showing might harm the Netherlands' Uefa co-efficient – which dictates the number of qualifying places they get.
McClaren is not just up against the Dutch establishment and the big clubs in a country which traditionally produces some of the best coaches in the world; he is doing it on a shoestring budget and he is thriving. Football has plenty of stories of redemption and McClaren's is one of the very best.
Even if he does win the league this month there will be difficult decisions for McClaren over his future. He has one year left on his existing deal after this season but he faces having to rebuild his Twente team for the third time this summer with even the promise of Champions League football unlikely to persuade all his best players to stay.
The long-serving Swiss striker Blaise Nkufo has already agreed to join the Seattle Sounders next season in the MLS and the 35-year-old Danish midfielder Kenneth Perez will probably retire. Some of the biggest clubs in Europe are looking at Twente's Brazilian centre-back Douglas and top goalscorer Bryan Ruiz, the Costa Rican winger McClaren signed last summer. Ronnie Stam, a 25-year-old Dutch right-back, is also in demand.
Bought for £5m from Ghent, Ruiz has proved one of the most successful signings in European football this season – he scored a hat-trick in four minutes against Sparta Rotterdam just over two weeks ago. McClaren has used Twente's scouting network and his own contacts to assemble a team from the remains of the one that finished second last season and lost three key players, including Marko Arnautovic to Internazionale, for a total of £22m.
He has also proved himself a decisive, independent manager. When Twente's influential midfielder Theo Janssen was found to have been drunk when he was involved in car crash in November, McClaren led the way. He suspended Janssen for two months. It did not help Twente's title push but it was the right thing to do.
McClaren was never the caricature that some sought to portray him as; he was just a coach who, by his own admission, might have got the biggest job in English football a little too early. His achievement in reaching the Uefa Cup final in his last season at Middlesbrough was overshadowed by the walloping they got from Seville and his disintegrating relationship with chairman Steve Gibson and captain Gareth Southgate.
With England, he suffered the most abject injury crises of any recent manager in crucial matches. Yes, he made mistakes but against Croatia in that decisive game at Wembley in November 2007 he was without Wayne Rooney, John Terry, Rio Ferdinand, Ashley Cole, Wes Brown, Michael Carrick, Emile Heskey and Michael Owen.
The comparison with Fulham holds true in another respect. Their manager Roy Hodgson has deservedly been praised for his club's achievements this season. He too has had highs and lows in his career although none quite as dramatic as McClaren. Both of them are talented English managers; both of them have had great success with small clubs on limited budgets.
If we can give Hodgson the credit for restoring credibility to the reputation of the English manager then we must surely do the same for McClaren. He is English and he is making a success of himself in a competitive foreign league, making him something of a rare commodity.
Barcelona expose feeble failure of Perez's Real vision
What a pleasure to see Barcelona hammering Real Madrid at the Bernabeu on Saturday night, tightening their grip on top spot in La Liga in the process. The gross nature of Real's vast expenditure over the summer is largely overlooked by those in Uefa who seek to curb the excesses of English clubs.
Real Madrid's president Florentino Perez (below) tried to buy a team to compete with the reigning European champions and, on Saturday's evidence, he has failed miserably. By contrast, Barcelona finished the match with eight homegrown players on the pitch. The problem for Real is when you've bought the biggest names in the world and failed, where do you go next?
Bellamy excels himself
"I'm from Cardiff and for me, Cardiff is Wales. Beyond that it's something else – countryside, it's green. Outside Cardiff, you are Welsh without really being Welsh." Craig Bellamy's alleged comments in a French football magazine this week. Bellamy's masterpiece: he has called it on with his own country.
One Night in Turin will whet appetite ahead of World Cup
Pete Davies' excellent book All Played Out, about the 1990 World Cup finals, has been made into a film, One Night in Turin, in time to exploit the anticipation around this summer's tournament.
Having talked to one of the players from that 1990 World Cup squad who features heavily in the book – and some of the reporters who covered it – I get the sense that Davies surprised people by quoting what they considered to be "off the record" conversations.
It's a bit rich given the stick Davies gave some journalists in his book. Nevertheless, All Played Out is a classic and should be a great movie too.
Join our commenting forum
Join thought-provoking conversations, follow other Independent readers and see their replies