Sam Wallace: Three wise men know they're damned either way in case of Suarez
Talking Football: The backdrop is the most bitter rivalry in English football, two cities with an acute mutual dislike
Sam Wallace
Monday 19 December 2011 01:00 Comments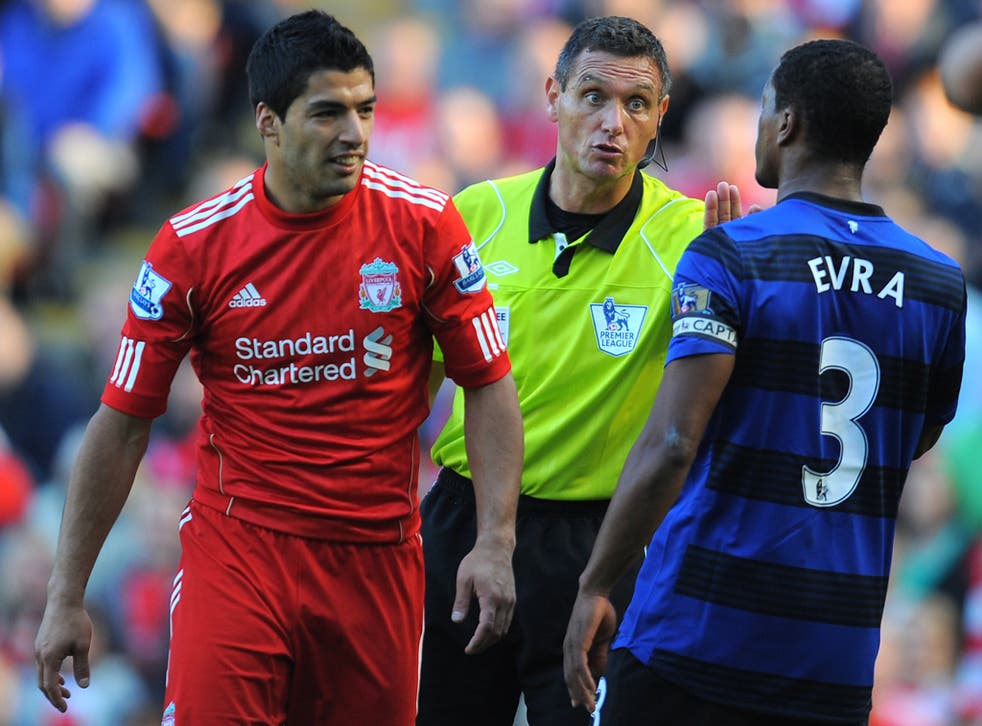 The three men of the Independent Regulatory Commission sitting in judgement on Luis Suarez's racial abuse charges will rise this morning, eat breakfast, flick through the newspapers and then go back to the worst bloody job in football at the moment.
Whichever way their judgement goes, Paul Goulding QC, Denis Smith (former manager of Sunderland, Wrexham among others) and Brian Jones (Sheffield and Hallamshire Football Association chairman) will be held up by an element of one set of supporters as incompetent, biased, useless – maybe even worse. You might say they are on a hiding to nothing.
The FA's charges against Suarez, which allege racism, touch a nerve right through British society, never mind English football.
What Goulding, Smith and Jones – alas, poor Goulding, Smith and Jones – have to decide is whether Suarez's language (and the word negrito seems to be the key, although it has never been officially confirmed) towards Patrice Evra in Liverpool's home game against United on 15 October constituted racial abuse.
The backdrop to this is the most embittered rivalry in English football. This is United v Liverpool in 2011, a fixture that draws bigger worldwide television audiences than Barcelona v Real Madrid. It is two northern cities with an acute dislike of one another. It is the two most successful clubs in the history of English football locked in a perpetual argument about their respective claims to greatness. It is, on many levels, pure hatred.
Throw into that mix a complicated race row with all sorts of nuances to do with language and cultural norms and you have a disciplinary case best described as a hospital pass. And that is before the conspiracy theories begin circulating.
The latest one, doing the rounds on Twitter, is a real corker. Some Liverpool fans claim that the three-man commission is biased against Suarez because of the presence of Smith, who was manager of Sir Alex Ferguson's son Darren when he was a player at Wrexham. They also point to glowing remarks made by Smith about Ferguson in the former's autobiography.
What those who make these accusations have overlooked is that both clubs have the power of veto over any member of an independent regulatory commission. At any point in the fraught legal arguments leading up to this case, Kenny Dalglish or Ian Ayre could have objected to Smith's presence on the panel. It is not every walk of life in which you get to choose your own judge but, hey, this is football.
So while the knives are sharpened for Smith in the event of a guilty verdict for Suarez, it should be known that no-one at Liverpool Football Club objected to him being on the commission. If they had, he would not be there. In fact, it is rare indeed for a club to object to the appointments on an independent commission. Those I spoke to could not recall the last time it had happened.
Why? Because clubs are realistic about the small-world nature of English football.
Finding a connection between someone who has worked at a fairly significant level in the game and does not know either Ferguson or Dalglish or both is hard. These are two of the best-connected, significant figures in the game.
Finding an experienced person in football who did not have some connection with one of the two clubs would be even more difficult.
The independent regulatory commissions that sit in these cases draw upon three groups of individuals who are nominated by the FA at the start of the season and endorsed by the clubs. There is a group of around 12 from which commission chairmen are selected, usually those with a background in the law, of which Goulding is one.
There is a group of around 20 "football experts", including the likes of Graham Taylor, Gary Mabbutt, Colin Murdock (the former Northern Ireland international) and Paul Raven (formerly of West Bromwich Albion among others), from which Smith is drawn. Taylor, for example, would not be able to sit in judgement on Watford, where he is still a director. You would wager Taylor knows both Dalglish and Ferguson but you would also be confident he could put aside any friendship if asked to sit in judgement.
Then there are 20 FA councillors who have a specific background in disciplinary cases, the group from which Jones was selected. All three would have been carefully picked, not just on the basis of impartiality but also on the training and experience they have had in a particular kind of case.
The other accusation against the FA is that the Suarez case has taken too long.
Unfortunately there is nothing in the regulations or precedent that deals directly with the complexities of Uruguayan racial politics. This is a race case. It is complicated. It cannot be "fast-tracked". It is not the same as watching the footage of Alex Song stamping on Joey Barton and giving him a three-match ban. If the FA needs to take its time then it should.
The FA has charged Suarez with "abusive and/or insulting words and/or behaviour" towards Evra "which included a reference to the ethnic origin and/or colour and/or race" of the United player. Naturally, Liverpool and Suarez reject those allegations and the FA, now acting as the prosecution, are regarded by the club as the enemy.
But to pre-judge the three men who have been selected to make this decision as true independents, endorsed and approved by both clubs, really does take this complicated, sensitive, dispiriting episode to a new low. Whatever side you find yourself on, at least acknowledge that these three, who reconvene today, have taken on a nightmare of a case. Because someone had to.
Fifa ensures Swiss can no longer roll over Uefa
What a mess Uefa has made of FC Sion's disgraceful refusal to go quietly from the Europa League after being found guilty of fielding ineligible players.
The European governing body has allowed itself to be pushed around by this unpleasant little club to the extent that Fifa has had to intervene and threaten to suspend Swiss football altogether from international competition.
It had raised the prospect of Manchester United being reinstated at the expense of poor old Basle who have done nothing wrong. That, of course, is highly unlikely. But if one good thing has come of the episode, it is that Uefa and Fifa's cosy relationship with Switzerland will never be the same again.
Everton can at least bank on Barkley
The best news of Friday? Ross Barkley's new contract at Everton. If he is as good as the reputation suggests then he will, inevitably move one day to the likes of Manchester United, Manchester City, Arsenal or Chelsea. Providing, of course that Everton are not bought in the interim by a jolly Sheikh with money to burn.
It has long been the way, even before the Premier League, that the cream of the crop ended up at the biggest, richest clubs. What is getting more worrying these days is that they seem to be doing so at an increasingly younger age.
Barkley (below) has come through Alan Irvine's brilliant Everton academy. It is right he should spend at least a few years playing for his club. Who knows? It might start a trend.
Register for free to continue reading
Registration is a free and easy way to support our truly independent journalism
By registering, you will also enjoy limited access to Premium articles, exclusive newsletters, commenting, and virtual events with our leading journalists
Already have an account? sign in
Join our new commenting forum
Join thought-provoking conversations, follow other Independent readers and see their replies