Sam Wallace: Why Roy Hodgson and England must deliver in Warsaw
Talking Football: The manager is no longer picking up the pieces left by Fabio Capello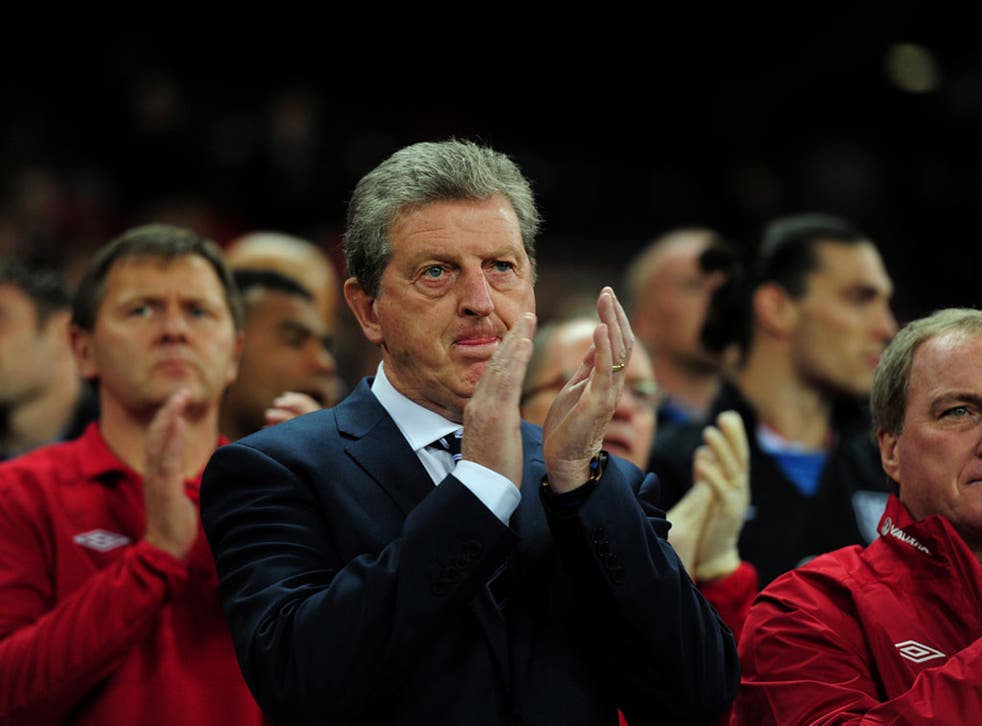 There comes a time in the life of every England qualifying campaign for a major tournament when the team are required to lay down a marker and, three games in on the road to the 2014 World Cup finals, that time feels like tomorrow night in Warsaw.
Roy Hodgson has had 10 games as England manager, three in the current qualification campaign, with two points dropped. There was a very good start away from home against Moldova, a wobble and a draw against Ukraine at Wembley, then a respectable demolition of San Marino on Friday night. Now for what Steve McClaren would call "the real bull".
Unfortunately for McClaren, that remark, before a Euro 2008 qualifier in Israel, was misheard as "now for the rainbow" and before a clarification was issued he was sharing a tabloid back page with Zippy, George and Bungle. But I digress.
For Hodgson's predecessor, Fabio Capello, the real bull arrived two games into qualifying for the 2010 World Cup finals when his England side went to Zagreb in September 2008 and beat Croatia 4-1. Up to that point it had not been looking too clever at all.
Their previous game, the first qualifier of the group, had been a laborious 2-0 win over Andorra in Barcelona with two goals from Joe Cole. Prior to that, in August, Capello had been heavily criticised by Harry Redknapp on Setanta Sports for playing Steven Gerrard out of position in a 2-2 friendly draw with the Czech Republic. Joe Cole and Setanta Sports both faded away. Having beaten Croatia, Capello's England just got stronger.
Contrast that with McClaren's start to qualification for Euro 2008. His side beat Andorra 5-0 in their first qualifier in September 2006, then squeezed past Macedonia in Skopje, 1-0. They drew the return leg at Old Trafford 0-0 and were under pressure immediately. Then, with a new-style three-man defence, they went to Zagreb and lost 2-0, including a demoralising own goal from Gary Neville.
The next day McClaren cancelled a coaching workshop in the United States with the Seattle Sounders and battened down the hatches. To say the honeymoon was over would be an overstatement. It was only ever a mini-break. England did fight their way back into contention, and then lost a crucial qualifier to Russia in Moscow in October 2007. They were subsequently given a lifeline by Israel's surprise defeat of Russia before chucking it all away against Croatia at Wembley.
There were twists and turns in the story but the tone was set by what happened in those first few games. The solid foundations to Capello's second qualification campaign, for Euro 2012, were built with the opening two wins at home to Bulgaria and away in Switzerland, although it was a peach of a group and the biggest threat was Montenegro, with whom England drew twice.
Poland, ranked 54th by Fifa, are 12 places behind Ukraine, whom England must play in Kiev in 11 months' time. Poland are ranked behind Montenegro, in 44th place, who also feature in England's group and drew with the Poles in their opening qualifier. Ukraine got a point at Wembley last month but then lost ground to England on Friday by drawing against Moldova in Chisinau, where England won 5-0. A win for Hodgson's side tomorrow would still leave them with some distance to go in qualifying but it would put them in a good position to control the group. So far the top four, England, Montenegro, Poland and Ukraine, all yet to lose, have proved capable of matching each other. England could do with inflicting the first defeat.
On the flight to Warsaw today, Hodgson has the closest thing yet to his strongest XI since Euro 2012. For the first time since the defeat on penalties to Italy in Kiev he has Gerrard and Wayne Rooney both available to play. He is missing Euro 2012 players such as Scott Parker, Ashley Young and Theo Walcott but he has Michael Carrick, Alex Oxlade-Chamberlain and Aaron Lennon.
The Hodgson style has now emerged, a 4-2-3-1 formation with Rooney playing behind the striker in the role occupied by Tom Cleverley in the first three games after Euro 2012. The emergency-style approach of the summer is over. Hodgson is not picking up the pieces left by Capello any longer; he is building his own team with the 2014 World Cup finals in mind and tomorrow night is that team's most exacting test yet.
Not because Poland are the best opposition England will face in Group H; the Fifa rankings, imperfect though they may be, tell us otherwise. But this feels like the moment. The National Stadium in Warsaw is sold-out and the hosts have a point to prove.
There is a great deal of unhappiness in Poland with the team's failure to make it out of the group stages at their home Euros. Poland's coach at that tournament, Franciszek Smuda, resigned; Grzegorz Lato, the president of the Polish football association, has announced he will not stand for re-election. The captain, Jakub Blaszczykowski, is injured. The mood of melancholy has not been improved by the failure of Polish clubs to qualify for the Champions League or Europa League group stages. Yet they are, by all accounts, up for tomorrow's game.
Hodgson's two immediate predecessors have been defined in their qualifying records by their pre-Christmas results in the first year of the campaigns they fought. Beat Poland tomorrow, and by the time England go to Podgorica in March, after the away fixture against San Marino, they could be more than three points clear of a Montenegro side with whom they drew home and away in qualifying for Euro 2012.
Fail to win in Warsaw and the pressure builds over Christmas and new year, as it always does in international football, where managers have no shortage of time to ponder a disappointing result.
St George's cannot force clubs to play Englishmen
A telling statistic revealed yesterday: that in the 2011-12 Premier League season, only 4 per cent of all appearances were made by Englishmen under the age of 21. This may be the richest, most popular league in the world but that is a depressing number which should warn of problems to come with the England team.
St George's Park will have no direct effect on that. It can coach the coaches and provide a base for England teams but the clubs will not allow the Football Association any closer to their young players. The Elite Player Performance Plan, and the academy system, have to deliver but both have the clubs' best interests at heart, not those of the national team.
Barnet need hard work and investment, not Davids
Progressing up the football hierarchy is ordinarily achieved by hard work, good scouting, some investment and incremental progress. As an example of battling your way out of the Conference up the divisions, Stevenage, currently second in League One, are a good model to follow.
Also in Hertfordshire, Barnet, who are in their eighth season in what is now League Two after promotion from the Conference in 2005, have brought in Edgar Davids in what they say is an attempt to get them off the foot of the table. Having seen the club's impressive training ground, they are obviously trying to effect long-term change. So why the short-term gimmick?
Register for free to continue reading
Registration is a free and easy way to support our truly independent journalism
By registering, you will also enjoy limited access to Premium articles, exclusive newsletters, commenting, and virtual events with our leading journalists
Already have an account? sign in
Register for free to continue reading
Registration is a free and easy way to support our truly independent journalism
By registering, you will also enjoy limited access to Premium articles, exclusive newsletters, commenting, and virtual events with our leading journalists
Already have an account? sign in
Join our new commenting forum
Join thought-provoking conversations, follow other Independent readers and see their replies