Sepp Blatter: I have not broken 'family taboo' and taken bribes
Banned President says his father told him never to take bribes as a 12-year-old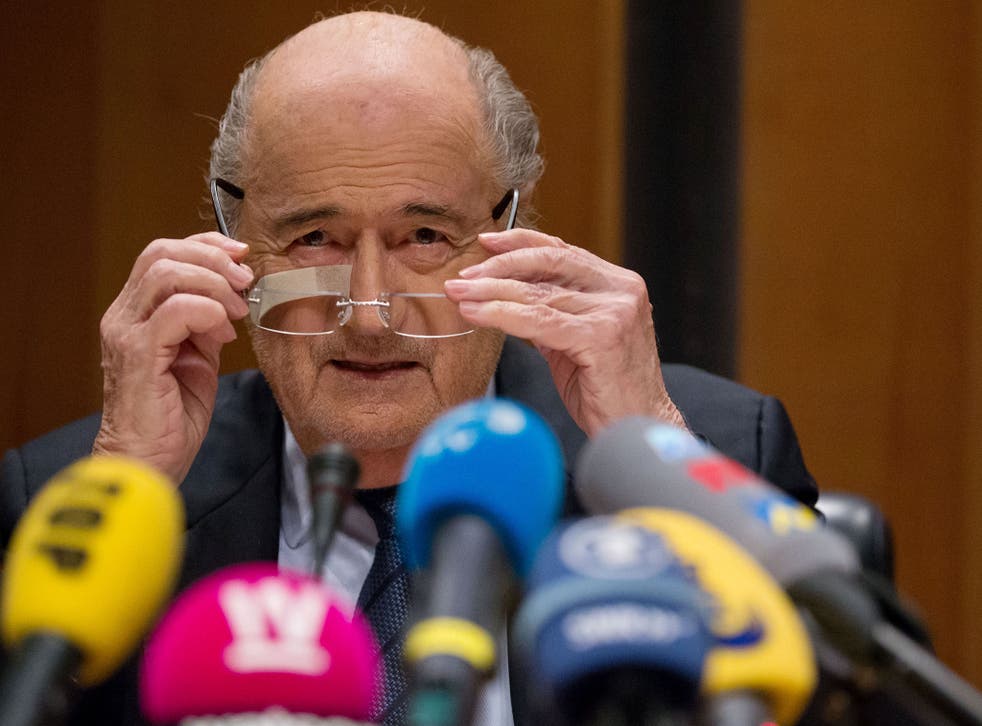 Banned Fifa president Sepp Blatter has vowed to fight the 'primary school' decision to ban him from football in order to prove he has not broken a family 'taboo' and taken bribes.
The 79-year-old received an eight year ban from all football-related activities on Monday alongside Uefa president Michel Platini.
The ethics committee of football's governing body judged that a £1.3 million payment made by Blatter to Platini in 2011 was 'disloyal' and an abuse of their position.
The pair maintains it was recompense for work the Frenchman had carried out between 1998 and 2002 and today Blatter defended his actions and integrity.
"I am supposed to have given money to get something in return [European votes in his 2001 re-election campaign]," he told French newspaper Le Monde.
"That is a taboo in my family – ever since I worked in a hotel at 12 years old, my dad said to me 'Don't take money you haven't earned. You shouldn't use money to get something.' One of his principles has been trampled on. I'm not going to let that lie, I'm going to fight that until the end."
In an interview with AFP on Tuesday, Platini suggested the timing of the committee's decision was to prevent him from standing to replace Blatter. The current Fifa president shared the Frenchman's suspicion that the committee had ulterior motives.
"We were too strong for them," he said.
"They wanted to get rid of us both at the same time. We didn't always share the same ideas but I repeat: Mr Platini is an honest man."
He continued: "They're calling us liars. That hurts. It's like at primary school when you call someone a liar."
In the immediate aftermath of Monday's decision, Blatter apologised for the way he had been treated and promised to return. Speaking to Le Monde, however, he ruled out another term of office, saying he now is the right time for him to step down from his role in football and worldwide geopolitics.
"When I look at the world now, I have to say that the World Cup [in Qatar] in 2022 plays a role in the politics between the East, the West and the Americas," he said.
"I consider myself to be a bit of a punch bag between the US and Switzerland, but maybe also even within the highest political spheres. Perhaps the time has come to leave that. That's why I am retiring."
By the time he is formally replaced in February, Blatter will have been at the helm of football's governing body for nearly 20 years. He says he is proud of his achievements in taking football worldwide but poured cold water on Vladimir Putin's recent suggestion that he deserves the Nobel Peace Prize.
"He had already said the sport should receive it. I know a bit about how it is awarded and for the moment, it won't be coming to football," Blatter said.
"[But] Football does work for peace. I have met plenty of heads of state, and lots of them think Blatter is not a bad guy."
Register for free to continue reading
Registration is a free and easy way to support our truly independent journalism
By registering, you will also enjoy limited access to Premium articles, exclusive newsletters, commenting, and virtual events with our leading journalists
Already have an account? sign in
Register for free to continue reading
Registration is a free and easy way to support our truly independent journalism
By registering, you will also enjoy limited access to Premium articles, exclusive newsletters, commenting, and virtual events with our leading journalists
Already have an account? sign in
Join our new commenting forum
Join thought-provoking conversations, follow other Independent readers and see their replies