Sir Alex Ferguson autobiography: Angry Roy Keane hits back with 'In my opinion he doesn't know the meaning of loyalty'
Former United captain hits back at Ferguson after intense criticism revealed in biography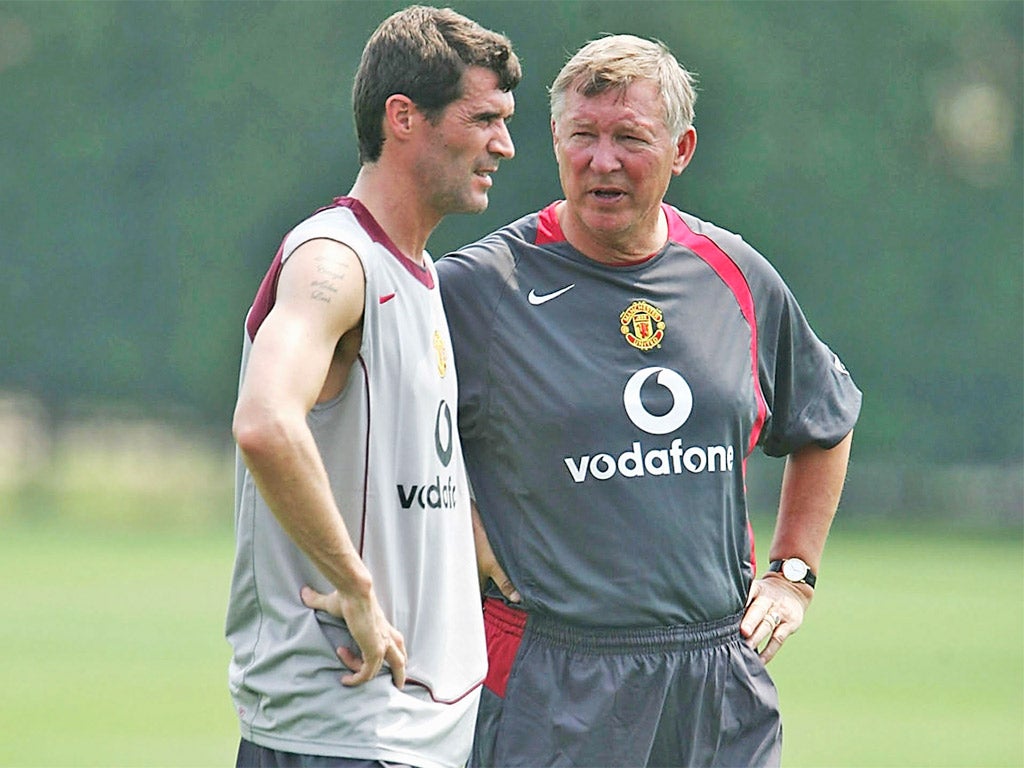 The most withering criticism in Sir Alex Ferguson's book is reserved for the man who once embodied his will: Roy Keane. And, as Ferguson anticipated, Keane did not take it well.
"I remember having conversations with the manager when I was at the club about loyalty," said Keane last night. "In my opinion he doesn't know the meaning of the word. It doesn't bother me too much what he has to say about me, but to constantly criticise players who bought him a lot of success I find very strange, but I won't be losing any sleep over it."
Keane, speaking before duty as an ITV pundit, added: "I don't think the manager needs to do that. I am not sure how many books he has written now but he has to draw the line eventually and say these players have been top servants for Man United and have helped the manager win a lot of trophies. Imagine what he would have said if we never won a trophy."
As captain of Ferguson's Manchester United, and its angry heart, Keane ensured Ferguson's writ was law on the pitch, but, inevitably, Keane's body began to show the strain. According to Ferguson, Keane turned his anger at his growing limitations on the world around him: the world of United.
The problems began in a pre-season training camp in Portugal, set up by coach Carlos Queiroz, when Keane criticised the accommodation and Queiroz. When Keane refused to apologise Ferguson told his captain he was "out of order".
Then came Keane's now infamous MUTV programme in which he lambasted his team-mates after a match at Middlesbrough. Ferguson said Keane hammered Kieran Richardson, Darren Fletcher and Rio Ferdinand of whom he said, "just because you are paid £120,000 pounds a week and play well for 20 minutes against Tottenham, you think you are a superstar".
Ferguson was shown a copy of the tape. His response: "Jesus. It was unbelievable. He slaughtered everyone. Darren Fletcher got it. Alan Smith got it. [Edwin] Van der Sar. Roy was taking them all down."
The same day Gary Neville, egged on by Keane Ferguson believed, criticised Queiroz's training. Ferguson was incensed. At a showdown with Keane it was agreed the whole squad should watch the programme.
After it Keane argued with Van der Sar, Ruud van Nistelrooy, Queiroz, then Ferguson. Ferguson notes: "The hardest part of Roy's body is his tongue. He has the most savage tongue you can imagine." As players began walking out Keane looked so menacing even Ferguson found it frightening – "and I'm from Glasgow" – and ordered that Keane be sold to the keep dressing-room unity which Ferguson has always felt is so important.
Ferguson said Keane later came to Manchester to apologise, only to then begin criticising United in the media. Ferguson observes acidly that Keane picked on junior players as Wayne Rooney as the senior players would not have stood for it.
He also notes that as a manager Keane lacks patience to build a club and needs money to succeed, that the dressing room was a better place after Keane left, and that United decided not to take legal action against later comments from Keane because Ferguson believed the player "was looking for a day in court to impress the fans".
Discussing Keane yesterday Ferguson said: "We could not release that video. The meeting [afterwards] was horrendous. I just could not lose my control on this particular situation. If I had, the players would have viewed me differently. Roy absolutely overstepped his mark and there was nothing else we could do. We paid up his contract and gave him a testimonial the following season. We did everything we could to honour the fact that he was a great player for us."
Join our commenting forum
Join thought-provoking conversations, follow other Independent readers and see their replies