Sports' year of the greats
In the last few months sport has often made the headlines for the wrong reasons. But as The Independent's experts point out, there have also been some scintillating individual performances that match or surpass the very best of all time
Wednesday 07 October 2009 00:01 BST
Comments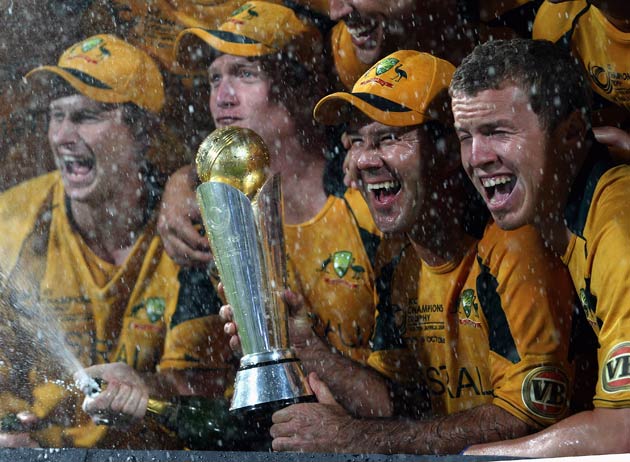 RICKY PONTING
By Stephen Brenkley
Ricky Ponting was in short pants when he received his first bat sponsorship. The talent spotters knew whereof they spoke. Ponting, around a quarter of a century on, is the best batsman in the world.
The ICC rankings indicate otherwise. Forget the rankings, they have much less clue than a guy scouting round Tasmania looking to give a kid a bat deal. True, there was a period late last year when Ponting looked as though he might be going down the other side of the mountain. True, he has never quite cracked India where 21 Test innings have brought a mere 438 runs. At last he scored a (masterful) hundred there last year though India won the series.
Ponting is back at the top of his game. Against England last summer he scored 150 in the first Test at Cardiff which was authoritative from start to finish. The moment he walked out he was a man who simply looked as if he would make a century. No player anywhere is more cussedly determined than Ponting.
During the Champions Trophy, which Australia won on Monday night, he played, as he so often does, like a man on a mission. What Ponting seeks as a batsman is control and his judgement, his power and certainty of placement give him it.
The innings he played against England in the Champions Trophy semi-final was breathtaking, a master class. It was utterly surprising when he was out for one in the final, allowing a ball that cut in to breach his defences.
The feeling is that if you don't get him early, you won't get him until it's too late. His front-foot driving and fierce pulling can lay attacks to waste.
His captaincy, during a period when Australia have lost a succession of great players, has been marvellous for its passion if not always its astuteness. England had better watch out in Australia next winter. Ricky's coming to get them.
TIGER WOODS
By James Corrigan
Golf likes to pride itself on being the oldest bat and ball sport in the world – which makes Tiger Woods's standing as the best golfer ever that bit more impressive. True, a few do argue that until he overhauls Jack Nicklaus's record of 18 majors he cannot lay claim to the tag. In truth, it is the biggest question of "when" in sport; the "if" barely worth the cynical breath on which it is carried. The uninitiated may look at Tiger's majorless season and spot an annus horribilis. Not so. In its own way it has been as mirabilis as any of them. And that includes 1997 when he won his first major, the Masters, as a 21-year-old by the still scarcely conceivable margin of 12 shots. And also 2000 when he first won three majors on the trot, but most notably the US Open by 15 shots, which Sports Illustrated called "the greatest performance in golf history". Or even 2008, when he won his third US Open despite being unable to put much weight on his left leg. Funnily enough Sports Illustrated updated their pronouncement. Here was "the greatest performance in golf history".
So how can 2009 compare with any of that? Simple. Woods came back from radical reconstruction of the knee and won six times. Ernie Els, for one, was stunned by how quickly Tiger looked like Tiger again. This was telling. Ernie had the same operation in 2005 and has still to look like Ernie. "If you would have asked me at the beginning of the year... Well any of you guys probably wouldn't have predicted I would have had a year like I did," said Woods. He knows what he went through to return and he knows the odds of it being a rousing success. The 33-year-old's recent comments have told us he set the bar realistically low for his comeback. Everybody else, of course, set it as high as the stars. Surely only the genuine greats can be damned by their own mythology.
SEA THE STARS
By Chris McGrath
Even John Oxx, the master of circumspection who has supervised his career, salutes Sea The Stars as "the Usain Bolt of horseracing". But whereas a sprinter can be measured against a common, abiding standard, horseracing can only derive limited insights from the stopwatch – certainly in Europe, where the pace and going tends to vary so much more.
So questions such as this are always reduced to the same, futile controversies of gut instinct, handicap ratings and emotion. In steeplechasing, Arkle has somehow retained an inviolate status since bestriding the sport in the mid-1960s, but the last two Gold Cup-winners, Kauto Star and Denman, have both been independently saluted as "the best since". And people do seem eager, whenever feasible, to embrace the latest champion as the greatest. It was only a year ago, after all, that Zarkava was feted as the best filly in history after her own Arc success.
All you can really say is that very few champions, if any, could have got Sea The Stars off the bridle during a race; and that his indolence once hitting the front always disguises his superiority. In turn, his unprecedented sequence of big wins discloses corresponding depth in his physical resources.
By the same token, however, he remains vulnerable to comparison with Sea Bird II and Ribot, who beat strong Arc fields by half-a-dozen lengths, rather than two; and above all with Secretariat, who raced on dirt in America and so operated in an environment where the clock can tell you rather more. Even 36 years later, his track records in the Kentucky Derby and Belmont boggle the mind. He won the Belmont by 31 lengths.
It is certainly easier to propose that Secretariat was incontrovertibly America's best, than that Sea The Stars is without peer over here. But he is certainly one of the very best, and that should be enough for anybody.
USAIN BOLT
By Simon Turnbull
In statistical terms alone, the impact made by Usain Bolt over the past two years is not only stunning but also unprecedented. Since the start of the 2008 track season, the 23-year-old Jamaican has lowered the 100 metres world record from 9.74sec to 9.58 and the 200m world record from 19.32 to 19.19. In the sprinting game, where the margins are measured in hundredths of a second, these have been quantum leaps the like of which have never been seen before.
Since turning his attention to the 100m, and overcoming various injury problems associated with the training load on his giant 6ft 5ft frame, Bolt has tapped into the considerable talent that made him a teenage 200m phenomenon and emerged as a man apart from both his contemporaries and the all-time greats of sprinting. At the World Championships in Berlin (right) in August he won the 100m final by 0.13sec and the 200m by 0.62sec. Even at their peak, the likes of Jesse Owens and Carl Lewis never enjoyed such sheer dominance.
There has never been a sprinter who has been able to adapt such a tall frame to the explosive demands of his events. Bolt's raking stride-length has given him a significant advantage over his nominal rivals. He has also brought a breath of fresh air to the formerly stern-faced sprint game with his clowning antics on the track. It has made him a sporting figure of huge global appeal.
It is a mark of the impact Bolt has made that he is routinely questioned about new challenges – the 400m and the long jump. Both could figure in the long term but in the immediate future the young Jamaican phenomenon is likely to concentrate on pushing the boundaries at the shorter distances.
FABIO CAPELLO
By James Lawton
It is the great irony of sport in the 21st century that giant figures like Tiger Woods, Roger Federer, Ricky Ponting and Manny Pacquiao bestride an age that might otherwise be labelled not with glory but infamy. These men mock the idea of cheating, of seeking any way to win other than by drawing on all their resources of character and talent.
So too does the man who has been elected to end decades of desperate underachievement by the national football team.
As a player Fabio Capello was more functional than luminous but that did not detract from the superb nature of his career – nor his appreciation of the difference between good and great players.
Recently the England coach was asked to nominate the three best players he had ever worked with, and all of them came from the Milan team he guided so majestically to Champions League triumph over Johan Cruyff's Barcelona in 1994.
Franco Baresi, Paolo Maldini and Marco van Basten were his nominations and of today's vintage he picked the sparkling Lionel Messi. In doing so he has displayed values which always meant that when he succeeded Steve McClaren at the start of last year, England players, who had, despite serial failure, persuaded themselves that they were indeed a golden generation, were in for a torrid time as they were separated from their illusions.
However, they have learnt quickly enough that in Capello they have a leader who has set a single standard of effort and football intelligence for all his players. Capello, as quickly as you could imagine, recognised that some players were inherently superior to others but this would not entitle them to any special consideration.
Most fascinating before next summer's World Cup finals in South Africa is the challenge the Italian has accepted in attempting to draw the best from England's most talented player, Wayne Rooney.
Capello was dismayed by the failure of Rooney to transfer the confidence and panache of the training pitch to the international stage. Now there is growing evidence that Rooney has indeed grasped that one day he might well be able to announce his arrival in the league of great players.
It is something Woods and Federer, Ponting and Pacquiao seized for themselves out of the force of their natures. In the case of Rooney it is maybe that the insight and the stature of Capello will prove the catalyst.
Whether or not Rooney delivers in the way Capello hopes, one vital point will not be disturbed. It is that not since 1966, when England last won the World Cup under Sir Alf Ramsey, have the nation's footballers been given a clearer picture of what is expected of them. It is to be infinitely less forgiving of their failings.
It is the first requirement of all those who seek to be great and for English football the encouragement is that there could be no better witness to this than Fabio Capello.
ROGER FEDERER
By Paul Newman
Until this summer Roger Federer's place in the pantheon of tennis greats was still under debate, but in the space of six weeks he swept all but the most cynical of doubters aside. Federer's victory in the French Open completed his set of Grand Slam crowns, while his sixth Wimbledon triumph took him past Pete Sampras's all-time record of 14 major titles.
Although he has yet to emulate Donald Budge and Rod Laver, the only two men to complete a pure Grand Slam of the four majors in a calendar year, Federer's achievement in winning the four titles on three different surfaces has been matched only by Andre Agassi. Along the way he has broken a host of records with a record of consistency unparalleled in the history of men's tennis. Federer has played in 22 Grand Slam semi-finals in succession and in 19 of the last 22 finals.
The statistics, nevertheless, do not do justice to Federer's greatness. He has achieved his success playing brilliant attacking tennis with supreme style and grace. If his forehand is regarded as the greatest stroke in the modern game, his flowing one-handed backhand, in an age dominated by the more workmanlike double-handed version, is a shot of majestic beauty. Add to that a wonderfully deceptive and consistent serve, crisp volleys, an exquisite touch and an ice-cool temperament and you have the all-but-perfect player.
At 28 Federer still has plenty of time ahead of him. One of the keys to his success has been a superb fitness record, while his performances in last month's US Open showed that breaking Sampras's record had not weakened his hunger for success. In the years ahead he will be particularly keen to get the better of Rafael Nadal, who has beaten him in five Grand Slam finals and could yet overtake Federer's own landmarks.
Tell us what you think. We want to hear your views on the class of 2009. Are they worthy of being considered among the greatest of all time? Is there anyone else who should be included on our list? Leave your comments below...
Join our commenting forum
Join thought-provoking conversations, follow other Independent readers and see their replies