Spurs deny trying to get Brady phone data
Firm used by Tottenham admits 'wrongfully obtaining' West Ham executive's records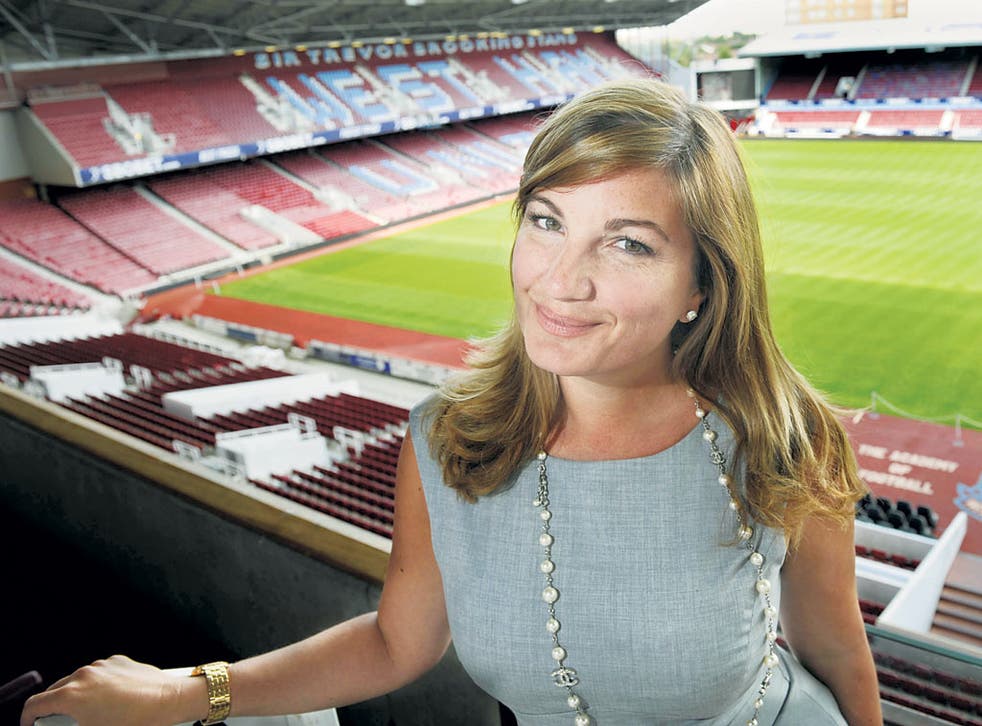 Karren Brady, West Ham United's vice-chairman, had her mobile telephone records "unlawfully obtained by subterfuge" at the height of the ill-tempered contest last year with Tottenham Hotspur to win the tenancy to the Olympic Stadium, a judge said yesterday.
In a hearing in the Royal Courts of Justice, Mr Justice Coulson said that Brady's records ended up in the hands of PKF, a London-based firm of forensic accountants, who have accepted they were "wrongfully obtained". Mr Justice Coulson also stated that PKF were "engaged by Tottenham Hotspur to carry out investigations in some way related to the bid for the Olympic Stadium".
Tottenham have vigorously denied they employed PKF to carry out any form of spying or illegal practice on Brady, other employees of West Ham or board members of the Olympic Park Legacy Company, the body charged with determining the future of the £500million Olympic Stadium after next year's Games.
Matthew Nicklin, QC for Tottenham, yesterday also denied that Tottenham had received any copies of Brady's telephone records until they were informed of the proceedings West Ham were bringing against PKF. West Ham want PKF to reveal the identity of the person who obtained Brady's records.
Yesterday marked a new low in the increasingly bitter conflict between Premier League Tottenham and West Ham, now a Championship club, as the two clubs' QCs traded claim and counter-claim in Court 20 of the new Rolls Building behind the High Court in London. At one point the judge said: "I'm not refereeing a squabble."
Nicklin, in asking for an adjournment, said that the "insinuations" in Brady's witness statement that "blagging" her records was "done on instruction of Tottenham Hotspur was a very serious allegation and completely false". He added again that no one at the club had been given copies of the records.
Nicklin also underlined the club's response to allegations made last week by Baroness Ford, chair of the OPLC, that all 14 of her board members had been put under "surveillance" by Tottenham during the bidding process last year. The OPLC decided in February to award West Ham – in a joint bid with Newham Council – the stadium but the government pulled the plug on the deal in the face of legal challenges by Tottenham and Leyton Orient and an anonymous complaint to the European Commission.
West Ham are pursuing action of their own against PKF and Howard Hill, one of the firm's partners. The club believe that PKF used a third-party company to undertake the surveillance work on Brady and other West Ham employees.
On Wednesday night, ahead of yesterday's scheduled proceedings, PKF admitted to West Ham's legal team that Hill and two of his colleagues handed copies of Brady's telephone records to journalists from The Sunday Times. They have not revealed where they obtained the records. "They were happy to have stolen information," said Ben Jaffey, QC for West Ham, who also stated that Brady was not claiming that her mobile telephone had been tapped.
The Sunday Times ran stories on successive weekends in early July claiming Dionne Knight, an OPLC director, received payment from West Ham during the tendering process over the publicly-funded Olympic Stadium. The newspaper said that the information was detailed in "bank and telephone records." An independent inquiry later found that the OPLC's decision to select West Ham's bid was not compromised.
There will be a further hearing on Wednesday after the judge granted Tottenham more time to respond to the allegations made against them in Brady's witness statement to the court. The judge also rejected an application by lawyers for PKF that the hearing be heard in private, saying that there was "public interest in this matter." Mr Justice Coulson said that West Ham had been given a "traditional runaround" by PKF and Tottenham over the summer with the club first asking Tottenham for information and being referred to PKF, who in turn pleaded client confidentiality.
The Metropolitan Police's Economic and Specialist Crime Command have been investigating claims that private investigators illegally obtained information on West Ham executives and OPLC board members. Last week a 29-year-old man was arrested in Sussex and later bailed without charge on suspicion of fraud. A second arrest in connection with the case was made yesterday, with a 39-year-old man from Surrey later being bailed.
The OPLC are beginning a new tendering process to find an anchor tenant for the stadium this month. West Ham remain strong favourites to move into the ground which will be reduced from 80,000-capacity for the Games to 60,000. Tottenham will not be part of the process, instead choosing to develop the area around their current ground, White Hart Lane. The OPLC and government have stressed that the running track will remain in place – London will host the world athletic championships in 2017 – also effectively ending any Tottenham interest.
Register for free to continue reading
Registration is a free and easy way to support our truly independent journalism
By registering, you will also enjoy limited access to Premium articles, exclusive newsletters, commenting, and virtual events with our leading journalists
Already have an account? sign in
Register for free to continue reading
Registration is a free and easy way to support our truly independent journalism
By registering, you will also enjoy limited access to Premium articles, exclusive newsletters, commenting, and virtual events with our leading journalists
Already have an account? sign in
Join our new commenting forum
Join thought-provoking conversations, follow other Independent readers and see their replies