Football's capacity for good helping bring purpose to Sunderland's homeless
'I was suicidal. I need the football. It keeps me occupied.' A team for the homeless is helping bring meaning to those struggling for direction in Sunderland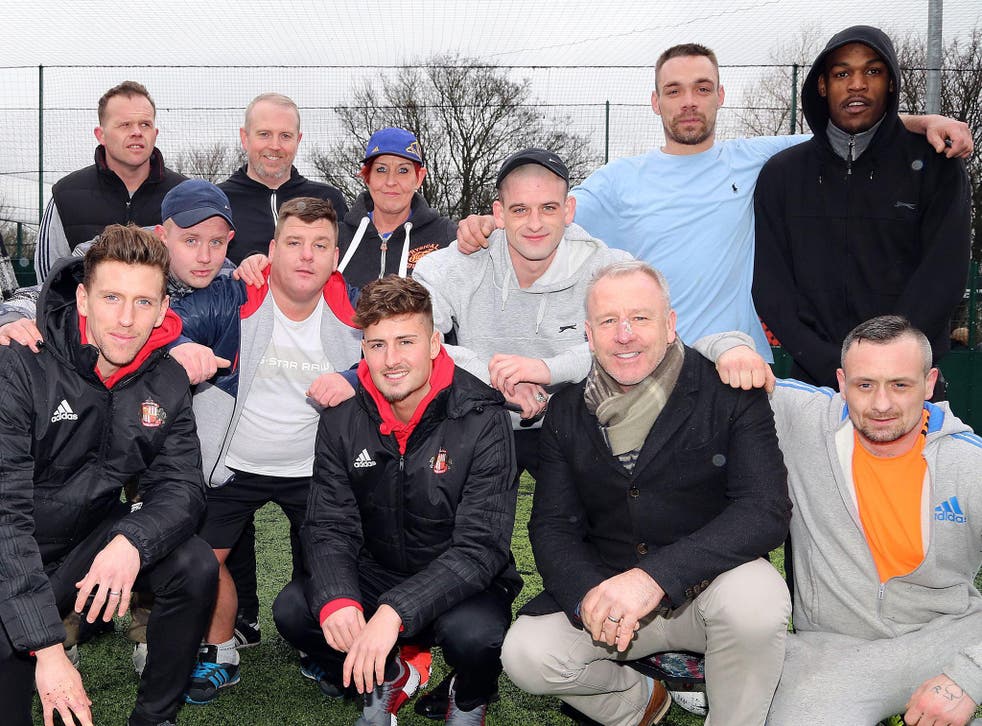 A blustery Wednesday afternoon, and pitchside, at 'Goals' on Durham Road in Sunderland, Tony is taking a breather, rolling up his sleeves.
"I don't usually show these," he says quietly, "but they're all my scars." His left arm, increasingly exposed as he pushes up the sleeve of a grey tracksuit, is riddled with the angry lines of self-harming.
"I was on suicide watch 12 months ago," he adds. "I was going through social services with my ex-partner. We had our baby taken away from us. She was hitting me, and then I hit her. I became homeless. I was suicidal. I need the football. It keeps me occupied."
Behind him are some fairly crude challenges. This is the Swan Lodge Lifehouse team. A team for the homeless. There is a national finals in Manchester later this year. In 2016 they were runners-up. Steve Park, the team's coach and a service manager at the centre, bemoans losing players to prison or to a brighter future. They are not standard managerial issues.
Tony is wearing a red and white Sunderland strip under his tracksuit. A ten minute drive away from the pitches, during which you can see the Stadium of Light, is the Salvation Army's Swan Lodge Lifehouse. This is where he found refuge. There are 65 guests in the home, wrestling with alcohol problems, mental health issues, and, more than anything, trying to find a way.
Up the narrow stairs and along a corridor, a young professional footballer, dressed in a black Sunderland tracksuit with a big jacket, has gone quiet. He is standing in a room that offers a final hope of salvation and Park is talking.
"Charlie has been living here for 26 years," the footballer says. "He's been in care since he was 16. He's 72 now. He cannot function outside."
Ethan Robson has been a Sunderland footballer for half of those 26 years, from the age of eight, when he was spotted at Fulwell Juniors. His life has revolved around lifts from his parents to the Academy of Light. He is nine games into a professional career. On the doorstep of his football club, Robson, till just 21, is looking at a different world.
"Yeah, it's humbling," he says. "It shows you don't take anything for granted. Seeing homeless people, they've really got nothing, it puts it into perspective how lucky we are, to have homes and to have had a chance.
"I can't believe Charlie's been in here for 26 years, that's just crazy. Thinking about 26 years in one place, being homeless, that's overwhelming.
"Looking round the facilities weren't too bad. Steve seems like a really nice guy and he's doing really well for less fortunate people.
"No, I never thought I'd be going around a place like this trying to give a bit of hope to people, but as a local lad you can. We put a smile on some people's faces which was great to be fair.
"You know what, they all looked happy. It's crazy to think they had smiles on their faces and they might not really be happy inside. They looked happy to see us.
"It puts things in perspective. You might have a bad day at training and you go home and think 'what more could I have done?' Then you see there are people out there who haven't really got homes and who are struggling with life."
Robson, with team-mate Billy Jones, faces questions in the canteen, with around 40 people there to listen. Around a third are women. "I made my debut against Everton," he says. "All my family were there, it was a dream come true."
Christine Ritchie, the centre's manager, adds: "There can be people here with highly complex needs. Some are addicts, some have mental health problems, they might come here because a relationship has broken down. People can be three pay cheques away from being homeless. We have to try and find out what their dreams are."
On the pitch, later, comes freedom, when Park takes training.
"They all wanted autographs and pictures, and especially for a local lad, like me, to get that welcome from them was really good," adds Robson.
The midfielder was on his way to Dunfermline in January. Injury caused Chris Coleman to cancel the move. He has returned to a desperate fight to keep Sunderland from successive relegations.
"I used to be a season card holder," adds Robson. "I used to go to every game with my friends. The best time was seeing Jordan Henderson play. He's always been someone I looked up to. Seeing him play at the Stadium of Light, I wanted to do that.
"The manager's always positive. He's a positive guy. It is feeding through us. We're trying to stay positive as well and give the fans something to look forward to. We want to pick up result for them.
"The manager says don't fear anything, don't be tentative in games, you know you have the technique and the ability to do it. Go out there and do it.
"It's a huge season now. We have to stay up. When we're playing well, the whole city gets a boost."

Join our new commenting forum
Join thought-provoking conversations, follow other Independent readers and see their replies