Talent Scout: Adam Maher, AZ Alkmaar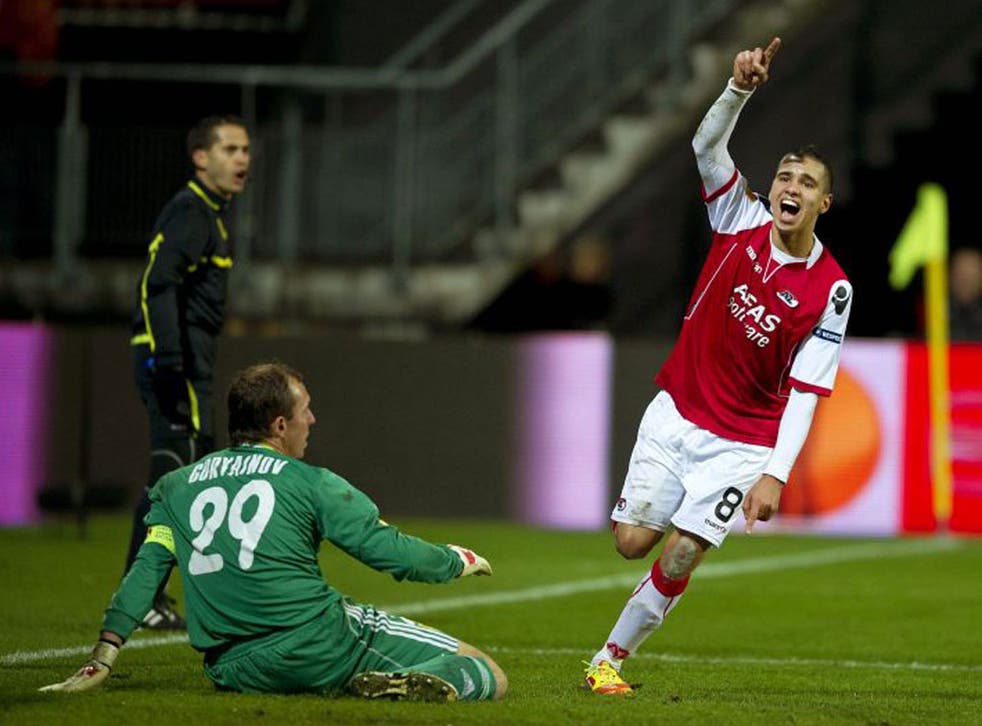 There never seems to be a shortage of teenage superstars in the modern game, especially in the Netherlands, a country famed for its remarkable production line of supreme prospects. But scratch beyond the hype and natural excitement young players attract, and the truth is few are consistently good enough to have earned such a reputation so early.
In order to begin to understand the potential of a young player fully, you must judge them not in patches, but after at least one season of top flight action. Only then are you able to see not only their full range of footballing abilities, but the key mental qualities, like attitude and personality, which are crucial to reach the top.
Take 18-year-old AZ midfielder Adam Maher for example. He hit that 12 month assessment milestone this week, and all the signs are pointing to the young Dutchman having an exciting future ahead.
Born in the middle class town of Diemen , four miles east of Amsterdam, to Moroccan parents, Maher 's involvement in football began at the age of five, when he joined home town side SV Diemen . His abilities would lead to a switch to AVV Zeeburgia three years later, before being picked up by AZ in 2004. It was the start of an impressive rise.
Maher had always been earmarked as a top prospect, yet expectations were tempered by his polite nature and focused attitude. He refused to get carried away whilst in the youth ranks, but after making his first-team début against BATE Borisov on the 15th of December 2010, the quiet Dutch boy screamed class, and would book himself a place in the record books after scoring in a 3-0 win. At the age of 17 years and 147 days, Maher became the youngest Eredivisie player to ever score in the Europa League, or Uefa Cup.
Since then, Maher has established himself as part of a very watchable Alkmaar side, who have transformed their inconsistency into winning football, to sit top of the table going into the winter break. Part of the reason behind their excellent form has been Maher , who has dominated midfield battles and lit up games this term, whilst also scoring and creating a number of important goals along the way.
It's no wonder the Netherlands, with whom Maher is a current Under-21 international, are battling so fiercely with Morocco to secure his commitment. This is an 18-year-old learning and improving at such a rate, he looks like being ready to make an influence on either full national team imminently.
Both countries aspire to play an exciting, free flowing brand of football, and Maher aids that perfectly. Technically excellent, comfortable with both feet and with a commanding confidence, he's not afraid to seek possession anywhere on the pitch, and then uses his mature decision making to rarely give it away.
Maher 's game is all about passing and movement. On the ball, he has exceptional vision, can pick instinctive long and short range passes and always keeps the ball moving, to help quicken the tempo. Off it, he has good timing with bursts into the box, has illusive movement and spots spaces incredibly well.
He needs some work on his finishing, but with delightful close control, composure and a good range of power in both feet, it looks like being only a matter of time before he can find the number of goals Cesc Fàbregas does - a player Maher's assistant coach Martin Haar compares him to. It's easy to see why.
The ground work may well be there though, but he's not quite polished yet. At five foot seven inches, he's not the biggest, and not the strongest. Maher's physical work is improving, but he is still susceptible to being roughed up. On top of that, he's still quite raw, which means he hasn't held down a set role in central midfield yet.
He's at his best when given a licence to roam behind the strikers, where he can drift wide and create space, or deliver dangerous crosses. However, Maher has looked cultured and effective in a deeper play-maker role, so a future as a box-to-box player may well stand him in good stead. Finding the balance is important.
Overall, Maher is a brilliant prospect. His exceptional range of passing, both in variation and accuracy, combined with close control, movement and intelligence, make him unlike many teenage sensations, in having hype that is genuinely warranted. The future looks bright.
Join our new commenting forum
Join thought-provoking conversations, follow other Independent readers and see their replies