The Independent's journalism is supported by our readers. When you purchase through links on our site, we may earn commission.
The fight for the top four
While the title will be settled in Manchester, there is a three-way battle for Champions League football in London.
Jack Pitt-Brooke
Wednesday 21 March 2012 01:00 Comments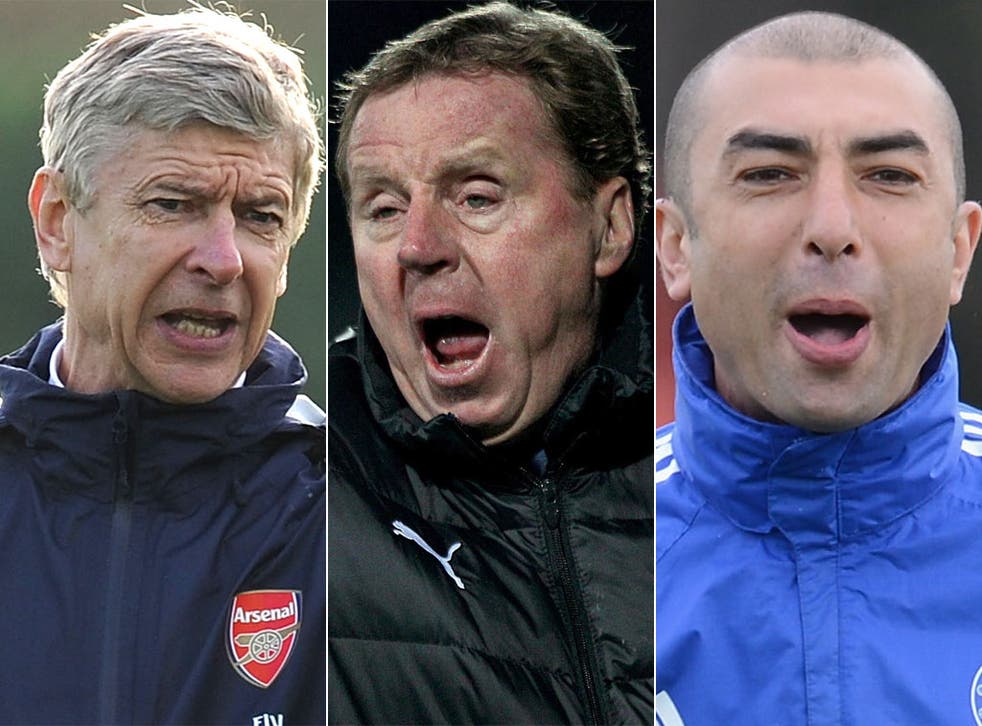 With 10 games to go, Chelsea and Arsenal trail Spurs, who are having a wobble. Three into two won't go so Jack Pitt-Brooke picks up his calculator to predict who will finish where
Click HERE to view graphic
Tottenham
Form: WWDLWDWLLL
The formbook
After a remarkable autumn, in which Spurs won 10 out of 11 league games, they are starting to look heavy-legged. Harry Redknapp's charges have won just two of their last eight in the league, and have lost their last three straight. None of the performances in those games was dreadful; but Tottenham do seem to have lost some of that pace, edge and nerve they played with before Christmas.
The man in charge
Redknapp has spent much of this season in the limelight: first he had to clear his name over charges of tax evasion, then he had to cope with everything that comes with being the presumed England manager-in-waiting. Redknapp fiercely denies that the England talk has distracted his players; perhaps his changing systems has done that instead: Spurs experimented with Gareth Bale as an inside forward over the winter, and have recently returned to 4-4-2, without much success.
Reason to be confident
Tottenham have the best starting XI of any of these three sides. For the first time in 20 years, the best midfielder (Luka Modric) and best winger (Bale) in north London both play in white and not red. The fact is that they kept pace with the Manchester sides until the new year, while Arsenal and Chelsea were never in the race. If they can bring the best out of their best they should have enough.
Reason to book Thursday nights off
Spurs should avoid the Europa League next season but experience in these tight races can be decisive. Arsenal and Chelsea have both qualified for the Champions League every year of the last nine, and Tottenham have only just done it once. It is a certain type of pressure, and this could count against Spurs. They have the quality to do it, but with form faltering, they might struggle to find the necessary application.
Prediction
Stoke (H) W
Chelsea (A) D
Swansea (H) W
Sunderland (A) D
Norwich (H) D
Bolton (A) L
QPR (A) W
Blackburn (H) W
Aston Villa (A) D
Fulham (H) W
Final points: 72 points
Should have enough to finish fourth
Arsenal
Form: WLLLDWWWWW
The formbook
Arsenal's recent transformation has been astonishing. In January there was more discord between the fans and the club than there had ever been under Arsène Wenger. But, remarkably, they have won their last five straight league matches. Three of those were won with the last kick of the game, another was a 5-2 win in which they were 2-0 down, the other a 7-1 mauling. Add to that a thrilling but futile 3-0 second-leg defeat of Milan, and Arsenal are enjoying their best spell since last season.
The man in charge
This has been a strange season for Wenger; he has never been more doubted than he was in January. But he has never failed to guide Arsenal into the top four. And he has not failed to guide Arsenal into the Champions League since 1997. So for all the lingering long-term questions, over the lack of spending, the lack of depth, the lack of nerve and, of course, the lack of trophies, Wenger looks at the very least to have scrambled his way back on to safe ground.
Reason to be confident
The world's best centre-forward plays for Arsenal. Since January 2011, Robin van Persie has been unplayable. In that last 15 months, he has scored 44 goals, many of them exceptional, in 45 league games. Of course, there are questions about his future, but they can wait until May. For these last 10 games, providing he is fit, he will be the best player in every one, and should provide the goals and leadership to complete his personal rescue job.
Reason to book Thursday nights off
Even after the last month, it would take a brave man to bet on Arsenal's nerve under pressure. Last season collapsed dismally when it mattered, and while this year's story has been the reverse (a bad start, then improvement), one still senses a capacity for blowing it. Especially if Van Persie gets injured.
Prediction
Everton (A) L
Aston Villa (H) W
QPR (A) D
Man City (H) W
Wolves (A) W
Wigan (H) W
Chelsea (H) W
Stoke (A) D
Norwich (H) W
WBA (A) W
Final points tally: 75 points
Form team should pip the other two
Chelsea
Form: LWWDDDLWLW
The formbook
In the immediate term, very good: Chelsea have won all four games since Roberto Di Matteo took caretaker charge. And one of those, a 4-1 defeat of Napoli at Stamford Bridge, was very impressive indeed. Whether this is mere new-manager bounce (two of the teams beaten are from the Championship), or something more cosmetic, remains to be seen. But with only 10 games left, as well as a cup run, the present is all that matters.
The man in charge
Di Matteo cannot claim to match Wenger or Redknapp for experience, but has clearly lifted spirits at Stamford Bridge. Having been a Chelsea player just 10 years ago – often lining up alongside a young John Terry – he can better empathise with the squad than Andre Villas-Boas, seven years younger than him and from a very different background. He does have Premier League managerial experience, but one senses his main task is motivational.
Reason to be confident
That Jose Mourinho core – Petr Cech, Terry, Michael Essien, Frank Lampard and Didier Drogba – knows how to get it done when it matters. The five of them have won lots of medals over the years and will not be phased by this sort of nervous, important challenge. They are showing signs of summoning their old form, and while that is no long-term solution, it might be enough to get them back into the Champions League.
Reason to book Thursday nights off
Aside from being three points behind fourth place, and having possibly the hardest run-in, they have a less settled side than Arsenal or Tottenham, and have played less good football. If they cannot ride out this current wave of optimism then they may struggle to win the necessary games to reach fourth. Even one last hurrah from the 2004 side will still lack pace and finesse, unless the Fernando Torres revival is real.
Prediction
Man City (A) D
Tottenham (H) D
Aston Villa (A) W
Wigan (H) W
Fulham (A) D
Newcastle (H) D
Arsenal (A) L
QPR (H) W
Liverpool (A) D
Blackburn (H) W
Final points tally: 66 points
Too much ground to make up for Chelsea
Register for free to continue reading
Registration is a free and easy way to support our truly independent journalism
By registering, you will also enjoy limited access to Premium articles, exclusive newsletters, commenting, and virtual events with our leading journalists
Already have an account? sign in
Join our new commenting forum
Join thought-provoking conversations, follow other Independent readers and see their replies