The Last Word: All hail Sepp Blatter and forget the dead workers
Fifa president seems to care more for honours and sponsors than concern for Qatar problems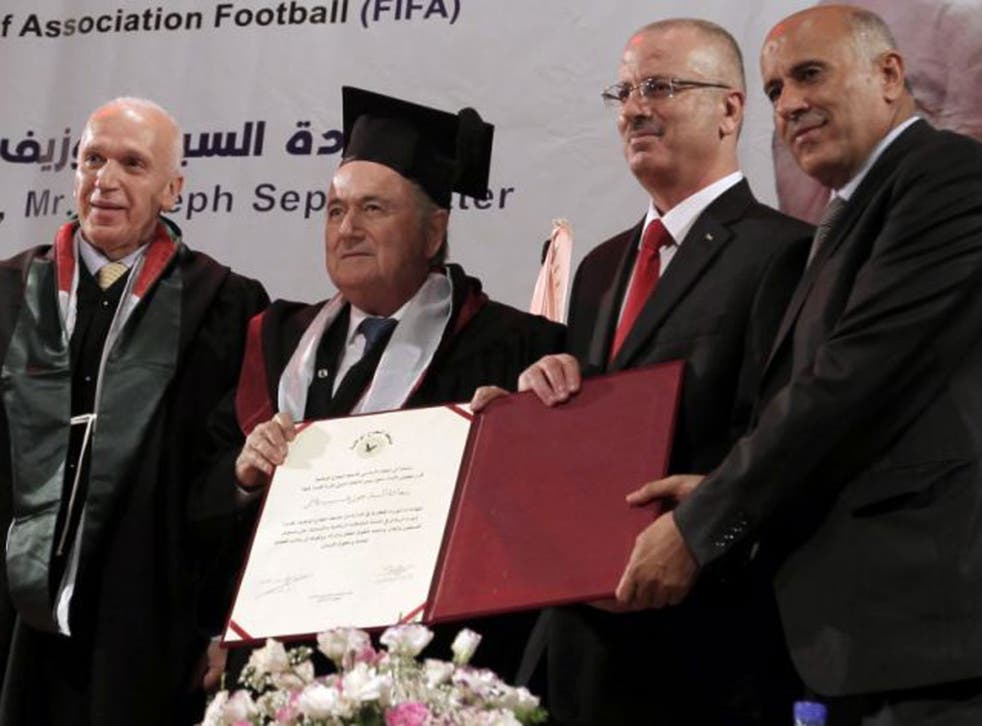 Michael Owen made the innocent mistake of assuming it was just another corporate gig, an agreeable assignment in exalted company in Zurich. He set an inappropriate tone, because he failed to realise he was the wrong man in the wrong place at an inopportune time.
"Heading back to the airport," he informed his 2.3 million Twitter followers late on Thursday afternoon. "Had a great day at Fifa headquarters with Johnson and Johnson, Official World Cup Healthcare sponsors."
The day's headlines claimed that the organisers of the 2022 World Cup had blood on their hands; construction workers were dying in Qatar, "a slave state". Fifa's protestations of shock stretched credibility. Mentioning football in the same breath as healthcare had an awful resonance.
Owen, with his presence, had unwittingly highlighted the potential difficulties of a global conglomerate associating itself with Fifa. With 275 operating companies employing nearly 128,000 people in more than 60 countries, the executive panic in Johnson & Johnson's New York headquarters at the inevitable comparisons can only be imagined.
Sponsors do not fund Sepp Blatter's empire to be associated with human misery. Their loyalty might have survived evidence of corruption involving some of football's powerbrokers, but it is finite. When bereaved parents show the world photographs of teenaged sons sacrificed to a sport's expansionist strategy the game changes.
Fifa cling to quasi-statehood and the notion of their traditions as a force for good. Blatter, the body's president, is accustomed to the accoutrements of respect. He expects to be feted and fawned over, in the manner of US presidents and British prime ministers.
He is due to emulate the likes of Winston Churchill, Margaret Thatcher, Bill Clinton and Ronald Reagan when he addresses the Oxford Union next month. It will be a typically self-serving exercise. He will not take questions, nor sully himself with doubts about his legitimacy.
The bubble in which he exists is emphasised by a single page on Fifa's website which lists, without apparent irony, 75 honours lavished upon him. Blatter sets the bar high by boasting of being "International Humanitarian of the Year".
He has been awarded India's "Crown of Peace", received Ecuador's "Necklace of Honour" and Japan's "Grand Cordon of the Order of the Rising Sun". Ukraine has seen fit to induct him into the order of Prince Yaroslav the Wise. The roll-call is self-promotion on a grand scale.
Despite calls for a boycott of Qatar, Fifa lawyers, and the time-serving administrators who rely on Blatter's patronage, will not countenance the Emirate being abandoned. Real politik suggests an outline deal for a winter World Cup will be confirmed later this week.
Yet the example of Lance Armstrong, abandoned by commercial partners when his brand became toxic, is instructive. Cycling, in ridding itself of Pat McQuaid – a discredited figurehead who made an undignified struggle to retain power – has set a timely example.
Collateral damage is inevitable when bridges between major sporting events and their benefactors are detonated. Owen's presence in Zurich was low-key endorsement for one of six World Cup sponsors. The three-tier commercial programme provides the majority of Fifa's annual revenue of $1.2 billion (£0.7bn).
Johnson & Johnson justify their support by insisting: "The Fifa World Cup™ has the unique ability to bring together people from all cultures, ages and socio-economic levels to celebrate as a global family. These powerful global events provide us with an unprecedented opportunity to reach a worldwide audience to ignite a movement of caring." They are marketing an alternative reality in which "everyone has the power to do extraordinary things in caring for the health and well-being of others, especially when they lead with their hearts". This echoes Blatter's concept of "humanitarianism".
Despite the trappings of a head of state, in the opinion of many he has no purpose beyond the perpetuation of his influence. Sponsors helped to make him. It would be reassuring to believe they are tempted to break him.
Ainslie's dream is worth pursuing
The dream took shape in a boat shed beside the River Dart in Totnes. More than 1.2 million people came to see it – an extraordinary catamaran, bigger than the Centre Court at Wimbledon, with twin masts the size of 10 double-decker buses.
It was launched by the Queen to compete in a round-the-world race and was designed to take sailing into a new era. The dream died when Team Philips sank in hurricane-force winds in the Atlantic in 2000.
One of my fellow crew members, Andy Hindley, retained that pioneering spirit. As chief operating officer of the America's Cup, he played an understated, but vital, role in its emergence as an overnight sensation.
A decade after we envisaged sailing as a video game, in which boats had starship lines and F1 technology, the vision became clear in San Francisco Bay.
The cost was sobering. British Olympic sailor Andrew Simpson died trying to win the Cup. His friend Sir Ben Ainslie, victorious on Oracle, did his memory full justice. Ainslie's ambition is to win the Cup for Britain. It is another dream worth embracing.
Silly old Sol
Sol Campbell's claim that racism will force him to work outside English football belittles a pivotal cause: our lack of black managers and coaches. He accepts it will take three years to acquire his coaching badges, yet complains Gary Neville was fast tracked at his expense. Campbell is diminished by his sense of entitlement.
Register for free to continue reading
Registration is a free and easy way to support our truly independent journalism
By registering, you will also enjoy limited access to Premium articles, exclusive newsletters, commenting, and virtual events with our leading journalists
Already have an account? sign in
Register for free to continue reading
Registration is a free and easy way to support our truly independent journalism
By registering, you will also enjoy limited access to Premium articles, exclusive newsletters, commenting, and virtual events with our leading journalists
Already have an account? sign in
Join our new commenting forum
Join thought-provoking conversations, follow other Independent readers and see their replies