The Last Word: Cook was not all in bad taste
Delight at chief executive's fall from grace not shared by City fans whose rights he championed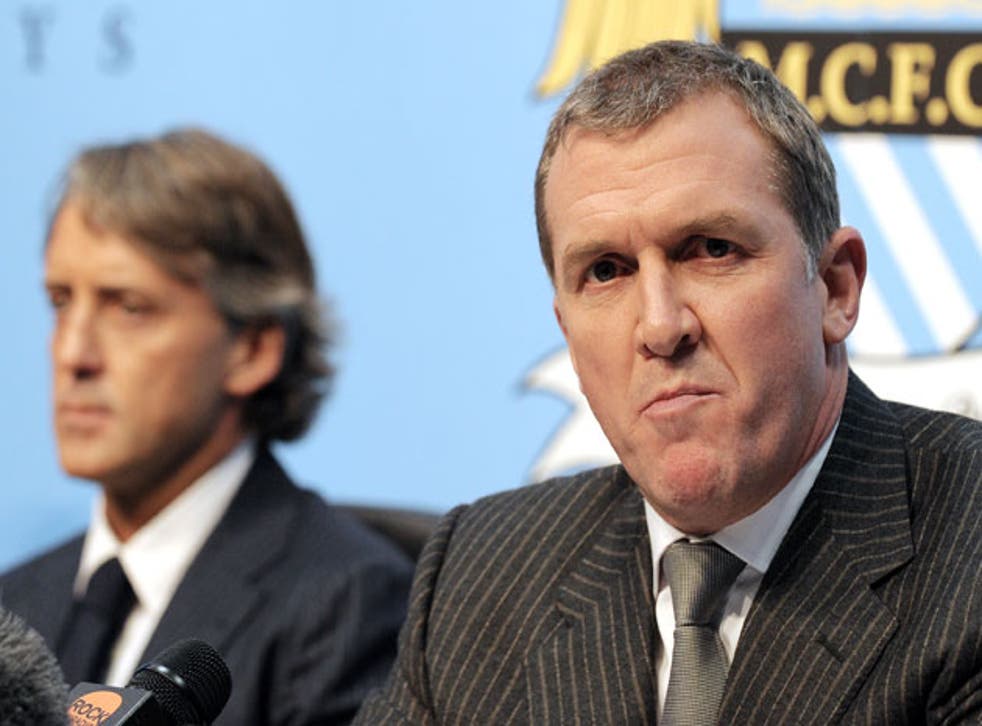 Garry Cook deserved to go. At least the two camps can agree on something. But when it comes to the assessment of Cook's time as chief executive at Eastlands the media and the fans make the red half and blue half of Manchester seem unified.
The sports channels and newspapers took an unmistakable delightin the City supremo's resignation after the Abu Dhabi owners virtually accused him of lying over the sending of an offensive email to a player's disgruntled mother. There was a good reason for such pleasure, which went way beyond the normal borders of schadenfreude.
Since assuming the role in 2008, Cook has been depicted as a buffoon, as the footballing equivalent of Prince Philip if you like. Garry Gaffes have been reprinted with something resembling euphoric zeal. "Richard Dunne doesn't roll off the tongue in Beijing," said Cook, when prioritising shirt-selling power over defensive power. Thaksin Shin-awatra, the former owner who doubled up as an enemy of human rights while prime minister of Thailand, was, said Cook, "a great guy to play golf with". And most numb-skullingly, he dared to confuse "City" with "United". Hilarious!
Yes, every journalist loves to batter a fool, particularly an arrogant fool whose hands happen to be on football's most golden purse strings. For some reason, sporting executives have become big news on sports pages, while the relevant aspects of this job are crying out for inclusion in the business sections.
Drench the blazer in sporting vernacular and the ridicule comes all too easily. The beauty with Cook, from a hack's standpoint, was he seemed such a willing accomplice in this real-life version of The Office.So why did the City support have such faith in him? Why are so many sad to see him depart? It is a question which hasn't been analysed fully and most probably won't be.
That's because of the sneering attitude which says that the fans' views don't count. They are biased; their one-eyed quality makes it impossible for them to view the big picture. They only admired Cook because he spent all that oil money on great players. Anybody could do that, laugh the intelligentsia. Why, Nick Leeson would have struggled to blow all that greenback. As would Fred the Shred. Stick a monkey in charge and he'd be a popular City CEO. Oh, hang about, they did.
Is any of this fair? Not to the director in the box or the fan in the stand. Cook might have been a disaster in PR terms and we all know the weight that carries nowadays. But in terms of connecting with the supporters, including them and representing their best wishes in the running of the club Cook should actually be remembered as a pioneer.
No doubt the sheikhs care about their popularity and gave Cook the go-ahead to keep ticket prices at an affordable level. They didn't have to; Cook didn't have to. Chelsea, of course, did not, despite having Roman Abramovich's billions in the vault.
Peter Kenyon – now there was a chief executive worthy of the scorn – declared the fans had to contribute to the revolution. If they wanted the superstars, they had to help pay for them. But why? They didn't ask for the Russian to take over the club they would support whatever the finances.
Cook seemed to understand this, just as he appreciated the importance of the history. Ex-players, the so-called legends, have not been overlooked in the overhaul. That much was plain to see at Wembley when so many of them were part of the party which celebrated their first trophy in four decades. And listen to this quote from an interview in The Independent with Uwe Rösler. "City are very interestedin keeping the tradition and history of the club," said the former Blues striker, who recently came back to England as manager of Brentford. "They looked after my family when we moved over, helped us out with schools – after all these years and with a lot of people in charge who never saw me play."
All this was done on Cook's watch. It probably doesn't matter what the outside world thinks of Manchester City as that was an unwinnable PR battle anyway. But what surely does matter is what the Manchester City supporters think of Manchester City. And they don't believe their club were hijacked merely to bolster the standingof an Emirate. They feel a part of it.
A lot of that was down to Cook and it shouldn't be forgotten. But it will be. That's football for you. Spare us this baffling trend to give executives, officials and administrators the same publicity as the superstars. If they did their job and only their job, the game would be a much better place.
Haka has killjoys making a song and dance
No World Cup, it seems, is complete without a mystifying objection to the accompaniment which gives the fare its local flavour. For "Vuvuzela, South Africa 2010", read "Haka, New Zealand, 2011".
It is only a hunch that the same people who moaned long, hard and rather patronisingly about the horn in the Rainbow Nation are part of the burgeoning section of this sporting society who believe the haka should be outlawed. But, while recognising there's no such thing as a free hunch, this is one on which I would be prepared to invest.
Killjoys! Nothing more, but certainly nothing less. While acknowledging the showboating of Usain Bolt and the "let's get ready to rumble" of Michael Buffer, the haka is unrivalled in the building the pre-match atmosphere to a frenzy.
"But it gives them an unfair advantage," the critics whine. Anybody who seriously believes such tripe should go to YouTube and type "Haka 1979". There you will see a bunch of pale-faced All Blacks skipping around like a bunch of tipsy morris dancers. They weren't disadvantaged. As ever they achieved the grand slam of home nations. Despite theirwar dance rivalling "YMCA"for menace.
But then, the haka wasn't performed much at the time. In fact, discuss the "marvellous tradition" of the haka withinternationals of the bygoneage and they come over all perplexed. Nobody more so than Barry John, the man who inspired the Lions to their one and only series success inNew Zealand.
"I can't remember them once doing it when I played against them," says John. "Maybe they were too busy bowing."
Register for free to continue reading
Registration is a free and easy way to support our truly independent journalism
By registering, you will also enjoy limited access to Premium articles, exclusive newsletters, commenting, and virtual events with our leading journalists
Already have an account? sign in
Register for free to continue reading
Registration is a free and easy way to support our truly independent journalism
By registering, you will also enjoy limited access to Premium articles, exclusive newsletters, commenting, and virtual events with our leading journalists
Already have an account? sign in
Join our new commenting forum
Join thought-provoking conversations, follow other Independent readers and see their replies