The Last Word: Cuche a true great but Mourinho is on slippery slope
However mesmerising, Messi is never ornate. The joy of his football is its own reward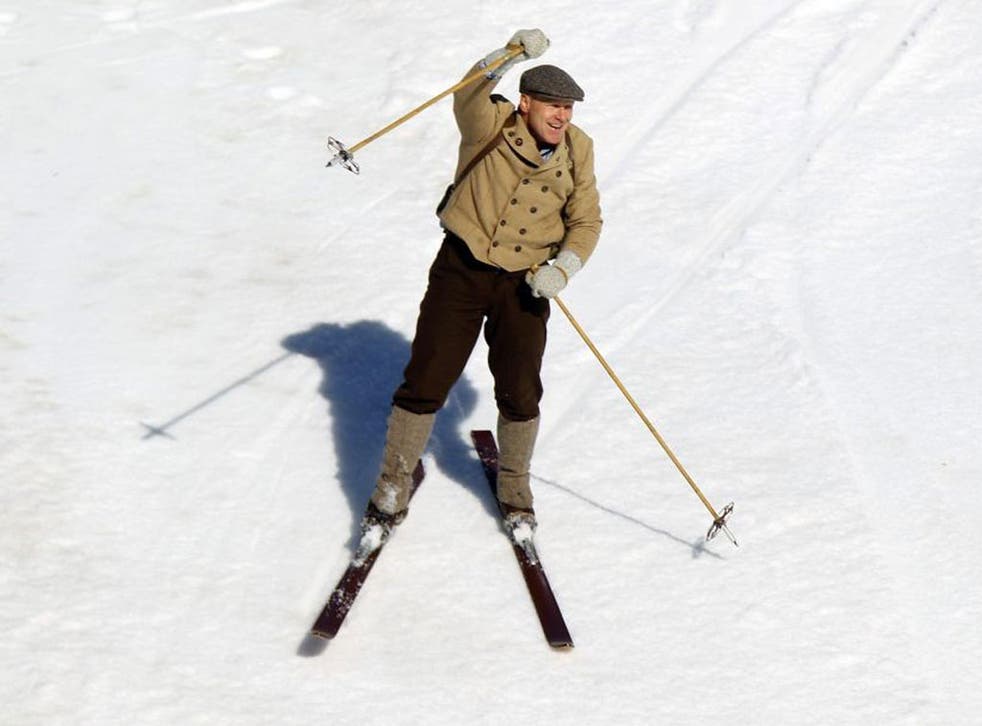 There is nothing quite so risible as taking yourself too seriously. It seems safe to say Didier Cuche understands this rather better than, say, Didier Drogba. Last weekend Cuche, one of the great downhill racers of all time, ended his career by contesting the giant slalom at Schladming on a pair of wooden skis and in similarly archaic raiment. The Swiss veteran wore a tweed cap over that great, gleaming cranium; a double-breasted woollen coat; gaiters, enormous mittens, and a rucksack. Most marvellous of all, he wore an air of undiluted humility.
For his technique proved gloriously, hopelessly incompatible with his equipment. Splaying his knees and elbows, this formidable, ursine figure wobbled and slithered down his final run like Obelix walking over marbles. Fans laughed until they cried; and then sobbed until they laughed again. His turns evoked a Home Counties spinster, tailing a stricken pole behind his rump like an aerial. On eventually reaching the finish, Cuche nonetheless managed his signature ski-flip – essayed as homage, with varying degrees of success, by many of the younger skiers who followed. Next winter they will hurtle down the Hahnenkamm without having to worry about the man who in January, at 37, matched Franz Klammer by winning there a third year running – and for a record fifth time in all.
Yet when he first embarked on the World Cup tour, at Bormio in December 1993, Cuche had finished 57th of 58, nearly seven seconds off the pace. Sure enough, the summits scaled since never made him dizzy with self-regard. True greatness need never shed its modesty. Those who do preen themselves tend merely to betray some lingering insecurity; the more garish the ego, the more insidious the doubt.
The difference seemed obvious in La Liga this week. We saw how Lionel Messi handles his genius, like some barefoot shepherd whose flute joins the air so clear and true that the trees seem to sway, not in the breeze, but to his music; and how Jose Mourinho handles his, glowering and growling his way across the crazed margin between indignation and indignity.
On Tuesday, Messi became Barcelona's record goalscorer at the age of 24. He now has 234 goals for the club, 54 this season, yet exudes only bashful gratitude for the benedictions bestowed upon him. The following night, the Real Madrid manager set the tone for a truly bizarre meltdown among the latest squad to become infected with his petulance, paranoia and asperity. After Villarreal equalised from a contested free-kick in the 82nd minute, Mourinho, Sergio Ramos and Mesut Özil all saw red; so joining their fitness coach, already sent off for the fourth time this season. Once again, you were left to wonder about the fury of Mourinho's exculpatory instincts. Somewhere, deep down, is he suppressing a small voice telling him he is not all he pretends to be?
However mesmerising, Messi is never ornate. Pep Guardiola says he has never once seen a Messi step-over. He never dives, nor rises to those who try to goad or even maim him. The joy of his football is its own reward, itself a reproof to the futile debate whether he is the best ever.
Those who constantly strive to impress, in contrast, ultimately deal only in impressions. In this regard it is customary to present Cristiano Ronaldo as foil to Messi. Such was the collective derangement of Mourinho's players on Wednesday, however, that Ronaldo found himself nearly alone in reckoning the remaining 10 minutes or so might be better spent in lion-hearted search of a winner than in self-pitying histrionics. Leaving the field, even so, he joined the theatrical complaints that his team had been "robbed". Four days earlier, Real Madrid had been 10 points clear; the gap is now six. Albeit they have yet to go to Barcelona, all this hysteria disclosed a weirdly disproportionate sense of jeopardy.
Mourinho, of course, does not care about winning friends so long as he is winning trophies. But the whole process is so exhausting, so intense, that it can never last. See the smouldering legacy at Chelsea and Internazionale. Here is a man who can make even Real Madrid, as big and rich a club as there is on the planet, imagine itself an underdog.
Yet these latest tantrums came in the very week his players had worn slogans supporting Fabrice Muamba and Eric Abidal in their different crises. Seldom can football have been so painfully aware that it boils down to 22 blokes chasing a bladder round a field. How, then, can a physical trainer – so soon after a young footballer is brought back from the dead – get himself banished from the dug-out yet again, and so be denied immediate access to an emergency?
Perhaps it helps men like Cuche or indeed Tony McCoy that their competitive ardour, demonstrably at least equal to that of Mourinho, daily exposes them to the risk of a wheelchair. But Messi also manages to stay humble. It is precisely by keeping their feet on the ground, you suspect, that true giants keep them from turning to clay.
Join our new commenting forum
Join thought-provoking conversations, follow other Independent readers and see their replies