The Last Word: German tactical innovation at Bayern Munich and Borussia Dortmund lost on the ignorant English
Manchester United are likely to be swept aside by Bayern Munich – and the reason why ignored
Michael Calvin
Saturday 29 March 2014 19:34 Comments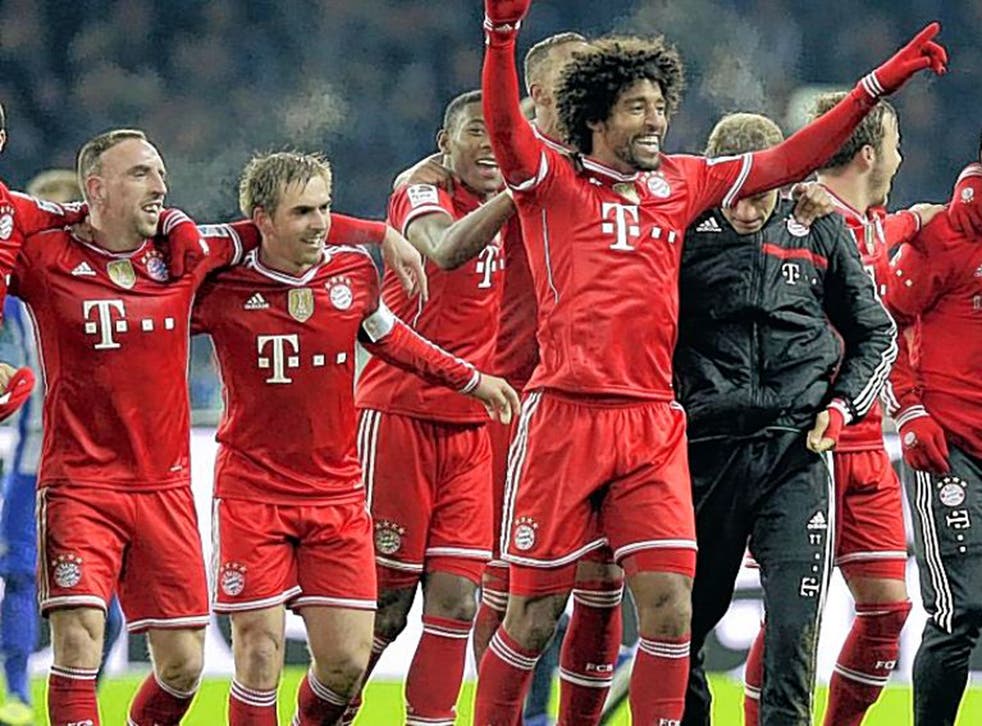 Say what you like about the Germans, they make their footballers run on time. England were eliminated from the last World Cup because the Nationalmannschaft knew they had between six and eight seconds to exploit space before the Premier League's finest lumbered back behind the ball.
While Manchester United have been preoccupied by Monty Moyes' Flying Circus, Bayern Munich have prepared for Tuesday's visit to Old Trafford in the Champions' League quarter-final by pursuing perfection. Under Pep Guardiola winning the Bundesliga title is a gentle jog rather than a marathon. The Germans are coming.
Stereotypes have a ring of truth. Jürgen Klopp's Footbonaut, a key element of Borussia Dortmund's development of players with instinctive technique, peripheral vision and spatial awareness, is his version of Vorsprung durch Technik – advancement through technology.
It is a simple concept which costs around £2million: a player is isolated in something resembling a cage-fighting ring with a 15 metre radius. A computerised system launches balls at him from eight directions. He must have the clarity of thought to make the right decision at speed, and the control to hit one of 72 panels, which lights up at random.
Such innovation is not in vogue in the English game, although a Premier League player of my acquaintance is inordinately proud of recently having lost half a stone undergoing a single course of colonic irrigation.
His rationale was arresting: why build up a sweat in the gym if a high-pressure internal dousing can achieve the same goal? His obsession with image during contract negotiations, and the cult of the short cut, was rather more revealing than intended.
The Premier League is not the world's best. It may be the tightest, as a consequence of United's abject succession planning and the money poured from opaque sources into Chelsea and Manchester City. It is certainly the most voracious and self-regarding. But it lacks intellectual merit.
Klopp rages against "the serenity of football" as represented by Barcelona, whose tiki-taka has not evolved significantly since Guardiola's departure. His most significant challenge, beyond Wednesday's Champions' League tie at Real Madrid, is to prevent Mats Hummels, Marco Reus and Ilkay Gundogan leaving.
Dortmund's economic disadvantages have already cost him Mario Götze and Robert Lewandowski, who are destined to define Guardiola's era at Bayern. Klopp is a man of limitless passion and infectious inquisitiveness but the realities of his position are emotionally draining. It might be time to move on.
He would be a perfect replacement for Arsène Wenger, a kindred spirit, at Arsenal. He has the charisma and sophistication Moyes appears to lack, though a manager of the requisite quality would baulk at going to United while Sir Alex Ferguson is giving his finest Darth Vader impression from the posh seats.
Disciples of Klopp's high intensity gegenpressing strategy are creating new tactical templates. Across the border in Austria, Red Bull Salzburg are re-inventing 4-2-4. In essence, the defensive pressure exerted by their front four is so forceful that their failure to dominate possession is irrelevant, because opponents are frustrated into launching hopeful high balls over the top.
The system, which demands incredible energy and mental discipline, has been refined by Roger Schmidt, a German coach. It is being studied by progressive British managers like Brentford's Mark Warburton, but too many of his peers are marionettes, controlled by ignorant, cost-conscious owners.
The usual questions will be asked when, as seems certain, United are swept aside by a Bayern team on track to repeat last season's Treble of domestic League, Cup and Champions' League. The answers are obvious, but will be ignored, yet again.
Inspiration who kept on fighting to the end
National Hunt racing is in mourning following the death of Sharron Murgatroyd at the age of 54 on Friday night. She was the manifestation of its biggest fear and the personification of its greatest quality.
Her ambition of becoming champion female jockey ended on the first day of the 1991 season, when she was paralysed from the neck down after falling from her horse Independent Air at the last at Bangor-on-Dee.
Her response was inspirational. She wrote four books from a specially adapted keyboard, including the autobiographical Jump Jockeys Don't Cry. She raised £40,000 by recreating her final race in a wheelchair push with Tony McCoy.
She did a sponsored sky-dive from 10,000 feet in aid of the Injured Jockeys Fund, with whom she went scuba diving. She enriched the lives of those around her because her courage reflected the sport to which was devoted.
Her annual "I shouldn't be here" parties on the outskirts of Newmarket were attended by all leading jockeys. Typically, Grand National –winning rider Neale Doughty travelled from his home in Windermere, two days after undergoing surgery.
She crafted her epitaph: "There is life in a wheelchair. It doesn't just stop. You can achieve immense things."
Baseball wages put football in shade
Footballers are paupers compared to their baseball equivalents. While Wayne Rooney scrapes by on £300,000 a week, Miguel Cabrera has signed a $292 million, eight-year contract extension with the Detroit Tigers. That's £422,000 a week, basic. Nice work if you can get it.
Register for free to continue reading
Registration is a free and easy way to support our truly independent journalism
By registering, you will also enjoy limited access to Premium articles, exclusive newsletters, commenting, and virtual events with our leading journalists
Already have an account? sign in
Join our new commenting forum
Join thought-provoking conversations, follow other Independent readers and see their replies